Not all of us have green thumbs, even if we have good intentions. Maybe you've tried and failed to grow your own garden or panic purchased seeds at the start of quarantine and they never quite made it into the ground.
But not to worry — if you're out of touch with Mother Nature, you can still get an endless supply of fresh food from your local farm market. After all, nobody said farm-to-table food has to come from your backyard. From colorful veggies to jams and jellies, you can support local and eat well with no dirt involved — for you, at least.
Fulton Street Market
1145 E. Fulton St., Grand Rapids
In the heart of GR and a stone's throw from Madcap's roastery and cafe, Fulton Street Market is a fan favorite for good reason. Local shoppers have been coming to this market for nearly 100 years to buy produce, meat, eggs, bread and more. These days, you can also find cocktail kits, face masks, body scrubs and all sorts of handmade goodies for sale. Fulton Street Market is open year-round on Saturdays with varied hours based on the season, so check the website before your next visit.
Heidi's Farmstand and Bakery
11999 Cascade Rd. SE, Lowell
Before we get to the insane food selection at Heidi's Farmstand and Bakery, we have to talk about the corn maze. Located in Lowell, this market features a massive corn maze that changes yearly based on a theme. Over the seasons, the maze has been crafted into the shape of a beehive, train, firetruck, and rocket ship, just to name a few. Inside the market, there's every type of produce imaginable, as well as a wide selection of baked goods. Wondering what's in season? Check out their website at heidisfarmstand.com to see a fruit and veggie growing schedule so you can plan your purchases ahead. Heidi's Farmstand and Bakery is open everyday except Sunday, but make sure to check the hours before you drop by.
Holland Farmers Market
150 W. 8th St., Holland
Fresh flowers? Check. Chocolatier? Check. Soft pretzels and breakfast tacos? Check and check. The Holland Farmers Market is not just for produce. In fact, forget your grocery list and come ready to treat yourself. Beyond all the farm-fresh staples you'd expect at a good market, the Holland Farmers Market kicks things up a notch with a food court, providing ready-to-eat treats that range from sweet to savory. The market season begins May 12 and runs on Wednesdays and Saturdays from 8 a.m. to 2 p.m.
Kalamazoo Farmers Market
251 Mills St., Kalamazoo
When most people think of a farmers market, they picture bright, sunny mornings and vibrant veggies strewn across wooden tables. While the Kalamazoo Farmers Market fits this brief, they also offer a night market that features everything you'd find during the day, just, well, later. The market hosts over 100 vendors, so take your time to wander through and dream up your next farm-to-table dinner. This year, the Kalamazoo Farmers Market is moving to the Mayors' Riverfront Park for the entire 2021 season to undergo renovations at their current location. Stop by their new spot on Saturdays, Tuesdays and Thursdays, rain or shine. Check their website for updated, in-season hours!
Kentwood Farmers Market
4900 Breton Rd. SE, Kentwood
Running from June through August, this farmers market features more than just food. Of course you'll find cheese, jam, honey, meats, bread and more, but the market also has local makers! While the market runs every Thursday in summer from 4:30-7:30 p.m., June 17 and August 19 will shine the spotlight on those crafters and artists, so visit then for everything from jewelry to soap. Also, Kentwood's market works to accept food assistance programs wherever possible, so spread the word!
Nelson's Farm Market
469 W. 112th St., Grant
Thirty minutes north of Grand Rapids is Nelson's Farm Market, a family-owned farm and retail market. The quaint atmosphere will make you feel right at home, and the endless food options will leave your mouth watering. Nelson's Farm Market is packed to the brim with deliciousness, so come for a cinnamon roll and stay for the apple cider slushies, or skip the trip and have a fruit basket shipped to your house. Join Nelson's Farm Market Wednesday through Saturday from 9 a.m. to 5:30 p.m.
St. Joseph Farmers Market
Lake Bluff Park
Whether you live in St. Joe or you're staying at the cottage, the farmers market here is a fun and lively place. Jams, honey, hearth-baked breads and fine pastries, perennials, cut flowers, organic vegetables and so much more! It all happens in the scenic Lake Bluff Park, giving beautiful sights, sounds and scents of Lake Michigan — not to mention memorials, monuments and a bandshell!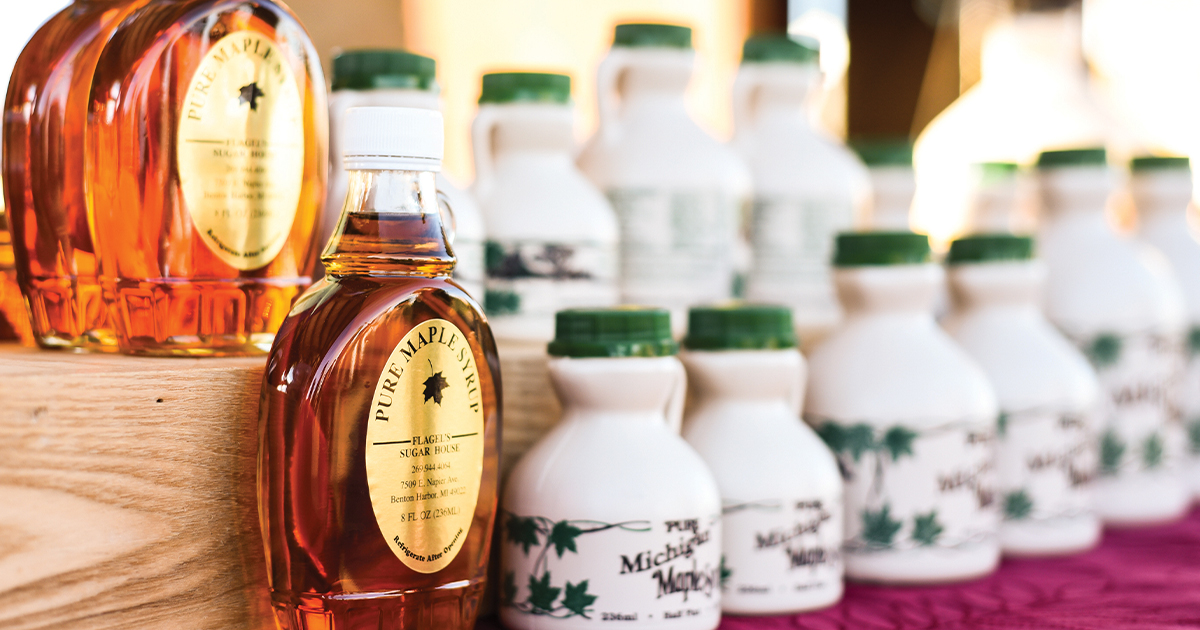 ---
U-Pick Markets
Even if you can't grow it yourself, you can always pick it off the branch! Here are a few great places to reap what someone else has sown.
Bowerman Blueberries Farm Market
15793 James St., Holland
What's better than 90 acres of blueberries? At Bowerman Blueberries Farm Market in Holland, you can purchase or pick blueberries to take home. Blueberry baked goods and other produce from surrounding farms are also available on site.
Krupp Farms
8025 Krupp Ave. NE, Comstock Park
Strawberries and summertime make the perfect, sweet and sticky combination. Krupp Farms offers a staggering variety of strawberries you can pick yourself in the fields. Though known for their strawberries, you can also pick raspberries, purchase asparagus and stock up on rhubarb at the farm.
Sandy Bottom Berries
11555 Sandy Bottom Rd NE, Rockford
There's nothing more iconic than Michigan cherries, and you can pick all kinds at Sandy Bottom Berries in Rockford. Blueberry and raspberry fields are also open to pick, and there's no minimum age for kiddos looking to get their hands dirty. Best of all, the berries are pruned to be easily picked, even for those with the tiniest fingers.
Ed Dunneback And Girls
3025 6 Mile Rd. NW, Grand Rapids
When you're craving more than just berries, stop by Ed Dunneback And Girls farm to pick fresh asparagus this summer. If veggies aren't your thing, you can still pick strawberries or tart and sweet cherries on your trip. Did we mention there's also a taproom?