After a full year of cooking for ourselves and mixing drinks at home, some of us have finally settled into home life.
There's nothing wrong with that, of course, but you may have forgotten just how great a great cocktail can truly be. Unless your set-up involves homemade syrups, top-of-the-line spirits and a blowtorch, chances are you're not living life to the fullest.
Local distilleries and cocktail lounges take the liquid medium to new heights, so we suggest getting off the couch and pulling up a stool at the bar for a night with the master mixologists behind these luxury libations.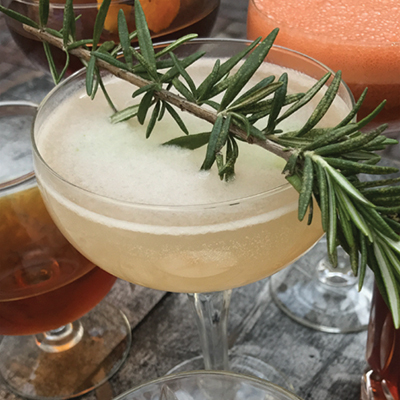 Butcher's Union: Silk Road Swizzle
438 Bridge St. NW, Grand Rapids
Butcher's Union is an excellent restaurant of course, but part of why they're always so darn busy is the innovative cocktail program. For this swizzle, Smith & Cross rum is mixed with Velvet Falernum, sort of a spiced rum-style liqueur. Those are shaken with house tropical green tea syrup, which is really what makes this drink unique and whisks you away to a tropical spa. Then add fresh lime juice and angostura bitters, served over crushed ice with a pineapple slice and mint sprig. It's vacation in a glass.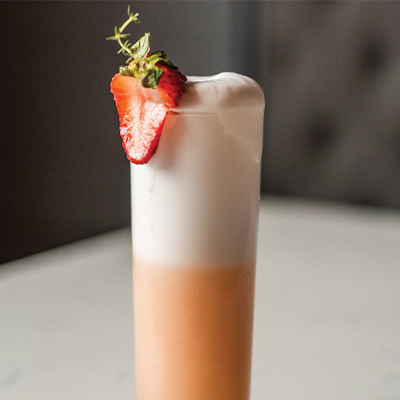 Eastern Kille Distillery: Thyme & Place
700 Ottawa Ave. NW, Grand Rapids
While you can certainly infuse your own liquor at home, let's be honest: You can also mess it up. That's why you should trust Eastern Kille to do it right with their own housemade gin in this fruity and herbal cocktail. Strawberry gin acts as the base, then a honey/thyme syrup kicks it up a notch. I don't know about you, but I've never used the right amount of thyme in anything — that's why we let the experts do it for us. They top that with lemon for acidity, strawberry for more flavor, egg white to froth it up, and soda water brings it to life. All that to say: This is a smooth, comfy, yet bright and refreshing cocktail perfect for spring and summer.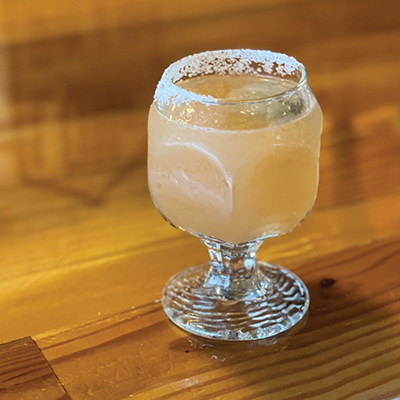 Long Road Distillers: Yin Tang
537 Leonard St. NW, Grand Rapids
Aquavit alone is rare enough — though if you've had Long Road's, you're probably hooked on the stuff. This cocktail takes the rye bread flavors of aquavit and ages that on black peppercorn, then adds a cantaloupe shrub, lime, a salt rim and basil. A "shrub" is a concentrated syrup that combines fruit, sugar and vinegar. In this case, the cantaloupe's tang balances the drink's earthy, herbal yin, creating a perfectly balanced drink for a spring day.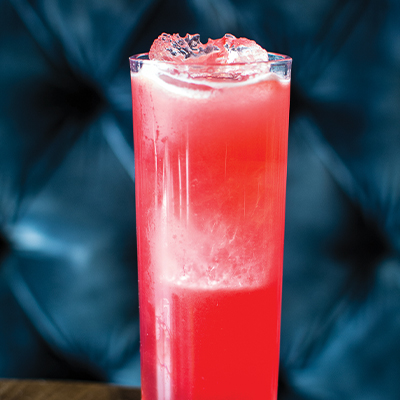 Post Off & Buffalo Traders Lounge: Tea Garden Cafe
950 E. Fulton St., Grand Rapids
Post Off is a new wine and amaro bar directly next door to Buffalo Traders Lounge. Together, they've created one of the most fascinating cocktail menus we've ever seen. Their Grand Rapids History Cocktails boast local collaborations and fascinating connections to our fair city. Bar Manager Sean Stearns — also known for his hot sauce and musical prowess — said this drink celebrates several Chinese restaurants that existed in the early to mid-1900s, specifically the Tea Garden Café, one of the most beautifully decorated restaurants around. The base for this cocktail is Baijiu, a relatively unknown Chinese spirit distilled from Sorghum. It's technically the top-selling spirit in the world, but rare in the U.S. That's combined with a syrup made from Global Infusion's "Warming Crimson Tea," as well as Select Aperitif and lemon juice, all topped with soda water. It's bright pink and refreshing, with tropical berry flavors and a slight spicy/warming sensation from the syrup. The past is the future!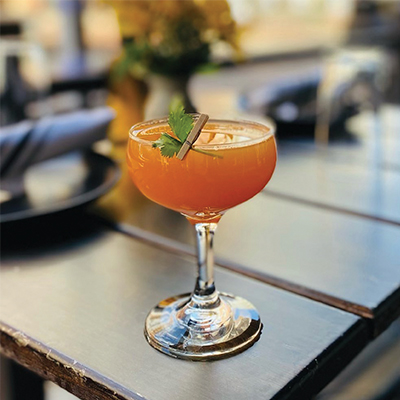 Principle Food & Drink: What's Up Doc?
230 S. Kalamazoo Mall, Kalamazoo
principlekzoo.com
You can probably guess what veggie is featured in this cocktail from the experts at Principle. As one of the best cocktail spots in West Michigan, we wouldn't expect anything less than this elixir that might just cure what ails you (claim not reviewed by the FDA). This drink starts with a mild Banhez Mezcal and adds Chareau Aloe Liqueur, a fascinating new liqueur featuring aloe vera, cucumber and more. Of course, the star is the carrot juice, which pairs perfectly with Barrow's Intense Ginger liqueur and a lime cordial. The whole garden's in this one!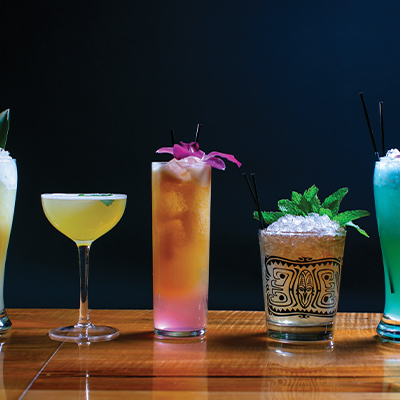 Max's South Seas Hideaway: Aloha Hour
58 Ionia Ave. SW, Grand Rapids
This magnificent tiki bar downtown has so many cocktails, we couldn't choose just one. Every weekday, from 4 to 6 p.m., Max's hosts Aloha Hour, featuring five tropical cocktails for just $6 each. This includes the Bourbon Special, Pina Colada, Aku Aku, Blue Hawaiian, and Lei Lani Nouveau. These aren't sugary, syrupy sweet drinks. They're proper tiki cocktails, developed by the masters. The Aku Aku, for instance, is a "lofty libation" bursting with fresh pineapple, mint, peach, light rum and fresh citrus. Or try the Lei Lani Nouveau, made with Demerara rum, house coconut cream, natural guava soda, fresh lime and pineapple.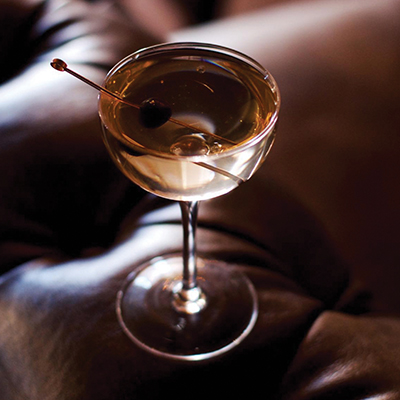 Stamped Robin: Flint Tropics
128 Portage St., Kalamazoo
Ah yes, Stamped Robin, a cute little wine bar that's really stepped up its cocktail game, resulting in home runs like the Flint Tropics. Tasting notes: Clean, Capri Sun, tropical. Ingredients: Rum, verjus, pamplemousse. Sometimes you don't need a long list of ingredients to impress. Sometimes you just need verjus, a highly acidic juice made from unripe grapes, crabapples or other sour fruit. The stuff was everywhere in the Middle Ages, but has largely been replaced by wine and vinegar in cooking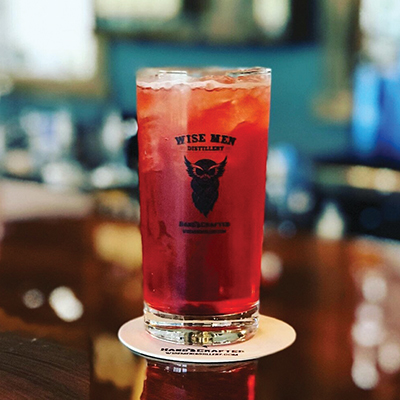 Wise Men Distillery: Lake Michigan Sunset
4717 Broadmoor Ave. SE, Grand Rapids
Wise Men Distillery's favorite way to show off their spirits is to make a custom cocktail just for you, on the spot. However, if you like to go in prepared, ask for this Lake Michigan Sunset. Four of Wise Men's spirits come together for this cocktail, and with their powers combined you get a twist on a Long Island that tastes like warm summer nights wherever you are. White rum, vodka, gin, apple pie moonshine all mix with a splash of sour mix and cranberry juice.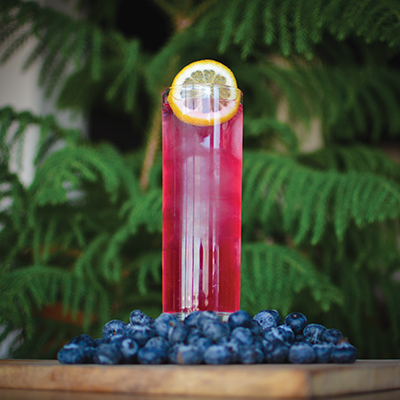 Wonderland Distilling: Blueberry Yum Yum
1989 Lakeshore Dr. Suite B, Muskegon
This collaboration with Crossroads Blueberry Market was such a hit as a special, it's coming back full-time this summer! If lavender-infused gin, lemon oil cordial and blueberry cordial sounds simple, the full process behind the Blueberry Yum Yum is anything but. The lemon oil cordial is the magic ingredient here: After juicing the lemons for fresh juice, they take the leftover peels of the spent lemons and cover those in raw sugar, which draws out the essential oils from the peels and creates a syrup that's crazy vibrant and way brighter in character than even the freshest of lemon juice, according to Wonderland! This way, they get more use out of the citrus and less waste, creating a beautiful, carbonated cocktail that's effervescent from the first sip to the bottom of the glass.