Welcome to the last week of August!
You know, when most of us were growing up, this was the final week of summer (unless you had band camp). I clung to August, wanting to make the most of it before school began.
Now, schools are already starting back up! If you're a parent, this might actually be a time of relief for you. For the rest of us, it's a great week to make the most of summer before it's gone. On the other hand, with the way things are going, we could have beach days for weeks to come!
Only time will tell, but for now, let's live in the now. Here are some events on our radar for the week ahead:
Breakaway Music Festival
Belknap Park
Aug. 27-28
breakawayfestival.com
This music festival brings EDM, electronica and rap to Belknap Park in Grand Rapids. If you want to party in a baseball diamond, this is the fest for you, featuring the talents of Illenium, Quinn XCII, Madeon, Chelsea Cutler and more. Get hype.
Polish Heritage Festival
Calder Plaza
Aug. 27-29
polishheritagesociety.com
The annual Polish festival returns to Grand Rapids, this time at Calder Plaza, since Rosa Parks Circle is still under construction. Three days of vendors, food booths, live music, children's activities, a beer tent and more! Na Zdrowie!
Official 2021 Kalamazoo Balloon Fest
Gull Meadow Farms
Aug. 27-29
gullmeadowfarms.com
This is THE event for hot-air balloon lovers, but it's also one great big fun family party. Show up for food, craft vendors, games, a car show, live music and more — on top of the multiple mass balloon flights, launching tons of gorgeous, unique balloons into the sky.
Fall Release Party
Woosah/Outside Coffee Co.
Aug. 28, 10 a.m.-7 p.m.
facebook.com
Woosah is ready for fall, and I get it. This party celebrates the forthcoming season with new art, apparel, hats, beanies, accessories and more from Woosah, all perfect for autumn. The party also features New Holland beer, live music, coffee and more. Kids and dogs welcome!
Last Sunday Outdoor Market
Bridge Street Market
405 Seward Ave. NW, Grand Rapids
Aug. 29, 10 a.m.-3 p.m.
bridgestreetmarket.com
On the last Sunday of every month, the market is hosting a variety of local makers, vendors, farmers, food carts, samplings and more right on the corner outside. Past markets have featured local mushrooms, "gourmet grazing boards," homemade cocktail kits, ice cream and much more!
Best Bet: Dank Street
1808 Monroe Ave. NW, Grand Rapids
dankstreetfood.com
Maybe it's not the best idea to boost this little ghost kitchen while they're selling out every day they open, but frankly, everyone deserves to know. Dank Street is a delicious, very special little farm-to-street eatery offering totally vegan and gluten-free dishes that will blow your mind. They work personally with the produce, gathering it from their own garden and local farms.
Open on Thursday and Friday evenings, you can also catch Dank Street at One Peace Festival, Saturday, Aug. 28. This is a hip-hop and wellness festival at Campau Park, with DJing, MCing, breakdancing, visual artists, 3v3 basketball — and of course, food from Dank Street.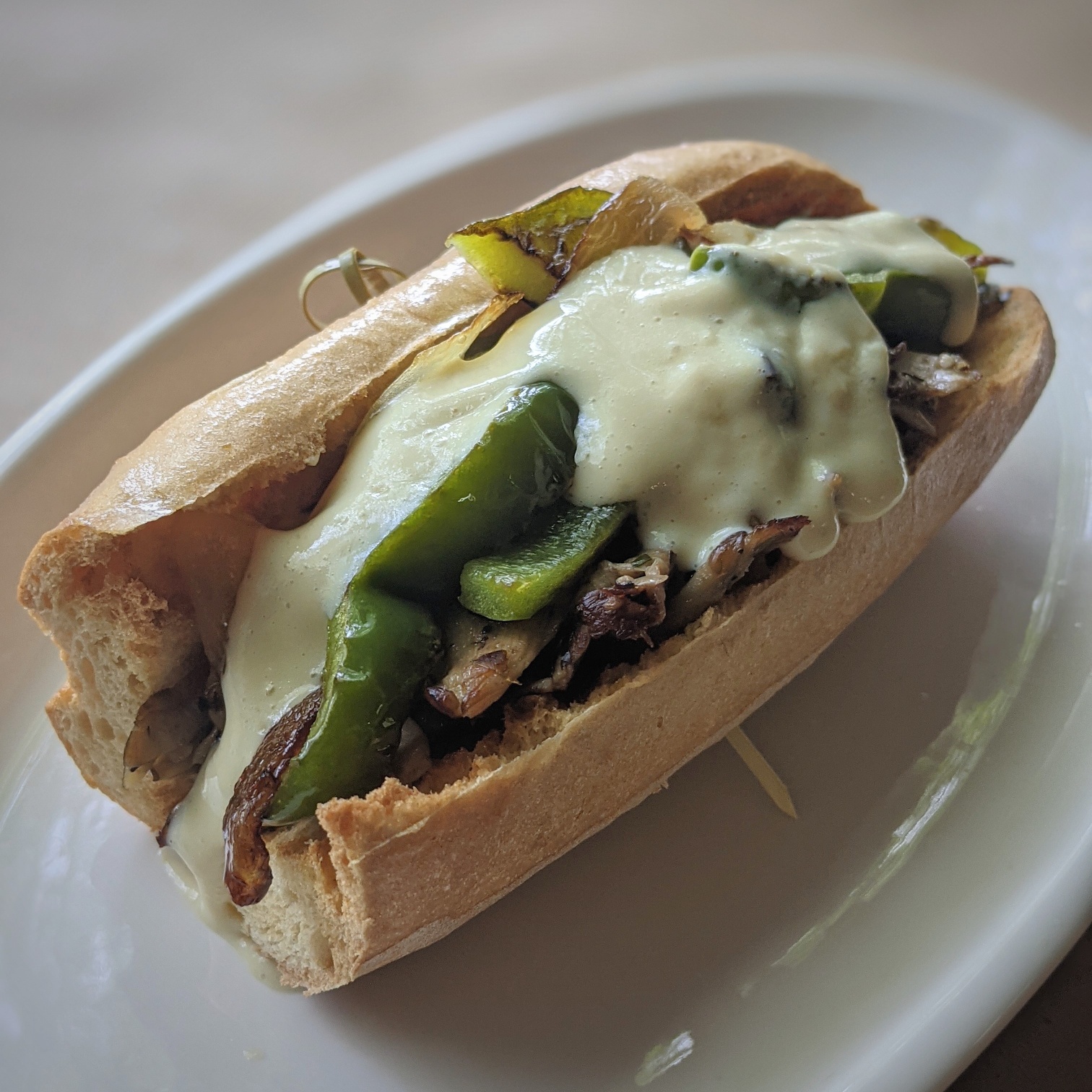 Dank Street's Fresh Prince: Charred shiitake, maitake & oyster shrooms, sauteéd onion, green bell pepper covered in a creamy white vegan "cheese" on a sub.