From beaches to theme parks, climbing centers and beyond, West Michigan is jam-packed with fun attractions for people of all ages.
Our state's incredible and unique natural beauty means many of our best attractions feature the great outdoors and/or the animals who live there, but there's lots of year-round fun to be had indoors as well.
So while there are hundreds of unique and special things to do in West Michigan, both indoors and out, here are just a few on our radar for the summer ahead:
Michigan's Adventure
4750 Whitehall Rd, Muskegon | miadventure.com
Michigan's Adventure is West Michigan's very own theme park, and it stands out thanks to the massive WildWater Adventure Waterpark which beats out every one we've ever visited. Three wave pools, both individual and tube slides, a lazy river, the Funnel of Fear and much more await. The rides are nothing to sneeze at either, with nearly 40 options across the main park!
Fowling Warehouse
6797 Cascade Rd. SE, Grand Rapids
fowlingwarehouse.com
Let's be honest: We've all been bowling, a couple pitchers of Coors Lite in, and thought about what might happen if we picked the ball up and chucked it down the lane like Hercules. Well, Fowling lets you do just that in a much safer way, by bowling with a football — plus, the beer selection here is full of local craft options. Impress your friends with a unique experience by fowling!
John Ball Zoo
1300 W. Fulton St., Grand Rapids
jbzoo.org
One of the most visited attractions in the entire state, John Ball Zoo is home to more than 220 species and 2,400 individual animals across 31 acres. It's a truly impressive zoo that's carefully constructed with overlapping and interweaving environments, including unique habitats like the prairie dog exhibit. Plus, koalas just joined the family! Not to mention the zip line, ropes course, and funicular.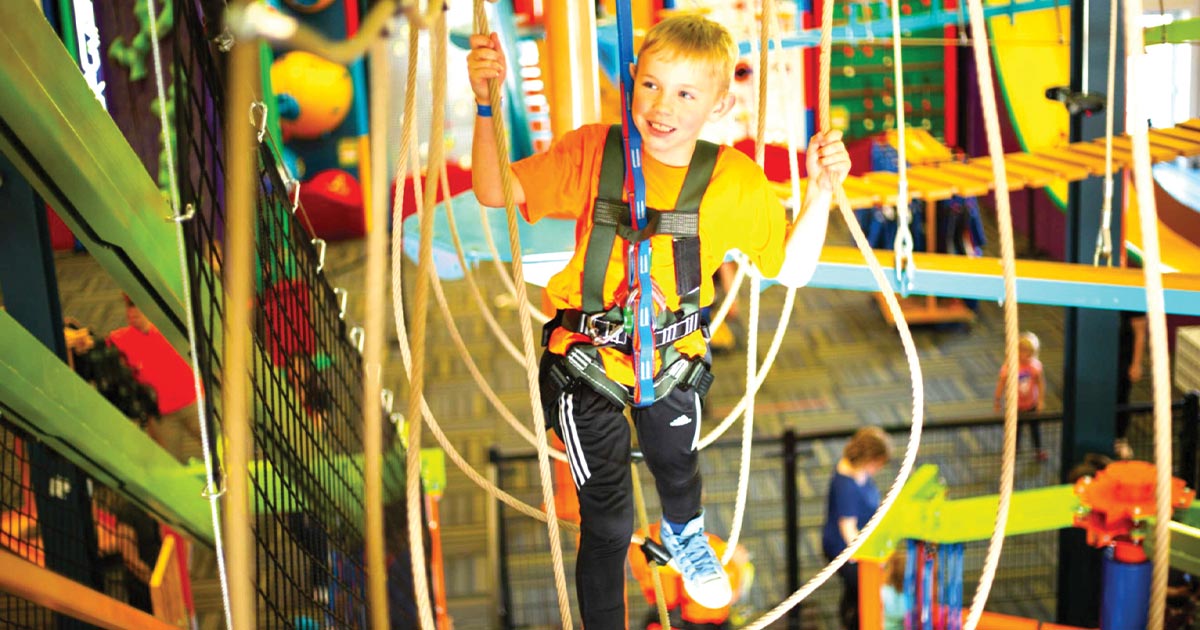 Allegan Event
439 River St., Allegan | alleganevent.com
If climbing, touching and playing is more your thing, then Allegan Event is the attraction for you and your family. This indoor adventure from zipline experts LiggettVille has a Sky Trail ropes course with zip rails, a QUICKjump free-fall simulation, a vertical drop slide, clip and climb walls, and even an outdoor zip line spanning the Kalamazoo River, not to mention a large arcade. Now that's an event!
Cannonsburg Ski Area
6800 Cannonsburg Rd. NE, Belmont | cannonsburg.com
Just about every skier and snowboarder in West Michigan got their start at Cannonsburg, and people still congregate there every winter for downhill fun. In the summer, everything changes: The Sweet Spot opens up, offering ice cream, Dole Whips, and microbrews. It's perfect for refueling after a lovely trek on Cannonsburg's many hilly trails. Bike, walk, run — whatever you like! Then hit the Zip Line Adventure, with five stations throughout the canopy.
Deer Track Junction
7850 14 Mile Rd., Cedar Springs | deertracksjunction.com
Here in Michigan, we love our wildlife. Deer Tracks Junction is part petting zoo, part safari, part play areas, with tons to do for both kids and adults. Just stop on by for quality time with pigs, goats, bunnies, alpacas, and many more cute animals! You can even drive through the Site 57 Safari to hand-feed alpacas and bison, while seeing rescued black bears (which you definitely can't feed).
TreeRunner Adventure Park
2121 Celebration Dr. NE, Grand Rapids | treerunnerparks.com
There are ropes courses, and then there's TreeRunner Adventure Park. This course among the trees in the woods behind Celebration! Cinema North is both beautiful and fun. There's nothing like climbing around among the canopy of the aerial forest, then ziplining down to safety at the end. Then, it's time to do a new route!
Air Zoo Aerospace & Science Experience
6151 Portage Rd., Portage | airzoo.org
Just to be clear, the Air Zoo is not a zoo for birds, but rather a world-class, Smithsonian-affiliated aerospace museum. Voted the "Best Place to Take Out-of-Towners," the Air Zoo has over 100 air and space artifacts, interactive exhibits, full-motion flight simulators, indoor amusement park rides, and hands-on learning.
Robinette's Apple Haus & Winery
3124 4 Mile Rd. NE, Grand Rapids | robinettes.com
Established in 1911, Robinette's Orchard has been a West Michigan staple for over 100 years. Start your visit with fresh cider and hot doughnuts at the Apple Haus, then head outside for nature trails, a massive corn maze in the fall, hayrides, a petting zoo, jumping pillow, and apple picking. Cap it all off with wine and cider tasting, with more than 20 options to choose from.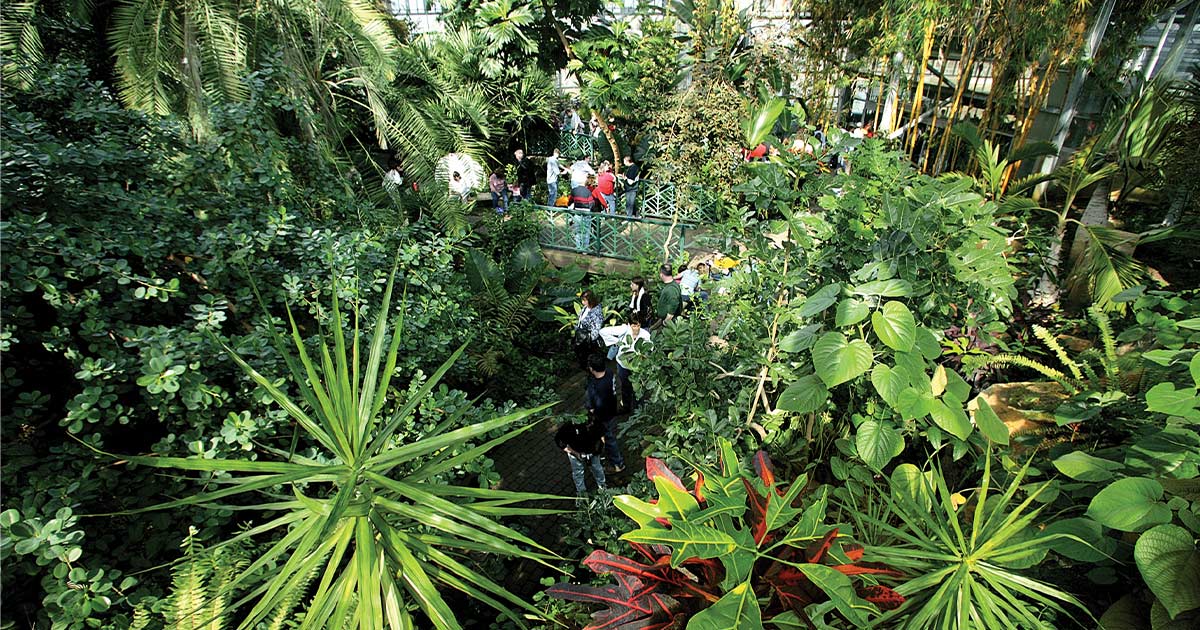 Frederik Meijer Gardens & Sculpture Park
1000 E. Beltline Ave., Grand Rapids | meijergardens.org
For those of us who grew up in Grand Rapids, Frederik Meijer Gardens is such an ever-present institution, it's easy to take for granted what a gem we have in West Michigan. This lovely 158-acre campus provides hours of nature and art to appreciate both indoors and out, including a massive tropical conservatory and dozens of sculptures outdoors. It's one of the greatest sculpture parks in the country and there's nothing like it anywhere nearby.