Every year, we bring you our 50 Things to Do in the year ahead.
There are hundreds of events already lined up for the year ahead, with many more that haven't even been announced yet. Your favorite event of 2023 may just now be in the early planning stages.
Yet again, we've rounded up what we think are 50 pretty great ideas for having an amazing year, whether it's visiting fancy restaurants, seeing your favorite band, laughing at live comedy, walking on a hidden trail, climbing among the trees, or one of many other unique options.
The Fields of Michigan
154 68th St., South Haven
thefieldsofmichigan.com
With all the beauty West Michigan has to offer, you don't have to go far to get a getaway this year. The Fields, a resort and spa in South Haven, offers visitors a relaxing staycation complete with farm-to-table dinners, massages, sailing, wine tasting and more. Their accommodations include luxury tents adorned in rustic elegance, and they are designed for families, friends and even dogs to enjoy. To top it off, the Fields is also available to book as a wedding venue. Having been featured in Forbes, National Geographic and Soho House, the Fields gives deluxe glamping experiences located just steps away from your backyard.
Marquette Greenway Project
berrientrails.org
While many return to dreary gym routines in 2023, why not make this year's fitness goals fun with the Marquette Greenway Project? This 58-mile bike trail, spanning from New Buffalo to Chicago, is set to open this spring. The trail will give West Michiganders a new way to stay active and get outside, as well as an opportunity to see new parts of the state. Also pedestrian-friendly, the Marquette Greenway Project provides visitors with endless ways to enjoy its scenic route.
Take a Mural Tour
It's no secret that Grand Rapids is adorned with art on every street corner. This year, take the time to visit all of the public art the city has to offer through grkids.com mural map. Complete with a scavenger hunt, the walkable map offers 100+ locations featuring murals around the city. Perfect for children and adults alike, the mural map outlines the best locations to view all of the art Grand Rapids has on display.
Brrrring Your Scarf and Mittens to Winterfest
Grand Haven
January 27-29
grandhavenwinterfest.org
This four-day event has something for everyone. Build and take the helm of your own cardboard sled, deal into the euchre tournament, set up for a little beach volleyball, or gad about town in your jammies for the Sleepwalker .62 Run. There's also a Kids' Day with snow angel contest, a Bonfire Bash, and more—plus free shuttle service.
Get Your Creep On at
Oddities & Curiosities Expo
DeVos Place, 303 Monroe Ave. NW,
Grand Rapids
April 1, 10 a.m.–6 p.m.
odditiesandcuriositiesexpo.com
Explore all things spooky, spectacular, and strange at this panorama of peculiarities featuring vendors and artists from across the U.S. Jewelry, antiques, taxidermy, clothing, collectibles, and unusual specimens are just part of what you'll find. You'll also be in the company of like-minded folks who appreciate the dark side of things.
Keep on Truckin' with
Roll'N Out Food Truck Festival
Calder Plaza
May 21, 11 a.m. – 8 p.m.
facebook.com/GRFoodTrucks
Put on some pants with a little stretch in them and head over to this eatables extravaganza—now in its fifth year. Expect as many as 45 participating food trucks and trailers serving up a variety of tastes and treats. It's one of—if not THE—largest festival of its kind in GR.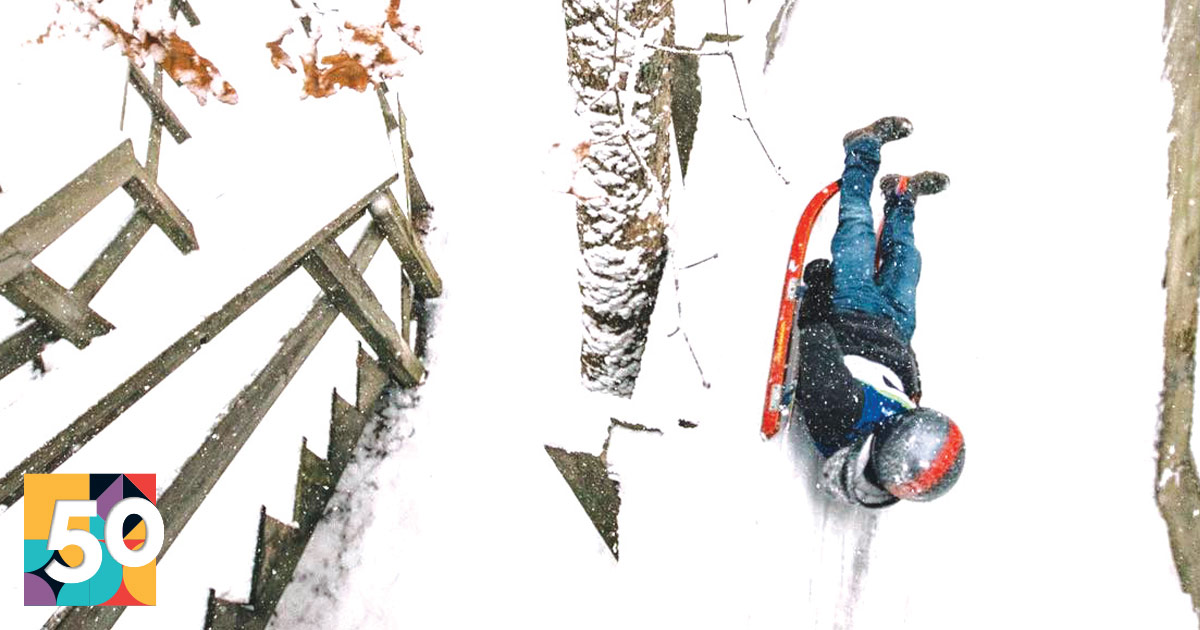 Muskegon Luge Adventure Sports Park
462 Scenic Dr., Muskegon
msports.org
Formerly known as Muskegon Winter Sports Complex, this park has everything you need to have an amazing winter. One of the few winter luge tracks in the U.S.A.? Check. A 1,400-foot dual zipline that runs in winter? Check. Skiing trails, ice skating, sledding? Check! In fact, you can even come in summer for the only wheel luge track in the U.S., archery, hiking trails and more.
Wander the Waterfront at Lakeshore Art Festival
Downtown Muskegon
June 24 & 25, 9 a.m.–5 p.m.
lakeshoreartfestival.org
Arts, crafts, music, and food come together for this two-day event in the prime of summer. Shop artisan-made goods, dine on inspired fare, and enjoy live performances and entertainment. There's also a social district for the adults and a Children's Lane for the kids, plus opportunities for interactive community art.
Escape into EDM Enchantment
Electric Forest Festival
June 22-25, Rothbury
electricforestfestival.com
A rite of passage for young concert lovers and an annual pilgrimage for the live music faithful, Electric Forest exists in a magical space between the surreal and the sublime. Now in its 11th year, Electric Forest continues to draw thousands from across the country to a tiny spot near the lakeshore for a reason – it's the sort of experiential weekend that's hard to come by anywhere these days, and it's right in our backyard, in all its bass-bumping glory.
Travel the Art Coast of Michigan
Saugatuck/Douglas
Nestled along the shore of Lake Michigan, Saugatuck and Douglas are twin cities full of top-tier art galleries, studios, exhibitions and public installations—in addition to the gorgeous beaches and lakes to explore. For example, Button Gallery has an eclectic mix of artistic voices, and a beautiful sculpture garden. J. Petter Wine Gallery has both art and something to sip. With more than 30 galleries to visit, you can't go wrong.
Paws, Claws, and Corks
DeVos Place, 303 Monroe Ave. NW, Grand Rapids
March
hswestmi.org
Put your paws in the air and party with pets at the annual Paws, Claws, and Corks gala hosted by the Humane Society of West Michigan. Savor food and beverage from West Michigan while bidding on top-notch auction items. All proceeds go towards the Humane Society's mission to promote the humane treatment and responsible care of animals in the community.
Tuesday Night Movie
Wealthy Theatre, 1130 Wealthy St., Grand Rapids
Every Tuesday at 8 pm
grcmc.org
In 2022, become a regular at the Tuesday Night movies, hosted at the Wealthy Theatre. Each week features a classic film like The Big Lebowski, Pulp Fiction, The Neverending Story, and more. While the movies start at 8 pm, head to the theatre early (doors open at 7!) to enjoy each week's themed cocktail and curated playlist while you mingle with the other regulars, volunteers, and staff at the theatre.
Play In the Trees
TreeRunner Adventure Park, 2121 Celebration Drive NE, Grand Rapids
treerunnergrandrapids.com
Climbing, balancing, leaping and zipping from tree to tree is one of my favorite activities. Is this obstacle course among the leaves an intense workout? Yes. But it's also incredibly fun. It's safe, too, as you're attached to a wire at all times. And it's easy to social distance here. One ticket gets you a three-hour experience, with seven aerial trails of various difficulty. Once you've completed the beginner and intermediate trails, come back another time to master the expert level!
Hear A Grammy-Winning Jazz Master | Maria Schneider Orchestra
Chenery Auditorium, 714 S. Westnedge, Kalamazoo
March 12, 4 p.m.
thegilmore.org
The Gilmore brings the greatest pianists in the world to West Michigan, and this is no exception. Composer and bandleader Maria Schneider's Grammy-winning and Pulitzer Prize-finalist album Data Lords was described by the Pulitzers as "an enveloping musical landscape of light and shadow… reflecting the promise of a digital paradise contrasted by a concentration of power and the loss of privacy." It was also named Jazz Album of the Year by the Jazz Journalists Association and NPR. She will present selections from Data Lords with her 18-member jazz collective.
Tip-toe Through The Tulips
Tulip Time in Downtown Holland is a West Michigan springtime staple. Whether you've never been or you're a yearly attendee, Tulip Time is worth making time to see. You can expect rolling fields of bloomed tulips, Dutch treats and traditions, as well as family friendly activities throughout the week long event. The festival is almost exclusively outdoors, so pack some SPF and shake off the winter blues with Holland's Tulip Time festival this spring.
Have a Local Laugh
The Comedy Project, 540 Leonard St. NW, Grand Rapids
thecomedyproject.com
The Comedy Project is Grand Rapids' home to local comedians and actors, presenting hilarious shows of every kind multiple days a week. Check out one of their many variety shows, featuring sketch comedy, improv, musical comedy and much more. This winter features Winter? I Hardly Snow 'Er!, a winter comedy show that will help you "forget the frozen hellscape outside for 60 minutes."
Drink Outside at Winter Beer Fest
LMCU Ballpark
Feb. 25, 1-6 p.m.
mibeer.com
What more do you need to know! Okay, we'll tell you a little bit: Winter Beer Fest is one of the defining events of West Michigan. Beer, local music, wacky performances, ice sculptures, and it's all outdoors in the snow. Your ticket includes admission and 15 tokens for beer samples, with hundreds of beers to choose from. Bundle up, and cheers!
Experience Awe-Inspiring Acoustics
St. Cecilia Music Center, 24 Ransom Ave. NE, Grand Rapids
scmc-online.org
St. Cecilia Music Center is an astonishing, world-class venue that's not just beautiful to see, but to hear as well. They have an incredible lineup coming through in 2023, with a wide variety of artists. Stop by on January 19 for a chamber performance of Franz Schubert's greatest works; come in February 5 for folk artist Chris Thile; and stop in February 16 for jazz supergroup ARTEMIS, comprised of six incredible solo artists.
Kalamazoo Craft
Beverage Week
Downtown Kalamazoo
Jan. 13-21
kalamazoocraftbeverageweek.com
Kalamazoo Craft Beverage Week is a weeklong series of events that celebrate the craft beverage industry. This celebration is for anyone who shares a passion and an affinity for hand-crafted products, made by people who care about an enriching experience and carefully fashioned flavor profiles. Breweries around the area will be releasing special brews, competing in competitions, hosting fun events and much more.
71st Annual Kalamazoo Arts Fair
Kalamazoo Institute of Arts
June 2-3
kiarts.org
The 71st Annual Kalamazoo Institute of Arts Fair is a two-day, juried show featuring up to 175 fine artists. Staged in the shady, historic Bronson Park in downtown Kalamazoo, the KIA Arts Fair is acclaimed for its friendly atmosphere and large crowds of arts patrons from across Michigan, Indiana, and beyond. The fair offers many artist amenities, awards for best-in-category prizes and is supported by far-reaching promotional measures attracting a crowd in upwards of 40,000. Proceeds from the fair support free-admission and education programming at the Kalamazoo Institute of Arts.Top of Form
Ice, Wine, Beer and Blues Fest
Franke Center for the Arts, 214 E. Mansion St., Marshall
Feb. 3-4
choosemarshall.com
The Ice, Wine, Beer and Blues Fest is a two-day celebration of winter, booze, and blues! Choose to attend one or both nights of fun. The festival is a Marshall favorite featuring specialty wine and beer tastings on Friday night and a blues concert at The Franke Center on Saturday. Friday's popular festivities feature a wine and beer tasting throughout Marshall's downtown starting a 6pm. Enjoy food, craft beers and specially selected wines. There will also be live ice sculpting!
Take Advantage of
Holland's Snowmelt System
Downtown Holland
holland.org
Holland isn't just a cute little town on the lakeshore, it's also chock full of places to see and things to do, made even better by the city's snowmelt system in the winter. If you're looking for a magical Hallmark winter moment, come to Holland, have a drink at Big Lake Brewing, a bite at Waverly Stone Gastropub, a latte at Lemonjello's Coffee, shop at one of many boutiques — we could go on all day!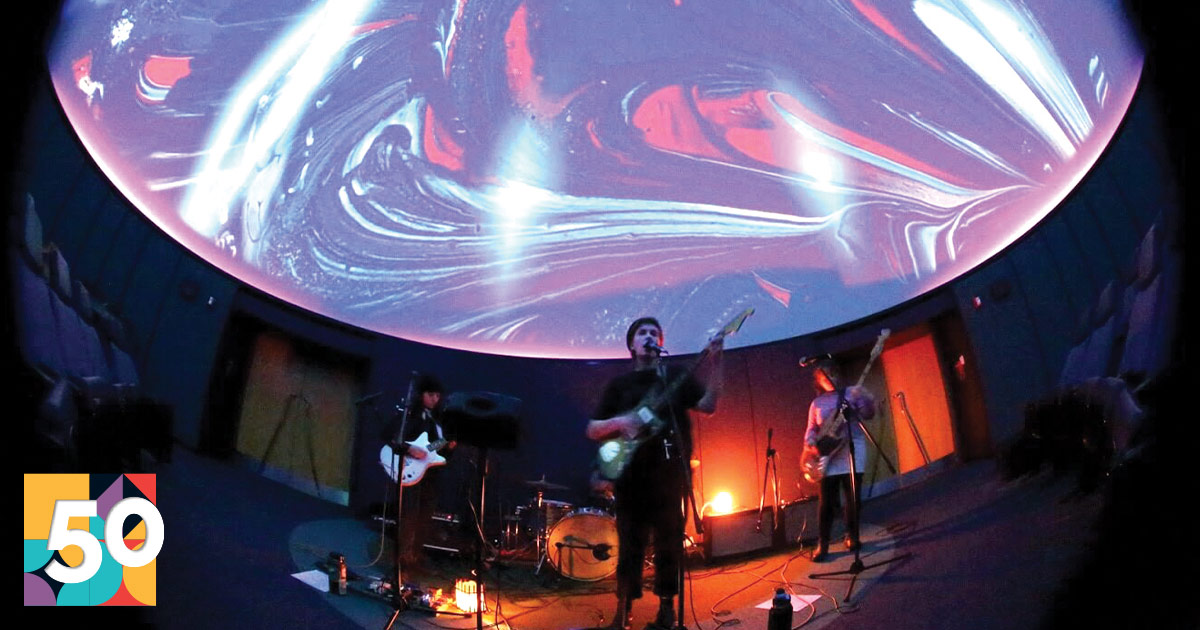 Hear a Concert Under the Stars
Grand Rapids Public Museum
grpm.org
With the ability for pretty much infinite variety in visuals, the Grand Rapids Public Museum's planetarium makes for a magical, spectral stage. Thanks to spiffy modern technology, artists are able to shift the mind-blowing visuals in real-time with the music. All kinds of bands have taken the stage, from psychedelic and atmospheric to acoustic, electronica and shoegaze. Check the museum's website for this season's lineup, including Earth Radio, Phabies and Jordan Hamilton.
Women and Whiskey
JW Marriott Grand Rapids
235 Louis St. NW, Grand Rapids
Jan. 19, 6-9 p.m.
Whether you're a connoisseur or looking to learn, bring your curiosity and join in to celebrate the world of whiskey and complimentary spirits. Happy Hour begins at the Lounge at Margaux at 5 pm. The private mixology class featuring Maker's Mark whiskey experts kicks off by 7pm in the private event space. Join for a lively, educational class, using varieties of whiskeys and spirits while enjoying the company of other whiskey-loving ladies (and gentlemen)!
Dinner and a Show in One Spot
Salt of the Earth, 114 E. Main St., Fennville
saltoftheearthfennville.com
Salt of the Earth is a favorite in Fennville, baking their own bread and serving up an authentic Midwest American rustic food experience. It's a warm and welcoming place, with elevated yet familiar dishes, from wood-fired salmon to grilled hanger steak and wood-fired pizza. Plus, you can enjoy a show with your meal when you stop in for live music, like Darcy Wilkin & Drew Nelson's show on February 5.
See Basketball
Like Never Before
VanAndel Arena,
130 W. Fulton St., Grand Rapids
Jan. 22
vanandelarena.com
The World-Famous Harlem Globetrotters are bringing their newly reimagined Spread Game tour to Van Andel Arena this month. The Spread Game Tour is a basketball event like no other. Ankle-breaking moves, jaw-dropping swag, and rim-rattling dunks are only some of the thrill you can expect from this fully modernized show. Part streetball from the players who defined it, part interactive family entertainment, the new tour will show off the best of the Globetrotters in a dazzling exhibition of talent and game.
Disney On Ice Presents
Let's Celebrate
Van Andel Arena
Feb. 2-5
vanandelarena.com
Eight shows across four days! Grab your Mickey ears and get ready for the ultimate party when Disney On Ice skates into your hometown with more than 50 unforgettable Disney characters. Hosted by Mickey and Minnie, go on an adventure through 14 of the greatest Disney stories ever told.
Amaze and Amuse:
A Modern Day Magic Show
Wealthy Theater
1130 Wealthy St. SE, Grand Rapids
Jan. 20, 7 p.m.
grcmc.org
Local comedian and magician with trademark hair, Trino has performed a comedic magic show for high-prestige audiences, but he makes his home Grand Rapids, where he performs monthly. Throats dry from laughter and amazed gasps are no concern, as ticket purchase includes a drink voucher. Guest hypnotist and magician Chuck King joins Trino for the night of entertainment and surprise.
Tours Around Michigan
toursaroundmichigan.com
Even if you've lived in West Michigan your whole life, there's still an incredible amount to see in your own backyard, and Tours Around Michigan is here to help. Whether you're a local or an out-of-towner, their goal is to inspire guests to keep exploring, diving into the city's history, art, riverfront, historic homes, parks, tastings, and so much more. The most popular tour is the Ghost Tour Grand Rapids, but there's something for everyone! They recently received endorsement from Accessible Travel World, which means these tours are fully welcoming for people using wheelchairs, needing sign language interpreters, or other accommodations.
Cocktails 101: An Introduction to Better Drinks
Long Road Distillers
537 Leonard St. NW, Grand Rapids
Jan. 24, 6:30 p.m.
Where better to learn how to make cocktails than at a distillery? And Long Road is one of the best, known for their memorable drinks that innovate on the classics. In this class, you'll cover the basics of distillation, the components of a proper cocktail, and basic techniques to make better drinks at home.
Game Night Out
House Rules Board Game Lounge
404 Ionia Ave. SW, Grand Rapids
houseruleslounge.com
Bring your own game, buy one off the shelf, or borrow one of 200-plus games from the Lounge Library. Then, choose from one of 20 drafts, which feature not just craft beer but craft soda, root beer, build-your-own seltzer and more! On top of that, the cooler has hundreds of CBD, kombucha, seltzer, tea, coffee options and more. Game on.
Jazz Your Night Up
GRNoir Wine and Jazz
35 S. Division Ave., Grand Rapids
grnoir.com
If you need a place to chat, snack and sip wine, with built-in conversation breaks for live jazz, head to GRNoir. The atmosphere is plush but extremely welcoming, fitting with the bar's mission to help introduce "regular" people to wine and jazz, two pursuits often seen as high society in today's world. Essentially, the whole place is a conversation piece.
BOLD Cigar Bar & Lounge
144 E. Fulton St., Grand Rapids
boldcigar.com
BOLD is a cigar lounge in GR with a huge walk-in humidor, amazing cocktails and extremely helpful owners. Whether you're an expert or have never touched a cigar in your life, they'll lead you to the right smoke and even cut it for you.
Skydive Grand Haven
skydivegrandhaven.com
What could possibly be more exhilarating, unique and memorable than skydiving? Book a jump this year and you'll enjoy a scenic plane ride over Lake Michigan, then freefall at 120 mph before parachuting down to safety. Life is short, start working on your bucket list now!
Dive Into Virtual Reality
Amped Reality
2923 28th St. SE, Grand Rapids
ampedrealityvr.com
Amped Reality goes far beyond even when VR sets can do at home. You can play the popular VR games like Beat Saber and Superhot, of course, but they also have great games for groups, like virtual escape rooms and traveling through nature. It's all amplified by the Haptic Vests, which provide feedback on your body.
Climb Kalamazoo
136 S. Kalamazoo Mall, Kalamazoo
climbkalamazoo.com
With 44 climbing walls reaching 25-30 feet high and spanning over 10,500 square feet, it's safe to say Climb Kalamazoo is a climber's paradise. Belay lessons, rope climbing, bouldering, a pro shop — they have it all.
The Mud Room
1971 E. Beltline Ave., Grand Rapids
themudroom.us
Parents of young children and adults who like to make things are well-served by this Grand Rapids business. Visitors are able to create pottery, wooden signs, and glass art, and to paint pottery, too. In a world in which so much of what we do is digital, getting to hold something you created is that much more powerful.
Walk Along Secluded Woods
Aman Park
1859 Lake Michigan Dr, Grand Rapids
Aman Park is hardly a hidden gem. Still, many Grand Rapidians have yet to experience its beauty. Trails range from .8 to 1.5 miles. Its hills are modest enough for most walkers, but steep enough that showoffs can earn points by running up them. For a break, stop and admire its streams or listen to the sounds of the natural world. And bring your dog, or anyone's dog.
Get a Reservation at MDRD
187 Monroe Ave NW,
27th Floor, Grand Rapids
amwaygrand.com
Too busy for vowels, MDRD remains a challenging, but worthwhile, reservation. The restaurant sits atop the Amway Grand Plaza, but its views, spectacular as they are, are nothing compared to the food. From the crispy-and-pillowy patatas bravas to the world-class pork belly, MDRD is there to satisfy. Top that with delicious cocktails and friendly, professional service, and terrific atmosphere. Propose to your beloved there. If he or she says no, well, at least you had a great meal.
Larry the Cable Guy
Soaring Eagle Casino
6800 Soaring Eagle Blvd, Mount Pleasant
March 10, 8 p.m.
soaringeaglecasino.com
It's time to get 'er done with Larry the Cable Guy, multi-platinum recording artist, Grammy nominee, Billboard award winner and one of the top comedians in the country. Whether you love the Blue Collar Comedy Tour or just enjoy hearing his voice as Mater, this is your chance to see him.
Get Weird with Al
Kalamazoo State Theater
404 S. Burdick St., Kalamazoo
Feb. 2, 7 p.m.
kazoostate.com
It's the perfect time to see Weird Al, hot off the release of his pseudo-biopic. He's back on the road with "The Unfortunate Return of the Ridiculously Self-Indulgent, Ill-Advised Vanity Tour," which is perfect for the superfans. He's playing more intimate venues with more stripped down concerts, pulling deep from his back catalogue of 14 studio albums.
Countdown to Six: The Musical
Broadway Grand Rapids
DeVos Performance Hall
303 Monroe Ave. NW, Grand Rapids
Jan. 10-15
devosperformancehall.com
You have eight chances to see the new hit musical Six when it comes to Grand Rapids this year. From Tudor Queens to Pop Princesses, the six wives of Henry VIII take the mic to remix five hundred years of historical heartbreak into an exuberant celebration of 21 century girl power. You'll lose your head—er, mind!
Winter Wheat 2023
The Intersection
133 Cesar A. Chavez Ave. SW, Grand Rapids
Jan. 14, 1-11 p.m.
sectionlive.com
Have you ever wished that the wonderful Wheatland feeling could last all year long? Have you ever wanted to share in Wheatland camaraderie, dance, and music during the winter doldrums? Have you ever wanted an excuse to delay your winter chores and cure your cabin fever? Wheat has grown from a cute little off-shoot to one of West Michigan's premier indoor music and dancing festivals.
See Cats - Onstage
Miller Auditorium
1341 Theatre Dr., Kalamazoo
Feb. 17-18
millerauditorium.com
If the truly bizarre movie version of Cats piqued your interest at all, why not see the real thing to understand why the musical is so beloved around the world (and has been for decades). Andrew Lloyd Webber, fascinating costumes, unforgettable characters—Cats has it all.
Chairoscuro International Film Series
Wealthy Theatre
1130 Wealthy St. SE, Grand Rapids
All winter
chiaroscurogr.com
Chairoscuro's mission is to connect world cultures, promote greater understanding of diverse peoples, and celebrate the universal human spirit through exceptional international cinema. They do this with an annual film series held during winter months, choosing a relevant theme each year and then select five highly acclaimed international films for each series. A brief panel discussion is offered immediately after. A reception in the lobby follows with complimentary food and drink.
Go Viral with Casey Frey
The Pyramid Scheme
68 Commerce Ave. SW, Grand Rapids
Jan. 12, 6:30 p.m.
pyramidschemebar.com
Mischievous, unpredictable, flexible, and a little bit surreal—Casey Frey is an internet star known for putting his incredible dance skills to great comedic effect. He's been collaborating with huge artists like Donald Glover and even appearing in films, thanks to his singular voice.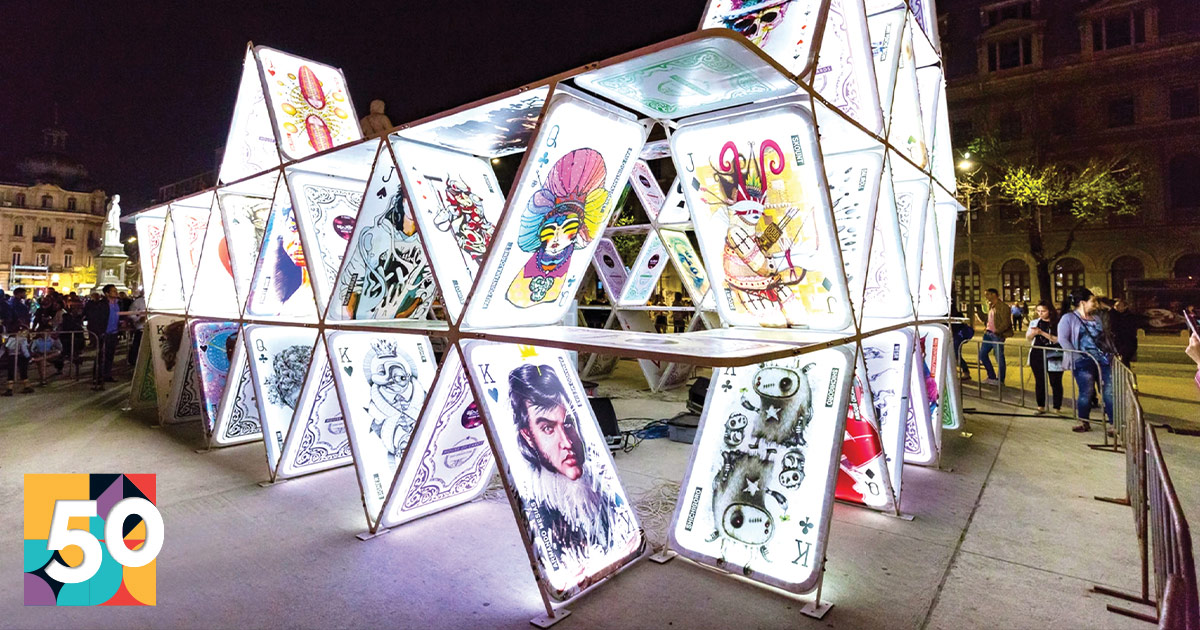 Experience the Magical World of Winter
Downtown Grand Rapids | Jan. 6-March 5 | worldofwintergr.com
The World of Winter is Grand Rapids' way of making life not just bearable, but incredibly fun and magical in the heart of winter. Over 100 FREE events, a ton of unique interactive art installations, more than 50 ice sculptures, activities, programs and more will take over Downtown Grand Rapids. Here are just a few highlights:
Light Maze
Gillett Bridge | Jan. 6-March 5
Two spectacular heads created by the Hungarian light artist Viktor Vicsek also show countless emotions and reactions to each other. Unlike people, these Talking Heads don't do it using muscles but through all the possibilities of light. Per head, some 4,000 individually controllable LEDs provide different facial expressions and conduct conversations using light.
House of Cards
Calder Plaza | Jan. 6-March 5
House of Cards consists of 128 light boxes in the form of playing cards, which in turn (or all at once) appear according to a preconfigured choreography. Every card in House of Cards has a different design, designed by internationally acclaimed street and visual artists from all over the world – creating one big joint art exhibition, carefully curated and crafted. In addition: DGRI partnered with several local artists to create 10 custom cards to go in the deck.
Winter's a Drag
Calder Plaz | Jan. 14
Michigan Drag Brunch is proud to bring you this FREE event in partnership with Downtown Grand Rapids Inc. Watch the Brunchettes/Queens work the stage! Enjoy brunch food from local food trucks. Plus, giant yard games and a photo opportunity with the crown-shaped ice sculpture!
Ice Park & Food Truck Rally
GR Public Museum | Jan. 21
Enjoy some food, a pop-up sound installation and outdoor games! Plus: Snap a selfie on the ice throne. The list of ice-cold games are shuffleboard, plinko, foosball, chess, checkers, cornhole and putt-putt. Ice Games will be left out until they melt.