A fashionable men's club is forming in Grand Rapids, and if you follow the finger pointing, key players include Jim Murray, general manager of A.K. Rikk's and Stylist Kev Couture, along with a slew of other personalities.
"Fashion is everything to me. I love being able to make someone feel good about themselves through fashion. That's my high," Couture said.
And it's not just Couture who's feeling good as a result of fashion. Many men about town are picking up on an oft-overlooked trend.
"Men are starting to take notice. They think, I need a crisp haircut and cologne. It's all in the details — from the watches to the socks," says Ryan Slusarzyk, corporate business travel manager for Amway Hotel Corporation.
Slusarzyk namedrops Fitzgerald's Men's Store in Breton Village Mall, A.K. Rikk's, the Birch Run outlet, Somerset Collection and the new Wolverine Company store downtown as some of his favorite men's clothing retailers.
So, who's influencing this resurgence of men's style?
"Women have a lot of control over that," Couture says with a laugh. "I'm bringing fashion by way of keeping it fresh, keeping up with the pulse of what's happening so we won't get lost."
When it comes to experience in the local fashion industry, Patrick Plank is a name that pops up in such fashionable circles. Plank is the creative director and head of visual merchandising at Leigh's, as well as the creative genius behind Couture for a Cure.
"I do the same thing that I do for women. You buy nice things, the best you can afford. It's all about how you put it together," says Plank, who explains his style as "funky English country gentlemen."
Jerrad Matthew, owner and director of the The Matthew Agency model and talent agency, is involved in numerous fashion events, including last month's Black & White Party, a men's underwear fashion show.
"People think fashion is frivolous, but it's an industry that affects so many people," says Matthew, whose latest endeavor, RAGTrade GR, is an online magazine providing information and connections to the local fashion community.
"I'm trying to take the existing fashion community that's here and help them to unify and push them into the spotlight," Matthew said.
From a career perspective, men have plenty of opinions on marrying their fashion sense with their work environments. Slusarzyk, for example, says his 200 ties and 40 pocket squares give him flexibility in a conservative company environment.
"It's important to look the part. People notice," he said. "It's all about my personal brand. I have to stand out and make my mark. If you're sloppy and not paying attention, people pick up on that. It's about gaining respect and that carries on into other aspects of life."
Slusarzyk mentions local photographer Terry Johnston as an example of someone who embraces their personal brand through fashion, especially with his pink, thick-rimmed glasses.
A quick peek at Johnston's professional website or Facebook page proudly displays his hot pink glasses logo.
"The person who handled my branding, he just got me perfectly," Johnston said. "He told me, 'Everyone stops you on the street to say they love your glasses — roll that into your look.'"
Once the former ad agency employee decided to go out on his own he threw all his dress clothes into a bonfire.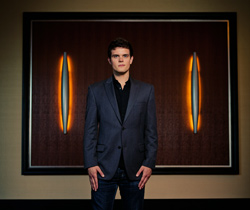 Handsome Men's Club
The Handsome Men's Club's mission is to promote and engage handsomeness in Grand Rapids. Five men in our story were featured (along with publisher Brian Edwards). According to President Scott Erickson (pictured above) — and founding father Jimmy Kimmel— "Handsome comes from the within side," and membership is easy — just post a picture to the spoof club's Facebook page. Photo: Tina Derusha for Artistry by Sonatina
"I'd never dress for anyone again. My style is my own thing," said Johnston, who is adept at meshing his quirky style into his creative professional settings and raves about the jeans at A.K. Rikk's.
So what does General Manager Jim Murray credit A.K. Rikk's success to?
"We don't dumb down fashion for people in Grand Rapids," said Murray, who noted the influx of male shoppers for the last Fashion's Night Out event.
"There was an overwhelming amount of guys. I even saw guys come together and decided to make a night out of it."
And Grand Rapids is taking note. Recently, Michigan-based company Wolverine Worldwide opened up shop in MoDiv, a retail incubator located on Monroe Center.
"I think we have a great selection of men's footwear. We're right in the middle of a great trend in Americana work wear that's authentic," says Chris Hufnagel, president of retail Group.
Hufnagel says the store takes its consumers and community very seriously. So, why are the men lining up?
"We go out of our way to make them feel special. We make friends first."
And friends don't let friends dress bad. Stay handsome by following some of Kev Couture's simple styling instruction:
"Every guy should have a suit in their closet. For winter, cardigans can be worn at the office, on a date, or underneath a jacket. It's a staple piece."
Special thanks to Amway's Lumber Baron Bar for the hospitality and to A.K. Rikk's for providing Jerrad Matthew's wardrobe.
Photos: Adam Bird