"Foxlore is the coming-of-age story of The Crane Wives," vocalist/guitarist Kate Pillsbury told Revue as way of introduction to the Grand Rapids band's new LP. "We wrote the songs at a time when we were still bumbling through our lives a bit. So much has happened to us between the writing of these songs and the consequent recordings."
Beginning as a two-album concept as far back as 2014, Foxlore is the sister record to The Crane Wives' last album, 2015's Coyote Stories.
Since that time, life has continued unabated for the young indie band.
The indie-folk-rock group played one of its biggest gigs last year, opening for the Avett Brothers at ArtPrize. Drummer/vocalist Dan Rickabus got married. Bassist Ben Zito built a studio, and both started a jam-inspired side-project with fellow local musician Steve Leaf called Public Access.
On top of all that, Pillsbury and vocalist/guitarist Emilee Petersmark quit their day jobs on a whim and travelled the world. Well, as much of it as they could see in a two-week window of free time from band duties.
"The stretch between the release of Coyote Stories and the release of Foxlore has been the hardest, most tumultuous time in my life," Pillsbury said, explaining how last November her boyfriend was injured in a motorcycle accident that left him paralyzed from the waist down. "Releasing Foxlore feels a little bit like a grand celebration after a heart-wrenching period in my life."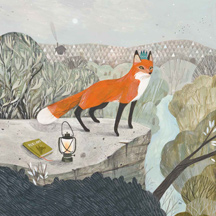 The Crane Wives Foxlore Album Release
wsg Olivia Mainville & the Aquatic Troupe

Founders Taproom, 235 Grandville Ave. SW, Grand Rapids
April 2, 9:30 p.m., $6, 21+
foundersbrewing.com, thecranewives.com, (616) 776-1195
Naturally, The Crane Wives celebrates its new album's release this month where the band first began: Founders Taproom in Grand Rapids. With Foxlore, they'll have released three of their four albums at the venue.
Backed by a successful PledgeMusic campaign, The Crane Wives recorded Foxlore and Coyote Stories simultaneously last March and April. They later returned to Zito's studio in November to work on some vocal harmonies and put the finishing touches on the new album.
"I kind of see Coyote Stories as a stepping stone into Foxlore," Petersmark said. "Both have a rockier sort of feel to them, but Foxlore really digs in with the electric guitar and heavy lyrics."
On both records, Pillsbury has picked up the electric guitar more often, while still sharing acoustic guitar, ukulele and banjo duties with Petersmark.
"We've definitely pushed the boundaries of folk in these last two albums," Petersmark said. "For a long time, the banjo was a prominent part of our sound, but we're letting it take a backseat in these two albums in order to showcase guest musicians, electric guitar riffs and more prominent bass lines."
"I dare anyone to call this a folk album," Pillsbury added. "Our music is always going to be lyric-driven. That's never going to change. [But] The Crane Wives do not strive to write folk music. We're striving to write music with lyrics that make people think. If that makes us folk, then so be it. But don't overlook our groovy bass lines or our disco and hip-hop infused drum beats."
When the band first thought up the concept for Foxlore and Coyote Stories, they discussed how they see the band as a team, not only with each other, but with the friends, family, fans and fellow musicians who have come to surround them.
"The coyotes represent us and the community around The Crane Wives," Pillsbury said. "We derive so much happiness from sharing our lives with other people. As beautiful as that is, the fox comes into play because no matter how much you surround yourselves with other people, the human journey is always a solo trek. No one can ever fully understand another person's life. No one can fight my battles for me. I try to blend in with the coyotes but I'm a fox at heart."
This summer, The Crane Wives will venture all over the country, including first-time stops in cities from Vermont to the Southwest. After that, perhaps they'll start work on another album.
"We always try to put on the best show we can, even if it's only for one person," Zito said of the band's past experiences on the road playing for packed houses and nearly empty bars. "Joey Schultz, formerly of Fauxgrass, once told me that if you have fans at home, you can have fans anywhere.
"When we started playing Founders' open mic night five years ago, we received looks of curious wonder that I had not experienced before while performing in a band," he added. "It's pretty neat to see those same looks on the road in the faces of people hearing our music for the first time."
Preview a song from the new album below: