From new bands on the brink of stardom to mainstays long overdue for the local spotlight, West Michigan is packed with fantastic musicians who deserve more eyes and ears. We've rounded up just a few of them here, spanning the wide range of sounds and styles you'll find all over the region. Take a listen!
(Click on a band's name to hear music or learn more about the band.)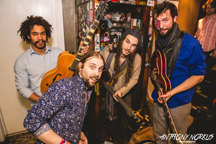 Brother Adams
Hometown: Holland
Genre: Folk rock
This relatively new group from the lakeshore has a deep respect for the roots of American music. They've also got the moxie to branch out in entirely new directions. Their impassioned blend of folk, country, blues and even grunge is impossible to pin down, yet it sounds like a good ol' foot-stomping saloon wherever they play. Get ready for the band to break out when they open for Detroit garage-rock legends Electric Six at The Intersection on June 18. (Photo: Anthony Norkus)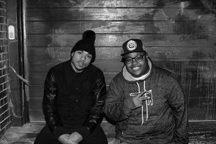 JROB
Hometown: Grand Rapids
Genre: Rap
One of the many massively talented emcees in West Michigan's underappreciated hip-hop scene, JROB gives a strong voice to the voiceless. Earlier this year he formed The Great Ones, a socially-conscious duo, with Jammie Award-winner Lady Ace Boogie. Their lead track, "Hands Up, Don't Shoot" tackled the tough subjects of police violence and institutionalized racism with an unflinching sense of urgency. Look out for the limited-release of The Great Ones' debut album on Hot Capicola Records, a GR-based label. (Pictured here with Lady Ace Boogie. Photo: Hot Capicola Records)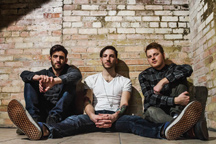 Southpaw
Hometown: Muskegon
Genre: Pop-punk
The next generation in Muskegon's long-running pop-punk scene, this fresh trio just played the gig of a lifetime when they opened for A Day To Remember in front of a sold-out crowd at The Intersection last month. The show came right on the heels of the band's new EP, Away Like Sheep, whose release party was held at Unruly Brewing Company. Already a high-energy favorite in their hometown, expect more noise and more fans from these guys.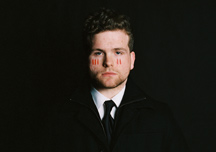 Alexander Lynch
Hometown: Grand Rapids
Genre: Electronic/Pop
This past winter, Alexander Lynch released his debut EP, Love Lives. Things have been heating up for the vocalist/songwriter/producer ever since. With the recent release of a striking video for the song "Missing Me," Lynch has drawn a spotlight on his surprisingly soulful vocals, which are cast in an array of slow-motion synths courtesy of co-producer DENM (aka Ryan McCarthy of breakout Grand Rapids-based band Stepdad). Fans of acts as varied as The Weeknd and Passion Pit should take notice immediately.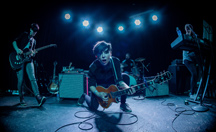 Lipstick Jodi
Hometown: Grand Rapids
Genre: Indie rock
Describing themselves as "the lesbian lovechild of St. Vincent and Yeah Yeah Yeahs," this trio fronted by vocalist/guitarist Karli Morehouse rocks a fuzzy-guitar, female-fronted sound reminiscent of some of the best bands from the '90s. In recent months, the group has opened several shows for several like-minded local pop-rock bands, such as American Wi-Fi, Deadlight Holiday and The Zannies, hitting every place they can in support of their own EP, Good Not Great. On June 17, the band makes its first-ever appearance at New Holland Brewing. (Photo: Nick Hosford)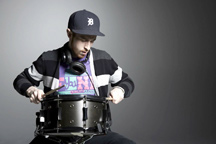 Ty Beat
Hometown: Grand Rapids
Genre: Livetronica/Hip-hop
Ty Beat is the solo project of Grand Rapids-based musician Tyler Bennett. A jazz-trained musician and longtime collaborator with Detroit-based hip-hop label Young Heavy Souls, Bennett has established his own sound with a unique mix of live drums and electronic cuts. He's performed all across the Midwest with the likes of GRiZ and Odesza, and become a much sought-after producer and DJ. Check him out at tybeatmusic.com.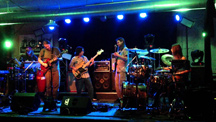 That Freak Quincy
Hometown: Kalamazoo
Genre: Jam/Funk
Working its way into the emergent West Michigan jam scene for the past three years, this outfit has really come into its own. They're now regular hosts at Papa Pete's weekly Artist Nights in Kalamazoo and have completely taken over the stage at such popular venues as Bell's Eccentric Café, Shakespeare's Lower Level and The Union. Their improvisational style makes things different every night, so the only thing to know before heading to one of their "freak shows" is: Get ready to get down.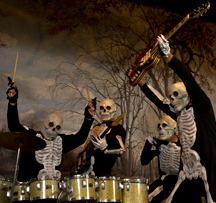 The Concussions
Hometown: Grand Rapids
Genre: Instrumental rock
One of West Michigan's most mysterious bands and best kept secrets, The Concussions are bare-bones rock 'n' roll — no pun intended, as they're known for donning matching skeleton costumes onstage. Longtime members of the local music scene, the band sounds like a black and white television channel-surfing from midnight monster movies to The Ed Sullivan Show. Catch them June 10 at Holland's Park Theatre when they open for California rockabilly veterans The Blasters.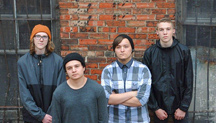 Drifter
Hometown: Grand Rapids
Genre: Metalcore
Although its new EP is titled Lost Hope, this up-and-coming band has helped prove that heavy music will never die in West Michigan. Influenced by their personal faith, and bands like Underoath and August Burns Red, the group has hammered out its live sound for the past three years. Last summer they stormed the stage at the Vans Warped Tour in Detroit. This summer, with a powerful new record behind them, who knows where they'll go.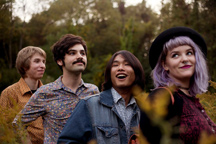 King Median
Hometown: Kalamazoo
Genre: Psychedelic/Baroque pop
Bringing back the brightest sounds of the psychedelic '60s, this young five-piece breathes new life into a Beatles-esque style that's currently being mined by major bands like MGMT and Tame Impala. Fresh, fun and summery, their harmony-driven music is perfect for an outdoor stage, so keep an eye out for them on festival bills in the not-too-distant future. In the meantime, listen to the band's latest release, the Namaste EP, at kingmedian.bandcamp.com. (Photo: Van Forsman)