If the vinyl sales boom hadn't pulled Vertigo Music out of dire straits amid the MP3 uprising, store manager Herm Baker would've found another solution to keep the store afloat.
Failure is not an option for this music-shop veteran.
"This store has to work for me," Baker said. "Nobody is hiring 55 year olds. Whatever the f*** it takes — I'm going to make sure we're successful. I'm driven by the sheer need to survive."
Luckily, the vinyl renaissance, and hyped up international events like Record Store Day, have made survival much easier for Baker and Vertigo Music, a fixture in downtown Grand Rapids. The shop, located at 129 S. Division Ave., is experiencing continual rapid financial growth thanks to the granddaddy format: vinyl.
During this interview Baker was building new shelves to accommodate the colossal amount of new vinyl he was ordering for Record Store Day, which lands on Saturday, April 18 this year. After some shaky times it appears the Dark Age is over for record pushers — if they know what to stock: Baker does. He's a true music fan and a damn good businessman.
Baker, 55, first got turned on to music as a West Michigan teen digging for the latest prog-rock LPs by Genesis and Van der Graaf Generator. "But what really got me into vinyl were the post-punk bands that happened right after the Sex Pistols, like the Jam and XTC," Baker recalled. "I've always loved those bands. My favorite period of music, what I really connected with, was the post-punk era of '78 to '83."
In 1986 Baker took the next step in music fanaticism and opened Vinyl Solution, his first storefront. The shop was a hub for music fans and even scored a rare in-store appearance from Morrissey in 1992; MTV News covered the event.
"Vertigo is my second store, before that I had Vinyl Solution," he said. "We were a huge store, did $1.5 million in sales, but we got wiped out by Best Buy and went through bankruptcy in 1999. So in 2000 my partners and I decided to open Vertigo Music and give it another go."
But shortly after Vertigo opened its doors, a new opponent arose, and it wasn't a big-box chain store: It was the digital enemy.
"Two years after we opened Vertigo they announced iTunes," Baker said. "Every year after that was a slow decline in sales. We were dropping 10 percent annually. We'd been selling vinyl all along, but never had a ton of them in here. Maybe we had 2,000 new and 2,000 used. Now we carry 20,000 new and 10,000 used."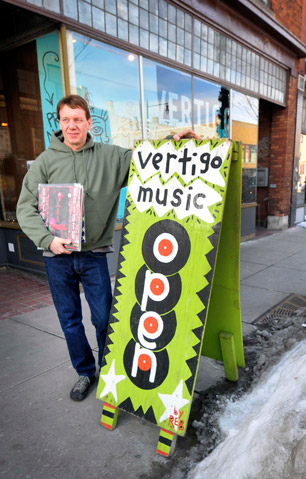 Baker can pinpoint the exact moment he decided to reinvest in 12-inch LPs and 7-inch singles. It was after he observed peculiar shopping behavior from his youthful regulars.
"About seven years ago, around the start of Record Store Day, I noticed a bunch of kids were looking at vinyl again," Baker said. "The sense of urgency really hit me. I thought, 'We need to really get on top of this and be the store in West Michigan that has all of the new vinyl.' We've committed $200,000 toward new vinyl.
"You can make more money on new vinyl now," he said. "We're buying directly from the record labels when it makes sense. That's how you make some money. We have very little payable, we're in great shape financially."
The cash cow may be sealed vinyl, but Vertigo is always looking to buy quality used collections from the public.
"Prices of used vinyl have gone up," Baker said. "A used Zeppelin record will sell for $15, a brand new one costs $22 — that's where the market is right now. The days of the $2 and $3 used records are long gone. Some titles still cost that much, but the good titles are closer to $10.
Not surprisingly, the compact disc format is not a part of this tangible revival.
"The CD market margin has been killed by Amazon," Baker said. "You can buy a new CD off Amazon for $10, our cost is $11. Amazon doesn't care. They just want to dominate. If they decide to do that with vinyl, then we're all screwed. So far they haven't done that, so we're actually cheaper than Amazon, most of the time."
So what caused this wax resurgence? Baker figures it was combining tangible with digital. "I think it was whoever invented putting the download code inside the vinyl record sleeve," he said. "That was a game changer. It was pure genius. The artwork on vinyl is much better than CDs and they get the download."
For the six employees at Vertigo Music, vinyl is much more than a novelty or garnish to a download code, it pays their bills. "That's what's driving the store," Baker said. "It's 85 percent of our sales at this point. We've gone from a store that was in decline and nearly going out of business to now growing by 20 percent each year."
And, yes, Record Store Day is a welcomed monetary boost each year. The exclusive vinyl releases that accompany the annual one-day celebration drive over 1,000 record nuts into the brick and mortar shop. Not a bad day.
But it's not all fun and good tunes. Record Store Day for Baker means prudently ordering massive stacks of records in the weeks leading up to the big day. "It's a continual work in progress," he said. "We're getting inventory in, a lot of the exclusive releases. We'll be ready, but it's long hours up to that day."
Baker said every year Record Store Day sales have grown by 10 to 15 percent, which means he can order more stock for customers to dig through. "This year we'll probably bring in at least $15,000 to $20,000 worth of the exclusives, just for that day. In addition to that I'll bring in $30,000 to $40,000 worth of new, good catalog vinyl."
Some of the releases Baker expects to sell-out quickly are the Phish and Grateful Dead box sets, along with the vinyl re-issue of Brand New's "Deja Entendu." Third Man Records is re-issuing the White Stripes' "Get Behind Me Satan" LP on colored vinyl. If you're looking to snag a copy, Baker said he "ordered a ton of those."
Record Store Day newbies should be prepared for some commotion at Vertigo on this audiophile holiday. "It's organized chaos in here," he said. "We have bands, DJs, pizza and beverages. We make it a big party and everything is on sale. Is it a great day? Yes. Is it a pain in the ass and exhausting? Absolutely. It's crazy."
As for Baker, he works seven days a week, but he's thrilled to still be at it after all these years. "No one is more grateful that vinyl has taken off than Herm Baker, I'll tell you what," he said. "I'm just so grateful we're able to still be in business."
---
Herm's shop Sales over the years: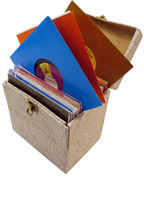 Average sales of: New vinyl
1992: 200 units per week
2002: 100 units per week
Today: 800 units per week

Average sales of: New CDs
1992: 1,000 units per week
2002: 500 units per week
Today: 100 units per week