Before you even enter Mokaya, the first thing you notice is the heavenly smell of chocolate wafting through the door — it's enough to pull you right in. Once you enter, the smell intensifies and you're greeted by the beautiful creations of Chocolatier and Owner Charles Golczynski.
At a glance, Mokaya is a chocolate boutique serving up unique and delicious pieces of edible art. From the specialty painted truffles to the ultimate chocolate chunk cookies, you'll walk away with a fantastic dessert and a
delightful experience.
When you look behind the chocolate, you find a family-owned shop that puts every ounce of passion they have into their product. Everything is made fresh, on-site and with the best ingredients — with the whole family working together to make Mokaya a neighborhood favorite.
Charles Golczynski's main focus is to create. When you look behind the case that houses the chocolates and various desserts, you'll be amazed at the creativity and unique combinations. Golczynski loves the versatility of chocolate, the flavors it can carry and the many ways it can be molded.
Revue sat down with Charles' son, Max, who also acts as general manager and owner, to get a closer look at all that goes into making Mokaya so magical.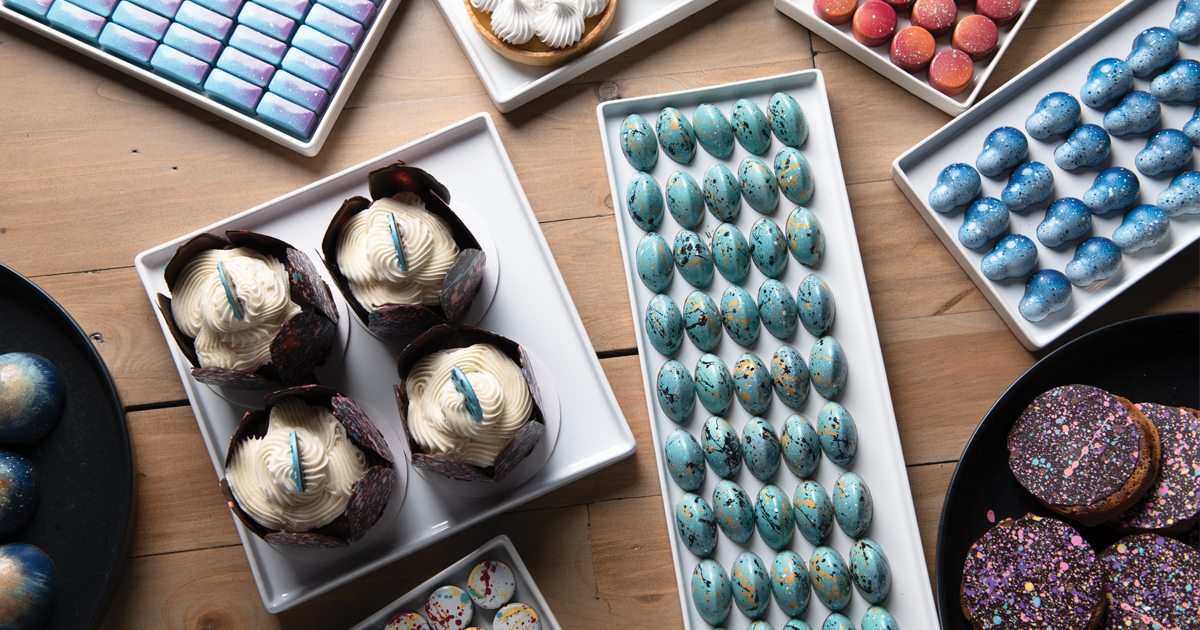 How did Mokaya come to be?
My father's a chocolatier. He was a chef for a really long time and got into chocolates about 25 years ago. It was always his passion and it took a backseat to being a regular executive chef. This is retirement for him. He's the kind of person that can't stop working. Mokaya is a perfect representation of his creative side because he loves chocolate and just loves creating. He's constantly putting new things out and there's always experimental things happening. Mokaya came about just to appease his creative side with chocolate. My goal is to always do everything else so he can just focus on producing because that's what he really excels at.
Is the shop completely family owned and run?
Yeah, for the most part. Dad and Mom are the main owners. Mom still has a regular job, but she runs the books and helps out when she can here. I run all the front-end, filing and doing the accounting. My little sister has a regular job, but she still helps out. She works weekends and comes in because we're all a bunch of workaholics, apparently. My uncle helps out quite a bit and my wife is here doing design for us. Our two employees that work behind here were the first two non-family-member employees.
Looking ahead, what would you say is Mokaya's main goal?
The goal is always to be just as big as we can in this space. We don't want to have another location. We don't want to get too big. The goal is to get this space to be run as optimally as we can.
What goes into running a gourmet chocolate shop?
Everyone helps out with everything at this point. The only one thing is we try to let Dad just create. He definitely helps out with big picture things but my goal for him is just to purely create.
Where does your dad get his inspiration?
Honestly, everything and anything. A lot of it is updating classic things. He watched a Hubble Telescope documentary and that's where he got his inspiration for our peanut butter cups. The peanut butter cups look spacey and ethereal. Every piece out there has its own story behind it.
Do you make the chocolate itself from scratch?
We don't produce chocolate ourselves. We're getting chocolate in from big, high-end producers of it. We mainly use Guittard out of California. They have a professional series that is really lovely and it's one of my favorite chocolates.
So then you're shaping and mixing that with natural flavors and fillings. Where does the chocolate come from in its first stages?
We use all South American and all sustainably sourced chocolate. We're part of the World Cocoa Foundation, so we're very diligent about where it comes from and make sure everyone gets paid appropriately down the supply chain. Chocolate has a very big negative world around it right now that doesn't get talked about. You don't see a lot of high-end chocolate coming out of Africa because (larger chocolate companies) own 98% of the cocoa farms there and they don't care about making better product.
How would you describe Mokaya to someone who has never been here before?
What I honestly tell people is that you have to come in. Seeing and trying it is the explanation of itself. I found that trying to describe it to people, it never quite works. There are so many things that we do. I think people have a very specific view of chocolate and their experiences with chocolate. Most people aren't accustomed to this style of chocolate or this quality.
How did you feel when you first opened?
I was nervous when we first opened up. But I honestly believe that if you do something with good intentions and you put out good products, people will come find you. People will support you. If you put something out genuinely that is done the right way, people will want that, which is incredible.
What is uniquely Mokaya?
I think the overarching thing is there's no weak link in what we do. I think everything you choose over here is the best version of it you'll find. I think that's what makes us stand out over all. There's no bad. We don't take shortcuts on anything. I think everything is done the right way. That, and I think there wasn't really this type of chocolate in Grand Rapids before us. I think the painted style (of our chocolate) is what attracts people. There's not many of them in the country.
What do you look for when you're tasting product?
It depends on what the product is. (My dad's) number one thing is, he always — no matter what truffle he does or whatever kind of product — he always wants chocolate to be the first thing that you taste and that you enjoy. That's why he loves natural flavorings, because they're not overpowering. They don't leave flavors in your mouth. We always look for chocolate to be the first thing.
Do you still have a sweet tooth?
I have more of a sweet tooth now than when we opened the shop. I want sweets all the time, but my problem is nothing quite holds up to this.
What is one thing here everyone should try?
It kind of changes based on the day. I always tell people to just go with your gut. Get whatever looked good first. For me, when I go into a chocolate shop, I get a dark chocolate truffle, because I feel like that should be the thing. If you can't do that well, there's no hope for anything else.
What's the most underrated Item in the whole shop?
We do a sundried tomato jelly bonbon that people get hesitant about because of what's in it, but I think it's the best. It's so tasty!
What's the most rewarding part of helping to Mokaya happen?
I love being with my family. I love that I get to have this time with my parents. I feel lucky that I get to be with them so much. I love being able to meet and talk to people. The connections and relationships that I've gained personally from being at the front is gratifying. Those are the best parts for me. It's great being a part of making really good product and trying to explore things.
It's nice to have touched people's lives in chocolate. It's nice to be able to bring a little bit of enjoyment to people's lives and have that connection with them.