In the latest sign of grim economics for print journalism as publishers double down on popular clickbait "content" over hard news gathering, MLive Media Group will no longer publish its seven weekly papers covering suburban Grand Rapids.
The decision to cease publishing the Advance Weeklies creates a hole in metro news coverage for the state's second-largest city, although MLive executives have issued vague promises to maintain reporting with existing staff. Coverage will most likely be backfilled with occasional stories, social media and public relations.
The move results in 19 layoffs, including four reporters, according to a source who asked to remain anonymous. Three of the four reporters — Madison Bennett, Cathy Runyon and Logan T. Hansen — confirmed they would no longer be with the company after Jan. 22. Other staffers included in the layoffs were photographers, editors and distribution and sales staff, the source said.
MLive executives are staying mum on the changes, declining to comment on a series of Revue's questions and referring us to a Jan. 8 article on MLive. In that story, MLive President Dan Gaydou says the decision to stop publishing the weeklies was economic, citing publishing costs. He declined to tell his own reporter how many layoffs were included.
"I don't really want to make additional comments," Gaydou told Revue when reached by phone.
In addition to ending Advance Weeklies, On the Town entertainment guide will cease publication in February. Also starting in February, residents who received Advance Weeklies will receive a print version of MLive's "Michigan's Best," which includes two reporters' gastric-punishing searches for the state's best hamburgers, pizza, sandwiches or pot munchies.
"These changes reflect the popularity of Michigan's Best features and a desire to celebrate our communities and highlight the best that each has to offer," Gaydou said in the MLive article.
Without providing additional detail, Gaydou said MLive's coverage of outlying communities will continue.
"We remain committed to our core mission of producing great local news and will continue to cover these communities on MLive.com as well as in The Grand Rapids Press print editions," he said.
Local media experts aren't so sure. Reporters at MLive's Grand Rapids newsroom — who are separate from and rarely interact with the Advance Weeklies in Walker — are being asked to pick up the slack, tracking local governments in greater Grand Rapids that previously took four reporters.
"Here's yet another example of less local information that people might be genuinely interested in," said Len O'Kelly, a multimedia journalism professor at Grand Valley State University. "I saw we'll get more of Michigan's Best, so MLive can continue their search for the greatest hot dog in the state, because that's important. We definitely need that."
In a Jan. 16 email to Vice President of Content John Hiner and Senior Director of News Kelly Frick, Gaydou wrote that he was "perplexed why (Revue) cares" about the layoffs.
O'Kelly says the move is one more axe ever-shrinking local coverage.
"One thing I discuss with students all the time is what's going on in local communities and local government is so important. We get so caught up in state and national politics while what's affecting us most is what's in our own backyard," he said.
The coverage "won't get picked up," he added. "I'd be real surprised if this didn't somehow backfire on MLive."
What is MLive?
The Advance Weeklies are based in Walker and include seven publications covering metro Grand Rapids, including Cedar Springs, Sparta, Allendale, Hudsonville, Ada, Caledonia and Wayland. Advance stories — including high school sports coverage — are fed into MLive.com's "community" section. It's unclear what effects the layoffs will have on local sports and schools coverage.
In addition to print advertising, Advance Weeklies also published public notices and classifieds, presumably as additional revenue streams.
MLive Media Group is a subsidiary of the New York-based Advance Publications empire, which also owns Conde Nast (The New Yorker, Vogue, Vanity Fair) and is headed by the Newhouse family. MLive is one of the state's biggest news outlets and acts as an online portal for the Advance-owned Grand Rapids Press, Muskegon Chronicle, Bay City Times, Flint Journal, Jackson Citizen Patriot, Saginaw News and Kalamazoo Gazette. Advance operates similar models to MLive in Alabama, Ohio, New Jersey and Oregon.
Advance Publications generated $2.2 billion in revenue in 2017, according to a report from Forbes.
However, MLive Media Group is not just a news organization, but also functions as an advertising agency that provides full-service marketing.
"At what point are they going to have to solely rely on that because they're not selling a single newspaper?" O'Kelly wondered. "I see what they're trying to do in terms of revenue, but I think it's a very dangerous strategy. If you completely forget the product that brought you into the forefront initially, you stop being anything to anyone."
The role of local reporting in MLive's long-term revenue vision remains unclear, although the company has faced criticism in recent years for the apparent shift to broader coverage that's popular with readers.
That shift also has coincided with several waves of layoffs. In January 2015, MLive laid off veterans Meegan Holland and John Barnes, who oversaw the Lansing bureau and coordinated statewide projects, respectively. A year later in January 2016, MLive cut 29 jobs statewide in what it characterized as a "restructuring" to focus on statewide investigative projects, "video storytelling," and "emerging social media channels and audiences," Hiner said at the time.
"I don't know what their constraints and losses are, but I also know huge losses tend not to happen overnight in this industry," O'Kelly said of the recent layoffs in Grand Rapids. "Long term, this is going to be very damaging to the health of their paper."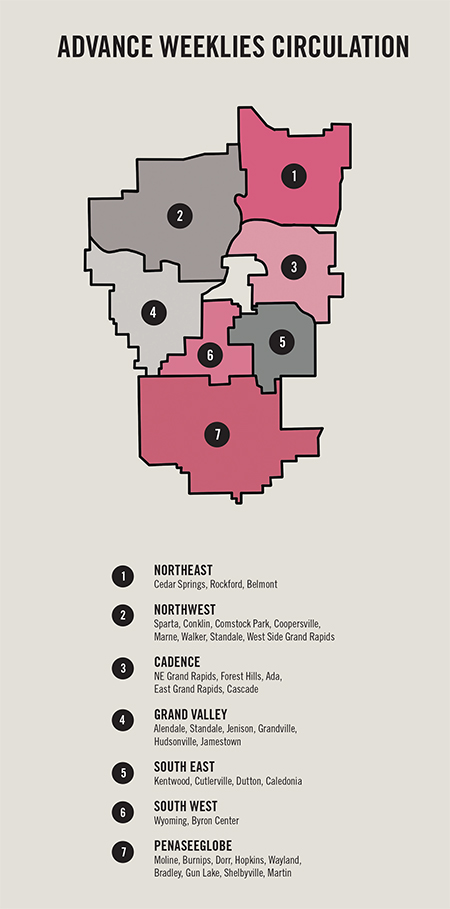 'Bad news'
For Gaines Township Supervisor Robert DeWard, the setbacks from MLive's layoffs are twofold. Not only is it a loss for local reporting, but municipalities also are required by state law to publish various public notices in a newspaper of "general circulation," a requirement that the Advance Weeklies met.
"This was bad news for townships. In addition, the cost of publishing in the Advance was one-third of the cost to publish in the Grand Rapids Press," DeWard said in an email. "Of course the other concern is the possible lack of local reporting. The Advance had done an excellent job of reporting local government activities and local school activities. They had very good reporters and presented human interest stories about township residents and about township activities. We are hoping that the GR Press will consider a local newspaper published weekly that could be included in their Sunday edition."
Mary Ann Sabo, who started as an Advance Weekly copy editor and became a Grand Rapids Press business reporter from 1995-1999, now runs Sabo PR in Grand Rapids.
"We're really disappointed that MLive has made the decision. While I sincerely understand the financial realities of the media these days, Advance Weeklies have served a valuable spot in our community for decades," she said.
Her firm provides communications for suburban Grand Rapids municipalities including Kentwood, Cascade, Plainfield, Wyoming and East Grand Rapids. In that role, Sabo's team supplies residents with information that may not raise interest from local reporters.
"The reality is over the last five to 10 years, all media are changing in our market," Sabo said. "As that is happening with our municipalities and other clients, we've had to work to develop alternative means of getting information out."
Social media helps fill that void relatively cheaply, but O'Kelly worries that relying on it as a news outlet further encapsulates readers inside their own information bubble. The Pew Research Center reported late last year that — for the first time — social media surpassed print newspapers as a news source in the U.S. The report noted 20 percent of people get news from social media versus 16 percent from print.
Moreover, municipalities are less likely to do much beyond self-promotion let alone discuss contentious issues, like the resignation of a shared fire chief in three outlying communities the Advance covered in January.
"Because I've been on both sides of the desk as a reporter and a communications professional, there's a need to have a healthy, robust Fourth Estate," Sabo said. "I want (reporters) out there doing their job. Tell me the things I need to know about."
Picking up the slack?
While outlets like The New York Times and Washington Post increased digital subscriptions after the 2016 election, the print industry in general is in crisis. Advertising revenue and circulation have spiraled downward since the late 1990s. Meanwhile, newspaper employment, including reporters, editors and photographers, has dropped 45 percent since 2004, according to the Pew Research Center.
In early January, Digital First Media — which owns dozens of U.S. newspapers and is known for slashing local budgets after acquisitions — proposed a $1.4 billion deal for Gannett, which owns several major-market papers, including the Detroit Free Press. The attempted takeover has raised concerns about consolidating Detroit's two newspapers that currently operate under a joint operating agreement.
Meanwhile, MLive's not the only local outlet facing an uncertain future. A planned merger between television giants Nexstar and Tribune Broadcasting could affect local TV stations WOOD-TV8 and WXMI FOX 17, which are owned by Nexstar and Tribune, respectively. That merger is subject to federal regulatory approval, and corporate officials declined to comment.
As Revue sister publication MiBiz reported in December, the Grand Rapids Community Media Center also could face millions in lost revenue from franchise fees when new Federal Communication Commission rules take effect. The Community Media Center oversees public access TV channels as well as the online citizen journalism initiative known as The Rapidian.
CMC Executive Director Linda Gellasch says while The Rapidian is separate from the CMC's operations, losing franchise fees "will have a little damaging effect" on the publication. The Rapidian has two staffers who provide journalistic guidance to contributors in the community.
"The further closure of publications makes The Rapidian more relevant than ever," Gellasch said.
She also is planning an upcoming writer and reader survey for The Rapidian, although its coverage territory is just the city of Grand Rapids and adjacent municipalities.
"It's a good time for us to take the temperature of what the community is experiencing and really finding the largest need for (in our coverage)," she said.
The MLive layoffs are concerning for Gellasch and others because no one else was regularly covering township boards and city councils in suburban areas.
"It's a sad loss," Gellasch said of the end of the Advance Weeklies. "It was one more foothold in providing the community with information. We've just seen journalism take a dive to the degree that we can't tell what's news and what isn't."n