The recent case of Jilmar Ramos-Gomez has thrown West Michigan directly into the national debate over immigration.
Ramos-Gomez, a U.S. Marine veteran who suffers from post-traumatic stress disorder, was held by Immigration and Customs Enforcement (ICE) for three days in Calhoun County before officials discovered he is a U.S. citizen. His arrest stemmed from a Nov. 21, 2018 incident in which he accessed a helicopter pad at a Grand Rapids hospital and, upon his release from Kent County jail the next month, was turned over to ICE.
Ramos-Gomez pleaded guilty to trespassing in what turned out to be a minor incident. A Grand Rapids Police Department captain who contacted ICE initially suspected terrorism, although that concern was discounted by a sergeant.
The story has received national headlines and sharp rebukes over ICE detention policies. The GRPD faces allegations of racial profiling, stoking an already heated citywide debate over the department's treatment of minorities. Capt. Curt VanderKooi, the official who alerted ICE about Ramos-Gomez based on his appearance and who used insensitive, racially charged language in doing so, was suspended and placed on paid administrative leave. (After this story went to press, GRPD released a statement saying that it cleared VanderKooi of wrongdoing, according to a report on WGVU.)
But an aspect of the Ramos-Gomez case not widely known to the public continues to trouble immigration attorneys and members of the undocumented immigrant community.
VanderKooi was designated by top GRPD officials to issue "U visa" certifications as undocumented immigrants apply for citizenship. Under the federal U visa program adopted by Congress in 2000, undocumented immigrants who are victims of a range of serious crimes — including domestic violence, rape and trafficking — can request a local U visa certification if they are helpful in the investigation and prosecution of a crime. The certification can aid in getting legal status from the federal government.
That VanderKooi was in a position of trust to handle sensitive information from undocumented immigrants while communicating with ICE has raised serious concerns about how much GRPD may have shared with the federal agency. VanderKooi previously served as GRPD's "ICE liaison," but will not maintain that role going forward as he returns to work.
Specifically, advocates fear the circumstance will deter undocumented immigrants from coming forward to report serious crimes.
Alexandra Gillett, staff attorney with the nonprofit legal service Justice for our Neighbors, has helped undocumented immigrants file U visa requests in Kent County and the city of Grand Rapids for more than three years. For the past year, she worked directly with VanderKooi on those requests. By late February, details unfolded about VanderKooi's role in the Ramos-Gomez case.
"I was shocked. It was very, very alarming," Gillett said. "I did not for a second think he was communicating with ICE while receiving U visa requests. Had I known that, I probably wouldn't have sent any of those requests. My clients are in incredibly vulnerable positions.
"I lost a lot of confidence in the police department after hearing that. I'm very hesitant to make any more U visa requests, and I'm going to warn all of my clients about this risk — that there's nothing stopping a U visa certifier from communicating with ICE."
The whole purpose of the U visa program, Gillett added, is to "foster cooperation and communication" between the immigrant community and law enforcement.
"These actions by Capt. VanderKooi really destroyed that trust," she said.
Indeed, the situation piles on the fear and distrust between the community's immigrants and Grand Rapids law enforcement.
"Prior to this instance, the name of the person who signs off on those visas never raised red flags or got the immigrant community's attention," said Sergio Cira-Reyes, director of community engagement with the Urban Core Collective who is active in immigration advocacy. "Now that this has come to light, it's very concerning to us. It has created tremendous negative attention among the Latino community who thought they were safe reporting crimes to GRPD while all along, come to find out, they haven't been."
Cira-Reyes and immigration attorneys are raising questions about the extent to which GRPD may have denied U visa certifications based on racial bias.
GRPD Sgt. Dan Adams declined to comment specifically about VanderKooi's role as one of the department's U visa certifiers, saying there has "already been quite enough in the media, social media, public sessions and with the City Commission," including from interim Police Chief David Kiddle.
GRPD did not allow Revue to interview VanderKooi while he is on leave. Adams didn't know whether VanderKooi shared any information with ICE about U visa applicants while he was a certifier, "but it's highly unlikely as it defeats the purpose of the U visa."
Responding more broadly to concerns about GRPD's relationship with ICE, Adams said: "We do not enforce immigration policy or immigration laws. We're here to uphold state and local law — it's not our duty or our focus to enforce immigration laws in the city of Grand Rapids."
U Visa Process
U visa certifiers vary by community, and can include police chiefs and sheriffs or designated lower-level officials, as well as judges and prosecutors.
To be eligible for a certification, the individual must help by providing information in the investigation and prosecution of a qualifying criminal activity, which includes more than two dozen serious crimes.
Across the U.S., tens of thousands of victims request "U nonimmigrant status" from U.S. Citizenship and Immigration Services in what's known as the U visa program. USCIS says the program "not only helps protect legitimate victims of crime, but is a key tool in the work performed by law enforcement."
The program caps the number of petitions issued each year at 10,000, although the agency has received more than 30,000 requests a year since 2015, according to federal data. A backlog of pending petitions continues to grow and was at 110,511 at the end of 2017. Attorneys say the process of getting immigration status through the U visa program takes around five years.
In an effort to crack down on illegal immigration, the Trump administration issued a memo last year that said a denied U visa petition would result in a Notice to Appear (NTA) before an immigration court, setting off the deportation process.
USCIS spokesperson Jessica Collins said applicants can appeal negative decisions on their applications and petitions.
"It is expected that individuals who no longer have a lawful basis to remain in the United States will return to their home country. As such, notices to appear will generally be issued to U visa petitioners who have failed to meet one or more of the eligibility requirements and are not lawfully present in the United States," Collins said.
Attorneys say this, too, has acted as a deterrent for reporting crimes.
Applying for a U visa is considered an affirmative action, and if denied, "there's a real threat you will be referred to immigration courts and put in the process," Gillett said.
While an immigrant's status is ultimately determined by the federal government, a local U visa certification can help in that process while also granting protection that the person won't be deported.
"It's important to remember these local law enforcement agencies are not saying this person is eligible for a U visa," said Hillary Scholten, staff attorney with the Michigan Immigrant Rights Center.
MIRC and the American Civil Liberties Union of Michigan have represented Ramos-Gomez and uncovered details about the case through public records requests.
"The certification says yes, they were a victim of a crime and they were helpful in the investigation or prosecution of a crime," Scholten said.
While gathering facts around the circumstances of Ramos-Gomez's case, his attorneys made the connection between VanderKooi's role as a U visa certifier and as an ICE liaison. VanderKooi is in the department's investigations unit.
"It appears he was using that role improperly to contact ICE when he has all of this very highly sensitive information about these individuals," Scholten said.
The GRPD U visa certifier is no longer in the investigations office, a move called for by Scholten and others.
"It remains to be seen how much damage has been done in terms of trust in the community on discovering that role," Scholten said.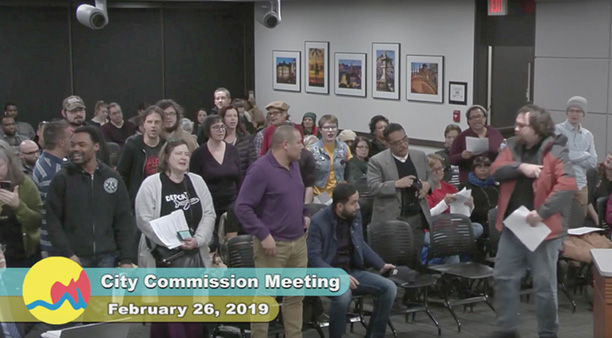 'I Can't Imagine That'
The number of U visa certification requests varies around West Michigan. Adams said GRPD receives fewer than 40 requests a year, approximately. The Muskegon Police Department receives 10 or fewer a year. In her six months in office, Kent County Sheriff Michelle LaJoye-Young has received two requests. The Allegan County Sheriff's Office has received about one a year the past two years. The Kent County prosecutor, meanwhile, receives about three to five U visa certification requests a month.
LaJoye-Young said the criteria for whether to issue a certification is "pretty clear."
"If someone made a decision not to sign because of almost fraudulent reasons, such as not supporting immigration, that could be a factor" in how many an agency approves, LaJoye-Young said. "I've been working in law enforcement in West Michigan for a long time. I don't think that's going to be the case here with anyone I've known."
For law enforcement officials, U visa certification is a valuable tool for solving crime.
Muskegon Police Capt. Shawn Bride said last year an undocumented Latino couple came forward with details about an incident in which their young son had been hit on his bicycle by a motorist two years ago and died from the injury.
"The mom and dad were beyond distraught," Bride said. They subsequently came forward with details and were "extremely helpful" in the investigation, providing "immense details." The couple asked for a U visa certification.
"Of course we did that," Bride said.
Other instances have involved victims of domestic violence being cooperative in an investigation that resulted in a conviction, he added. In some cases, certifications were denied if it was evident someone was not clearly the victim of a crime. For every denial, the department issues "seven or eight" certifications, Bride said.
"Our goal with folks from other countries — whether it's south of Texas, across the Pacific or the Atlantic or to the north — is that they're comfortable with reaching out and talking with law enforcement and not being a silent victim, so to speak," Bride said.
Asked about the Trump administration's memo to potentially deport undocumented immigrants who are denied U visa status, Bride said: "Personally, I think that would be horrible. I don't want folks in my city to be afraid to contact us for help. The thought that if I call the police and I potentially might get deported, that's awful. Of being completely cut off from any kind of help? I can't imagine that."
Kent County Prosecutor Christopher Becker agrees it's a concern if residents don't come forward with information about crimes. His office partnered with the Hispanic Center of Western Michigan last year, which provided a place to meet and "build that trust" if residents feared coming to the courthouse.
"Any victim of a crime that's afraid to come forward allows the perpetrator to be free. I don't want that, no matter who it is," Becker said. He added that the GRPD/VanderKooi issue "didn't help, that's for sure."
Responding to concerns about whether Kent County would share details about residents' undocumented status with ICE, Becker responded: "Nope. I've never called ICE. I don't have a number for them."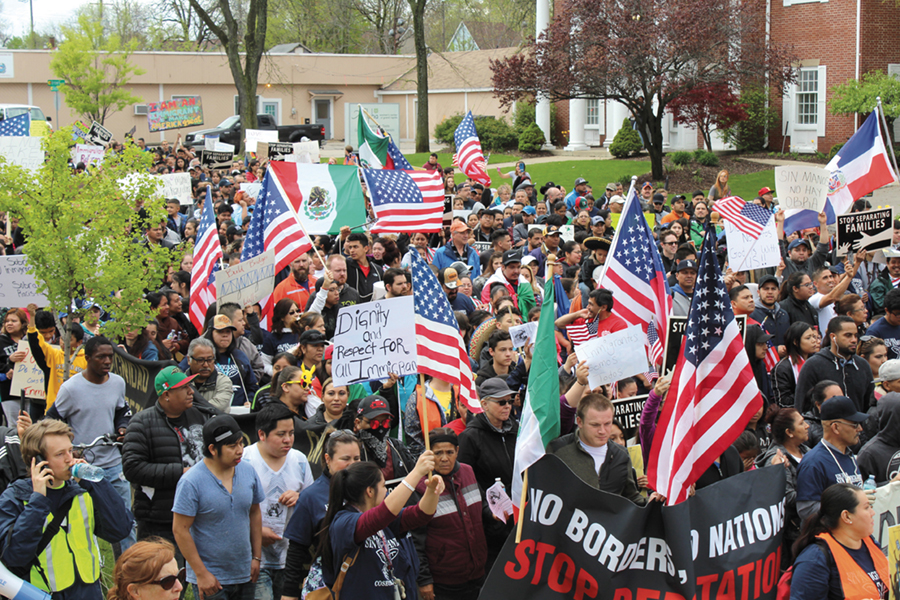 Movimento Cosecha GR March. Courtesy photo
The Broader Debate
The U visa aspect of Ramos-Gomez's case and the calls for VanderKooi's firing are part of a broader advocacy effort by West Michigan immigrants and their allies. Movimiento Cosecha GR was the first Michigan chapter formed under the national Cosecha movement.
For months, the Cosecha GR chapter advocated for the Kent County Sheriff's Office to end its contract with ICE that compensated the department for housing detainees in county facilities.
In a win for advocates, LaJoye-Young announced a policy shift in January requiring a signed warrant to hold inmates past their release date. She said the policy shift had been under development when the Ramos-Gomez case accelerated it. In March, the Sheriff's Office was in a public dispute over the policy with ICE, which claimed the county was a sanctuary and jeopardized public safety by releasing undocumented immigrants. (The statement was shared by the White House.) LaJoye-Young reportedly said ICE was "dramatically misrepresenting" the county's policy.
Following the ICE contract, Cosecha now has two key demands: Ending GRPD's relationship with ICE and pushing for statewide "licenses for all" policy. The group is planning a large march in Grand Rapids on May 1.
"We think that if people who are undocumented just had a license, it would eliminate a big chunk of people who they would have to stop" and reduce the chances of racial profiling, Cira-Reyes said.
Cosecha is a close partner with GR Rapid Response to ICE, which helps undocumented immigrants and their families with resources when they are contacted by ICE (which happens on a weekly basis). Rapid Response has raised more than $34,000 in direct aid for immigrant families, which can involve help paying for groceries or rent. Cosecha is known as the "offensive" organization led by immigrants pushing policy reform. Rapid Response is the "defensive" group of allies who can help them deal with ICE.
Meanwhile, immigration advocates are bracing for another battle over proposed state legislation that would block "sanctuary" policies, seemingly in response to Kent County's change.
Scholten of the Michigan Immigrant Rights Center says all of these aspects of the immigration debate are related, and ultimately raise questions about the role of local law enforcement and federal immigration policy.
Miriam Aukerman, senior staff attorney who heads the ACLU's West Michigan office, says anti-immigration and harsh deportation policies are devastating for families, many of whom have mixed immigration status.
"Some of the things we in West Michigan really value are family and community," Aukerman said. "What we're seeing as a result of this entanglement between ICE and local law enforcement is really undermining that core commitment to families."
It's the same as the situation happening at the border, but in Michigan, parents are being taken from their kids. It ends up affecting both immigrant and non-immigrant communities, she said.
"Most often that happens as a result of initial local law enforcement contact," Aukerman said. "That kind of entanglement has devastating consequences."
Q&A: Kent Co. Sheriff Michelle LaJoye-Young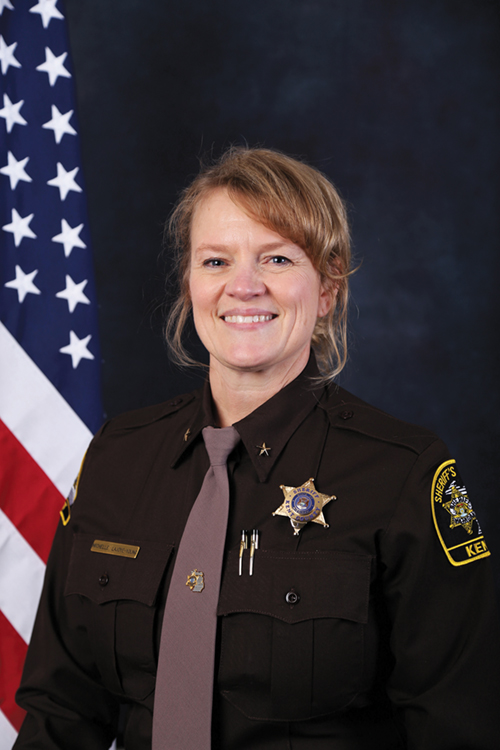 Within her first three months in office, Kent Co. Sheriff Michelle LaJoye-Young delivered a win to local immigration and civil liberties advocates.
LaJoye-Young, who took office in November and has been with the department for 30 years, ended a county policy that voluntarily held detainees for Immigration and Customs Enforcement. While the office still works with ICE to provide information to federal law enforcement during investigations, the county requires a signed warrant to hold detainees.
The position drew harsh criticism from ICE and the White House, who LaJoye-Young said mischaracterized the policy. However, the decision was made after months of research and dialogue with the Latino community. The mishandling of the case of Jilmar Ramos-Gomez expedited her decision.
LaJoye-Young spoke with Revue about national immigration issues affecting West Michigan and how law enforcement can build bridges to gain the community's trust. The interview was edited for length and clarity.
You were named sheriff in September, took office in November and announced the county's policy change in January. What changed during that time to shift policy?
First and foremost, I worked very closely with retired Sheriff (Larry) Stelma. He absolutely had heard the needs of the immigrant community in Kent County.
Neither Sheriff Stelma nor myself are willing to not work with a law enforcement agency. We were able to dig in deeper beyond that initial demand (to end the ICE contract) and understand the depth of the issue. If you don't solve the right problem, you won't get the right answer.
I continued that work when I was appointed and continued to vet through my legal options. Simultaneous to that we had a pretty noteworthy incident where there was an evident gap in oversight with ICE. That factored pretty heavily into my outcome.
I don't ever want it to sound like it's a done thing. It's a constant learning avenue for both the Sheriff's Office and the community at large that we have to stay current on this issue. It affects everyone in the community.
The role of local and federal law enforcement on immigration has led to some gray area and inconsistency in enforcement. How challenging is this issue at the local level given the current climate?
It's very challenging. The actual letter of the law and decision points can't be evaluated separate from the conversation because laws really aren't written in a way that there doesn't need to be a level of interpretation at the executive level. We have to stay very conscious about the current interpretation, and at the federal level it can change.
I don't have any control over that direction, but the outcome very much affects me and the people I'm charged with protecting.
Can you clarify the county's relationship with ICE?
We don't do anything to enforce immigration status in the community whatsoever. If a law enforcement officer comes in contact with someone, the fact that they may or may not be an undocumented resident is not asked.
When they come in a correctional facility, the federal mandate is we take fingerprints and they get checked with what's on file at homeland security. When ICE becomes aware or interested in someone who may be in custody at a correctional facility, ICE is normally notified.
In conjunction with any other law enforcement entity, if ICE has further investigation they're trying to do and we have information that's helpful to them, we'll cooperate in those situations.
Beyond that we don't have any enforcement with ICE. A lot of people don't understand that. It's true for every police department in Kent County: None of us enforce immigration law.
In March, your office had a public dispute with ICE over the county's new detention policy. How has that unfolded since?
Just like it's a constant conversation with the community, it's also a constant conversation between ICE and law enforcement agencies. We're working to get to a point where we understand each other's needs and requirements.
What part can and should law enforcement play in addressing trust concerns from immigrants and minorities in the community?
We have a huge role to play in it. It's important to have conversations with families and community groups in the Latino community. I have personally started to do some of that work and appreciate the opportunities I've had to talk and learn and share our perspective. That needs to happen more.
The most crucial thing I think is going to improve things in a five-year window is more people from the Latino community joining public service so there's an integration and representation on issues brought up at policymaking levels. I hope that's our long-term goal — that young people in all of the immigrant community see themselves as being public servants and eventually we get to the point where we've got full representation of what our community looks like. This is a long-term conversation.
— Interview conducted and condensedby Andy Balaskovitz.