While we went through some painful losses this year (R.I.P. G.B. Russo's), notice how many more fantastic places we had open. West Michigan's dining and drinking scene continue to grow, offering us almost too many places to choose. The year also brought us new movie theaters, plant shops, boutiques and more. Read on to see what you might've missed.
OPENED
The owners of Hopland Brewstillery — which won Best New Brewery in 2019's Best of The West — have seen enough success to open a whole new watering hole in the form of Tulip City Brewstillery. While the two businesses will operate separately, Tulip City crafts beer, wine and spirits, like Hopland before it. The new taproom at 430 W. 17th St., Holland, opened mid-October and hosts numerous indoor yard games, such as cornhole, bocce ball, and darts.
Holland gained even more places to go with Obstacle No. 1 and Poquito opening side by side in November. Obstacle is a Basque-inspired lounge offering unique cocktails, while Poquito has dishes from Spain like family-style paella and a wide array of tapas. You'll find the pair together at 90 and 92 W. 8th St., Holland.
After roughly 20 years as a takeout/delivery joint, Alfano's Pub & Ristorante opened a full-service, sit-down experience, just outside Grand Rapids. You can head to 1389 Walker Village Dr. NW, Walker for all the authentic Italian food you could ever want, especially if you show up for the lunch buffet.
Soon you won't be able to swing an axe in Grand Rapids without hitting an axe-throwing business. Wood-Splitters Axe Throwing has joined the fray on Plainfield with more than a dozen boards to chuck your hatchet at. Visit 3170 Plainfield Ave. NE to let some aggression out, or play some competitive games if you're feeling experienced.
Wealthy Street got a taste of Europe with Živio, brought to us by the owners of Bosna Express. The new restaurant took over the former home of Georgina's at 724 Wealthy St. SE, serving up gyros of all kinds, shish kebabs, and other Central European cuisine.
The Medical Mile was prescribed some delicious fish and noodles by way of Ginza Sushi & Ramen, a modern eatery whose menu goes beyond the titular dishes. You'll find creative sushi and hearty ramen, of course, but also bento boxes, poke, hibachi, and more — all at 1015 Michigan St., Grand Rapids.
The folks at Brewery Vivant decided to plant new roots with Broad Leaf Local Beer in Kentwood, going beyond the boundaries of Vivant's Belgian, French and Farmhouse ales. The new brewery at 2885 Lake Eastbrook Blvd. SE serves up just about every style you can thirst for, from double-dry-hopped hazy pale ales to barrel-aged porters. You can also get some hearty food, served out of a shipping container.
After a long wait — as is often the case for businesses in Michigan — Rake Beer Project received permission to open, bringing innovative farmhouse and sour ales to Muskegon. The phrase "Honor the tradition, make the future" guides this progressive brewery's process. Head to 794 Pine St. for a pint, or more.
The year kicked off with Guardian Brewing Co. opening its doors at 657 63rd St. in Saugatuck. The women-owned, pegacorn-loving brewery has a huge range of in-house beers, as well as wine, cocktails and even beertails made with Guardian's own brews. The brewery occupies the former Red Barn Theater and features an internationally inspired seasonal food menu.
The former Mangiamo! and current Paddock Place opened its bar, The Pub at Paddock, in January. The Gilmore Collection spot at 1033 Lake Dr. SE in Grand Rapids is open to the public Tuesdays through Saturdays, offering "happy hour all the time" with affordable drinks and pub fare.
The world could use more rooftop patios and Friesian Gastro Pub is happy to oblige. The new restaurant opened east of the Medical Mile at 720 Michigan St. NE, Grand Rapids. Friesian's name comes from a Dutch horse breed, which should come as no surprise to West Michigan, though the menu features cuisine from around the world. Try a curry bowl, burger, lamb chops — whatever suits your mood.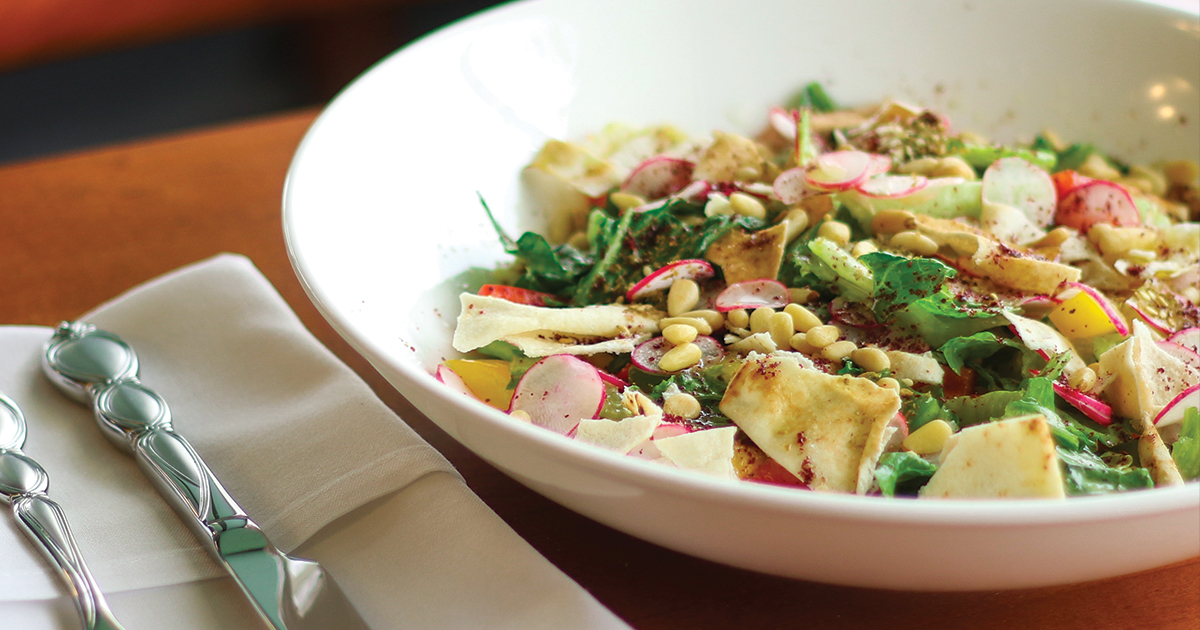 Kingfisher Restaurant and Deli. Courtesy Photo
Kingfisher Restaurant and Deli
There's a new place to hang in downtown Grand Rapids, thanks to Social House. The bar and restaurant took over IRON's old spot at 25 Ottawa Ave. SW, offering classic American eats like burgers, entrees, and salads, alongside a full bar with craft beer, specialty cocktails, and the rest.
Burl & Sprig joined the ranks of Muskegon's distilleries, specializing in rum and small plates. Head to the art-filled tasting room at 500 W. Western Ave. — right next to Pigeon Hill Brewing — for a premium cocktail like the Curve Ball, made with spiced rum, house-made falernum, pineapple gum syrup, lime juice, and bitters.
Third Nature Brewing recently arrived in Rockford, with plenty of beer in hand. The brewery at 7733 Childsdale Ave. NE has a deep love for nature, even growing its own hops to use. The taproom features a big wooden bar with a live edge, and a huge patio that's home to multiple fire pits. The building is situated right in the woods, surrounded by nature.
PIND Indian Cuisine opened in downtown Grand Rapids, yet again giving life to the building that once held G.B. Russo's and Bagger Dave's before that. The restaurant at 241 W. Fulton St. offers a huge variety of Indian food, fully on display at the lunch buffet served seven days a week. You'll find more than 18 items to choose from for $10.95. Or head in for dinner and have a fine-dining experience.
OTHER OPENINGS
Speckl Goods
317 S. Division Ave., Grand Rapids
Max's South Seas Hideaway
58 Ionia Ave. SW, Grand Rapids
Hancock
1157 Wealthy St. SE, Grand Rapids
Rise Authentic Baking Co.
1220 W. Fulton St., Grand Rapids
The Plant Parlor
1059 Wealthy St., Grand Rapids
Wildroast Coffee Co.
4035 Chicago Dr. SW, Grandville.
Pink Barrel Cellars
3025 6 Mile Rd., Grand Rapids
I Don't Care GR
187 Monroe Ave. NW, Grand Rapids
Studio Park
123 Ionia Ave. SW, Grand Rapids
Heights Yoga Project
744 Leonard St. NW, Grand Rapids
Morning Belle
1600 E. Beltline Ave. NE, Grand Rapids
Baldy's Smoked Meats
340 Water St., Saugatuck
Grimsby Hollow Meadery
4525 N. M-37 Hwy, Middleville
Long Road Distillers (third location)
18 Washington Ave., Grand Haven
New Holland Spirits
201 Culver St., Saugatuck
Chill Hill Winery
8992 First St., Baroda
Buddy's Pizza
4061 28th St., Kentwood
Ada Fresh Market
444 Ada Dr. SE, Ada
Alebird Taphouse & Brewery
2619 84th St. SW, Byron Center
Sperry's Moviehouse
84 W. 8th St., Holland
Yote Lab
333 Grandville Ave. SW, Grand Rapids
Metro Grand Rapids
1901 S. Division Ave., Grand Rapids
Char
6 Jefferson Ave. SE, Grand Rapids
Liquid Note Brewing
119 E. Allegan St., Otsego
Harbor Light Brewery
516 Phoenix St., South Haven
Burger Bros
806 Riverview Dr., Kalamazoo
Michigan Moonshine Distillery
4005 Chicago Dr. SW, Grandville
Dr. Rolf's BBQ
447 W. Western Ave., Muskegon
Blue Bridge Games
954 E. Fulton St., Grand Rapids
Hammer & Stain West Michigan
3901 Chicago Dr. SW, Grandville
Wise Men Distillery
4717 Broadmoor Ave., Kentwood
The Iron Well
741 Leonard St., Grand Rapids
Cakabakery (third location)
82 W. 8th St., Holland
River North Public House
2115 Plainfield Ave. NE, Grand Rapids
CLOSED
Tom + Chee
3060 44th St. SW, Grandville
Tillman's Restaurant
1245 Monroe Ave. NW, Grand Rapids
Hideout Brewing Co.
3113 Plaza Dr. NE, Grand Rapids
Russo's International Market
2770 29th St. SE, Grand Rapids
Boatyard Brewing Co.
432 E Paterson St., Kalamazoo
Kelvin & Co.
1450 Wealthy St SE, Grand Rapids
Jonny B'z
701 Wealthy St. SE, Grand Rapids
Arcadia Brewing Co.
701 E. Michigan Ave., Kalamazoo