With every day that COVID-19 carries on, someone new steps up to help.
As grocery stores can now be a frightening place for some, and can run out of supplies, Virtue Cider is partnering with farmers and other food purveyors around West Michigan to create cider- and community-supported agriculture (CCSA) boxes.
In other words: It's a bunch of groceries from local farms, all put together in one convenient box! It's available for pick-up on Fridays and Saturdays at Virtue Cider, where they're using all the best procedures to keep you safe, with limited foot traffic, appointment times and an open-air spot.
Head here to check out the boxes.
"Going to the grocery store is a point of anxious energy, I would prefer to not have to do that," said Johanna Bystrom, consumer experience manager at Virtue. "So I was trying to create a safe space here at Virtue, where you can get all your essentials from people already operating under best practices under the current climate. It's creating normalcy and creating safety and one location in an open-air setting."
The idea isn't just for the consumers though, it's also to help all the local, sustainable-minded farms who have product to sell. Virtue worked closely with West Michigan FarmLink to bring these purveyors together and create a box full of the grocery staples we all use in our day-to-day.
Along with two 6-packs of cider, one basic box includes:
- Coffee from Uncommon Coffee Roasters in Saugatuck, MI
- Eggs from Creswick Farms in Ravenna, MI
- Greens from Mud Lake Farm in Hudsonville, MI
- Apples from Wells Orchard in Grand Rapids, MI
- Milk and butter from Kalona Creamery in Iowa
- Potatoes, yellow onions and carrots from Crisp Country Acre in Holland, MI
- Celery root from Victory Farms in Hudsonville, MI
- Pickles from Marcia's Munchies in Inkster, MI
- Cheese from Evergreen Lane Creamery in Fennville, MI
The boxes are meant to be roughly a week's worth of food for 2 to 4 people. If you'd like some meat, Virtue also partnered with Louise Earl Butcher in Grand Rapids, as they have great food and safety practices, Bystrom said.
Of course, Virtue also has plenty of great cider to go around. You can order that for curbside pickup or have it delivered to your house!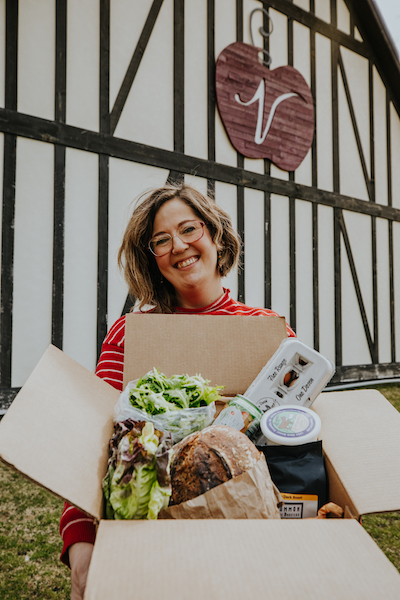 On the topic of normalcy, Bystrom appreciates how the community comes together and even says she's inspired by the animals at Virtue and how they adapt and accept whatever the new normal is.
We asked her what advice she has for our readers:
"For me, respecting the asks made of you and remembering that you're not alone in this can very quickly lend itself to some positive brain strength. Knowing that this is affecting literally everybody I know is something to take into account and shed light on the situation, that we're not individual victims, we're all collectively moving through trying to find normalcy in this. I've seen some very beautiful creativity coming out of that mindset.
"Finding things that inspire you during this time and focusing on those things is one of my own survival tactics."