You won a 2014 ArtPrize juried award for Dance in the Annex's (DITA) time-based entry, "respirador (breather)." Were you crossing your fingers for a win?

Last year we were nominated in the same category by a juror. We had gone over and above with our performance schedules and we were so invested, [but] we approached it differently this year. And so going into the awards ceremony this year, I really didn't think we would win. Last year, I was like, "We're going to win this! We got this!" And we didn't. This year I said, "Let's have fun with this, let's see where it takes us."

With a completely different mindset from last year, what went through your head when you were called as the winner?

I think I looked at [my husband] Erin and said "What the f**k?" I don't think it still has set in, quite honestly.

DITA has had entries in ArtPrize the past few years. How has working with ArtPrize brought attention to your organization and modern dance in general?

I think the best part about it is that it's broadening the appreciation for dance. ... I think that it's opening minds to what dance can be and what movement can be and what space can be, so that's probably the most exciting part.

With your history with Wealthy Theatre and SiTE:LAB, collaboration seems to be a big part of DITA.

I think dance is inherently collaborative, unless you're going to be a solo dancer and not have music. There are so many layers. Choreographers need dancers, dancers need choreographers. Usually, we need some sort of music or sound texture, so there's musicians or poets or a whole host of things that could create that extra layer for sound. And then, of course, there's curators and venue owners and lighting designers and costume designers. It has to be collaborative.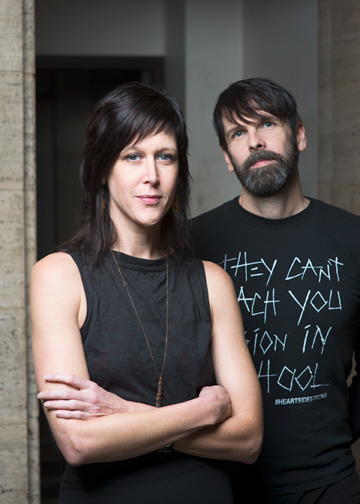 When did you realize you were ready to put DITA into the world?

My husband [Erin] has been the director of Wealthy Theatre since 2006. They have the annex space and there are dance studios in there and I would always look at that space and think, "I want to do something, but if we're going to do something, I want it to be right."

How has DITA grown since you formed it?

I think the best part about how it has grown is that it's opening up possibilities. I appreciate that more than anything because I want to grow as an artist and the dancers want to grow as artists. We all have our different contributions as dancers, so when we can share that with each other and we can share that with other people, it makes it really worthwhile and really rewarding.

How did you get involved in dance?

I started dancing when I was eight. I was a very shy child and I went to a friend's dance recital and I thought, "Nonverbal communication? That's perfect for me!" So I just started taking dance classes at the local studio. We moved around quite a bit and I ended up at a high school in California that had a dance program, so that's when I started doing modern dance.

How much of your life now is devoted to dance compared to when you first moved to Grand Rapids in 2001?

I consume it every day in some way [now]. It's a part of my life, whether it's reading an article, preparing to teach a class, going into the studio, starting a new project, planning something for DITA, it's pretty much every day, even if I'm going to the gym or taking a yoga class. The physicality of that is always in my body and on my mind.

Dance is such a physical art. How do you take care of your body outside of dancing?

I am a gym rat. I go to the Y as much as I possibly can. Although I haven't gone in a long time because of ArtPrize shenanigans. I run, I do StairMaster, I do elliptical, I do some kind of cardio. I do light weights, yoga. A lot of stretching on my own. And of course, teaching. ... But I hardly ever sit down until 11 at night.
Interview conducted, condensed and edited by Lindsay Patton-Carson. Photos: Seth Thompson