With his captivating autobiographical debut, Michigan-native Jude Angelini comes across as a modern-day mix of poet/writer Charles Bukowski and comedian Bill Hicks.
Angelini spares no sordid detail in "Hyena," a quick, addicting read that chronicles his formative years in Pontiac and coming of age as "Rude Jude" on "The Jenny Jones Show," all of which culminates in his current gig as the co-host of "The All Out Show" on SiriusXM's Shade 45.
Whether it's drugs, kinky sex or overeating, Angelini describes himself as a "functioning addict," one who seeks out various vices to "fill a hole that's never filled, no matter what you do," all while balancing a tireless drive to be successful. His undying goal: To prove to people that he could pull himself out of a broken home in a broken city and make something of himself.
After initially self-publishing "Hyena" in 2013 and hooking up with Simon & Schuster's Gallery Books last year, Angelini saw his work get picked in February by the executive producers of "Entourage" for an upcoming HBO comedy project. He says the slow build behind the project taught him the value of persistence.
"One thing I've learned in my whole process — and this isn't about drugs, it's about life — is f***ing work your ass off every day," he said. "This is a long grind and nobody owes you shit. You just have to go out there and get it."
Angelini spoke with Revue about his vices and balancing them with his career ambitions.
You chronicle your life and experiences with many vices in "Hyena." Do you have a favorite vice?
If I could do ecstasy and ketamine all the time and not have any residual effects on my body, I would do it. I stopped doing molly and all that shit just because I literally ran out of happy juices. It just stopped working on me. It's the same with ketamine, as a matter of fact. I had to quit ketamine because the psychedelic effects just went away. … It has a dissociative effect that I found quite — (sigh) — I loved it. … If you look at it, the stuff I did the most was painkillers and dissociatives. So what does that say about me? I'm just trying to kill the pain and leave my f***ing head for a little bit.
Why do you want to leave your head?
I don't know, man. I think the same stuff that drives me to succeed, kills me too. I think a lot of people can relate to this. With my book, a few years ago, it started off as just a blog and an idea, and then I worked at it every single day. There was a certain tenacity — and craziness, almost.
So, using it for positive, you can get shit accomplished. But using it for what one might view as negative, it's like, I never get enough p****, I never f*** enough, I never do enough drugs, I never have enough shoes or I never own enough watches or own enough albums. It drives me to excess, I guess.
In "Hyena," you discussed your mom finding your ketamine and confronting you over whether you were shooting up. You consoled her with the line, 'I'd probably have the same vices, happy childhood or not.' What did you mean?
I wanted to tell one story that illustrated a lifestyle. … I did have a f***ed up childhood. I did grow up in an environment where I didn't feel safe, where I felt conflicted and I felt torn between my parents — which is common for a lot of divorced kids and kids that come from semi-violent homes. I think she felt bad about that, and I was just trying to tell her that I probably would have been f***ed up regardless.
What's your vice of choice these days?
I've been on GHB like crazy. With GHB, no one likes it because it's a date rape drug. It kinda got looped in there with roofies. But it's way more chill than roofies. It's kinda like being drunk with a body buzz.
Why not just drink booze?
Drinking just doesn't work for me. If I could just sit down and have a beer with you, man, that'd be really ideal. But it just doesn't work. Or even smoke a joint – that shit just doesn't work. So I end up doing what outsiders view as crazy, but to me is just being pragmatic about my high, the high-to-hangover ratio.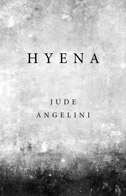 "Hyena" by Jude Angelini
Publisher: Simon & Schuster, Gallery Books (September 2014); $16
From reading "Hyena," it sounded like your vices changed over time. Are you on a journey from one to the next?
I don't think I'm ever going to be fixed, and I've come to terms with that. … The reality is, I'm just not that happy, and I probably won't be. … My baseline might be a little more down than the next guy. And if I can deal with that, then I can adjust for life.
Do vices help you get through the daily grind, or do vices spice up life?
It helps me blow off steam. I've gone long periods of not doing shit. I quit ketamine and my record collection quadrupled. It's not like I fixed myself. I just took that energy and put it somewhere else.
It's like you can go all in, or you can quit altogether, but striking a balance is a struggle. Is there such thing as moderation for you?
It's easy to be like, 'I'm not doing this.' You turn that part of your brain off. But if you say, 'I'm only gonna eat a little piece of cake' — I've got to eat the whole f***ing cake. I've got to eat the whole f***ing cake, get sick, throw up and eat more cake.
What inspired you to write "Hyena?"
I wrote the book so I could be treated nicer. … My goal was to get paid to be myself. I don't even plan on being a writer. I just wanted to show people I could. … My goal was I wanted that key to open up doors to new opportunities because I felt like I had been pigeonholed a bit.
Given the news of the HBO deal, those doors to new opportunities are starting to open, right?
Yeah, it is happening. People are hitting me up. It's crazy. People I respect — decision-makers, finally, who are saying, 'Oh, that's a good piece.' It's an awesome feeling, man.
With these new opportunities, do you have to check yourself when you go to pick up that next vice?
Ideally, I want what everyone else wants: I want a girl, I want a f***ing family. Apparently, I'm just not that good at doing it. Things can change. Who knows, maybe I'll find some girl that I like a lot and just get addicted to her. I don't know. But am I not going to do drugs? I don't think so.
Why not?
I've got to tell you man: Drugs plus talent equals awesome a lot of f***ing times, dude. Look at the Isley Brothers shit, and then look at that shit once the '70s hit and you could tell they started doing crazy drugs. Same with the Beatles, all that shit, man — f***in' Coltrane. I'm not saying any f***ing dipshit can like shoot some heroin up and make an awesome album, (but) it knocks your head into a place that's extremely hard to get to. All it takes is some f***ing substance. No, I don't see myself giving that up.
You still get up every day, go to work and do a radio show for four hours.What's your secret to success?
I do my work sober. I'm sober at work. I think in 10 years, I've probably missed three or four days because of drugs. Sometimes that's on accident, and sometimes it's planned. … Know your weaknesses. There's certain drugs I'll never do because I know my personality and how destructive they may be to me.
The Detroit area certainly played a role in your life and in "Hyena." Do you ever feel like an ambassador for the region via your position with a national audience?
I feel like I have a responsibility to Michigan, but the sad thing is I feel like it's never good enough for Michigan people. … It took me having to leave Michigan to be able to succeed. I was doing work on a television show for years and I never even got a write up in Michigan until I dropped the book. I didn't even get a write up doing this radio show for 10 years. … I'm finally getting some love back, but it's been a long time coming, I'll tell you that much.
---
Angelini can be heard daily on "The All Out Show" from 4–8 p.m. on SiriusXM Shade 45. He also co-hosts the Foreally Show podcast — available on iTunes and Soundcloud — with childhood friend Ross Rowe (a.k.a. Senim Silla of the Michigan rap group Binary Star). Angelini is active on Twitter @rude_jude and Instagram @onemorejude.