How do you puzzle a MythBuster? Ask him what he does. Adam Savage, 47, the extroverted half of the hit Discovery Channel show "MythBusters," has methodically debunked countless legends since the show's 2003 debut. Beyond television, his lengthy resume is a mixed matrix of trade professions: acting, animating, big-budget set designing — and that's skipping some technical vocations. So it's plausible to say Savage has the techy stuff figured out, but adding a concrete label to his own livelihood is something he's only recently demystified.
The MythBusters' tour stops in West Michigan this month — how do you like the road? I know this is the last stage tour for co-host Jamie Hyneman.
Savage: I personally love it. We've been touring a couple times a year. I find it creatively invigorating. On a day-to-day level, MythBusters is not a very glamourous job. We do pretty much all of the work ourselves and get dirty and cranky, but can also have a lot of fun. Out on stage, I personally feel like I'm getting a college education in performance. The show is not a static object. It changes from night to night. That interaction with the audience is a completely different kind of creative endeavor than making a television show, and I love it.

Getting on stage is sort of an extension of your early acting career.
It was the first serious thing I wanted to do for a living as a teenager. When I was about 15 I asked my dad, who was in advertising, if he could help me out — I actually got the first commercial I went out for. I played Mr. Whipple's stock boy in a Charmin commercial.

You were also in Billy Joel's "You're Only Human (Second Wind)" music video in 1985, right?
Yeah, I spent three days filming with Billy in and around the five boroughs of Manhattan. It was a dream come true, I grew up on Billy Joel's music. The video itself is terrible. I mean, really awful. It exemplifies what was so crappy about all of those videos in the '80s, but it was a huge amount of fun.
MythBusters' "Jamie & Adam UNLEASHED!" tour
April 16: DeVos Performance Hall, Grand Rapids, 7:30 p.m.

April 17: James W. Miller Auditorium, Kalamazoo, 8 p.m.
mythbusterstour.com
After all of the odd jobs you've picked up — how would you label what you do?

Wow, that's a really good and difficult question. I'm kind of blown away. First and foremost, I'm a maker of things. But that doesn't seem to encompass the entire thing. I have become aware over the past couple of years that, to a degree, even making things is an engagement in storytelling. I am so addicted to stories, whether they're in movies, books, television, or even spoken word. I think "storyteller" would encompass all of the aspects of what I do.

So in high school were you heavily into Sci-Fi movies and culture?
Yeah. It's perhaps best exemplified by telling you my nickname in high school was Inspector Gadget. I was born in the late '60s, so the early '80s when Alien, Blade Runner, Raiders of the Lost Ark and Battle Star Galatica were happening, those were my most formative years, between 11 and 17 years old. It was just an amazing age to grow up in because every summer there would be 15 incredible movies to go see. Working on Star Wars was the first pre-teen job I wanted. I was reading about all the craftspeople that made the spaceships, the sets, and invented new ways of filmmaking to tell those stories. I wanted to work with them.

Working on Star Wars Episode II: Attack of the Clones, and having your model work in the film, must've been a dream come true for you, huh?
Getting to work at Lucas' Industrial Light & Magic for five years was like dying and going to heaven. When I was 19, I was hanging out with my best friend in New York and he said to me, "Adam, your problem is you have a lot of talent, but you don't have ambition." He said, "When you find your ambition, you won't be sitting here talking to me, you'll be saying, 'I can't do that by Tuesday, Mr. Lucas.'" That was 1986. Cut to the year 2000. I was working on the third floor of the ranch on Episode II at Lucas Films. I was part of a meeting with Lucas and his producer Rick McCallum and I actually got to say, "I can't do that by Tuesday, Mr. Lucas."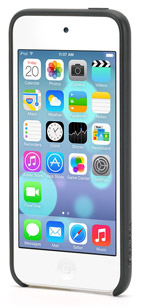 ---
What's on Adam's iPod?
I am listening to a lot of the Decemberists. I have recently become aware of the Milk Carton Kids — they did all of the music for the film Inside Llewyn Davis; their music has been killing me. Then I listen to a lot of different female singers. I listen to people like Aimee Mann, Imogen Heap. But I also like some good pop like Sara Bareilles. I'm all over the place. My sons, who are very serious musicians, joke that I have the musical taste of a 14-year-old girl.