An artist, educator and organizer, Sofía Ramírez Hernández shares her story through her work so that others won't have to struggle the way she did. Hers is a story of immigration, identity definition and institutionalized discrimination. Yet hers is also a story of inspiration and incremental change. Born in Mexico City, Ramírez Hernández immigrated to eastern Michigan with her family back in 1995. Not even five years old, she found herself in her first snowstorm in a cold and unfamiliar country. But from a young age, she displayed an aptitude for drawing, using it as another form of communication.
She first arrived in Grand Rapids to attend Kendall College of Art and Design, where she went on to earn a BFA in drawing, with a printmaking emphasis and a minor in painting. Selected as the artist in residence for the Saugatuck Center for the Arts' Growing Young Artists Program, she worked with children of migrant families in the Fennville and South Have School districts. But struggling to find her place in the Grand Rapids community as an LGBTQ woman of color, she created her Sofia Draws Everyday project. She later exhibited the massive daily discipline of more than 1,000 drawings as part of ArtPrize in 2017, while working as an art instructor and illustrator. Now working with Grandville Avenue Arts and Humanities, and serving as the program manager for the Cook Library Center, she continues to take the incremental steps towards realizing her visions for a better world.
How do you think having art and drawing play a part in your education and your life at such an early age helped you navigate your transition into a new country?
We actually found some drawings from when I was not even three years old, and I have a drawing of my mom who was pregnant at the time and there's a person inside of her. I work with kids (now), so I know a little bit about childhood development and motor skill development, and it was a little shocking to see this drawing and see how advanced some of the concepts were, like drawing a hand that is a full figure instead of five sticks. So looking back now, I see that drawing was essentially another language that I was speaking, or another form of communication that I had. I guessed it helped the transition a lot, because I was able to communicate more fluently with my drawings. That has always been a safe realm or practice for me.
What does it mean to you to have the opportunity you have now to make a difference in the community with your role at Grandville Avenue Arts and Humanities?
I really don't say it lightly but, I feel like when (Cook Arts Center Director) Steffanie (Rosalez) gave me this opportunity, to be in this job, to be in this role, to be in this community, essentially it saved me. I was feeling very helpless, very unseen, like I didn't fit in, and there was no place for me here. I was just expecting it to be painful to stay here. I feel very honored to be accepted into this community, the Roosevelt Park and Black Hills Neighborhood and into these families. They remind me of my family, and they have stories so similar, and stories so different as well. But I think we have so many overlapping experiences or feelings or impressions of living in West Michigan, that it's really been an honor to have been accepted into these circles, and into the lives of these people.
For you, how much do art and activism go hand in hand?
I struggle to call myself an activist. For example, I believe in abolition, but I'm not going to call myself an abolitionist, because I believe that those are the people that do more direct action. I'm not breaking people out of prisons, or destroying a lot of these systems single-handedly, but I do carry a lot of these beliefs in how I talk to my kids (in class). I talk about radical love, or radical acceptance, of not questioning someone's identity, of saying that no one deserves to be abused, or isolated, or locked up, or policed. So I would say that I have soft way of sharing my politics everyday so that I don't burn myself out. I'm no use to the kids that I work with if I'm burnt out. And I think that was happening before I was working with kids. I didn't know how to pace myself. I didn't know how to focus my efforts. I would just get angry all the time, and I do think that anger is great, and it can be really constructive, but I think that I was allowing myself to get totally drained, and get so upset by things, from the treatment that I was seeing my friends face or even myself with people in my life, and it wasn't until I was working with kids that I started seeing that it's a lifelong effort and not just something reactionary or something very short-term. Part of radical politics is that you need to be constantly dreaming of a better world. It's actually a very positive thing to be dissatisfied. It just means envisioning a better world. Envisioning alternatives. Believing that everyone deserves joy and freedom from abuse.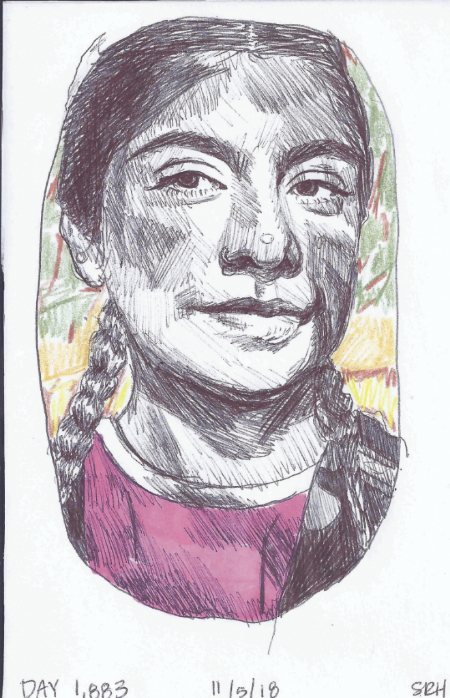 Self-portrait by Sofia Ramirez Hernandez.
In the time that you've been in Grand Rapids, how much of that incremental change have you seen?
I see the conversations being brought up a lot more. Seeing it on the ground, from a more personal viewpoint, this is very anecdotal, but I have a friend group right now that is people of color. We are non-men, with some gender-nonconforming people and women in our group, and we are all people of color and we are all queer. So finding that group of people alone – there's not dozens of us, there's just handfuls of us. But we all felt like we were – whether it was strategically or not – we felt like we were very dispersed throughout the city and dispersed throughout friend groups. It was almost like there was only one of us per friend group. And that was what I think had us feeling so lonely and helpless and desperate for connection, we felt like Grand Rapids is not our place. There's no one here like me. But it was because we were maybe strategically separated. So I want to say maybe two years ago we started to find each other and link up a little bit more, and it has completely changed my outlook on what it's like to live in Grand Rapids. So I have been seeing that a little bit more, especially in the last two or three years. People speaking out to maybe their more stubborn or bigoted friends who don't want to learn, and seeing more people of color, more women drawing boundaries for themselves, and saying, 'I do deserve connection. I do deserve community. I don't deserve to be doomed to a life of discrimination for the rest of my time here.'
You're also a marathon runner. As an artist and activist, why do you think you've become so passionate about running?
It wasn't until college, where, for the same reason that I started my drawing project, (I started running) because I felt a lot of anxiety and depression having a lot of control over me. I wanted to feel like I could control it. So that was why I started my drawing project, to feel capable of something epic, of something larger than the effort. So it was the same with running. I started running, or I kept running, when I would feel my anxiety take over, because it was something that I could control. I'm also fascinated by numbers and graph paper. It's why I date all my drawings. I like knowing what day I'm on. So with running I like seeing those increases as well. So let's just say I ran half a mile. And then the next day I ran .6 miles, and then .7. It was the same with the drawing, you see it surely increasing, and even though the eleventh time or the 100th time that you contribute to this project, even though it's in such tiny increments you're tacking onto such a large body that you can't help but be impressed with yourself and your capabilities. So it wasn't until about three years ago that I started doing more endurance running. In the past I was just doing sprinting for anxiety release, but now I'm an ultra-runner, which means I run distances longer than a marathon. I frequently talk to my students about this as well, my kids that maybe don't have the highest grades, is that the only way that I got to these super long distances is just one day choosing to run one mile. You can't run 32 miles or 50 miles without having done that one mile at some point. It instills a lot of patience. You have to have patience with yourself. You're not going to get to that marathon distance in your first week or first month of running. It's going to take many, many days.
How does that translate to drawing?
I think it's the same with my drawing project. Several times throughout the project I would get tired of it, or lose the novelty or the impact of the scale of the project. I think when you get lost in that day in day out work, it's easy to lose sight of it. And it's the same thing with running. Right now I'm training for a 50-miler, and eventually a 100-miler. It's a feeling of self-sufficiency, that ultimately that end goal, that big feat, is more of a community effort. I don't think that I could be an ultra-marathoner if I didn't have a supportive family or if I didn't have friends or if no one was there to talk to me. I don't know if I would still do it. But sharing it is so powerful as well. I do have a dream of making a triathlon for kids of color. Running and triathlons are very whitewashed. There's a lot of gatekeeping in those sports because of how expensive of how they can be made. Running is not inherently expensive, but you're convinced you need all this gear and people want to travel for races and that requires flights and hotel fees and the timing of these races is very high-tech. So it's very, very expensive. But I want to be a part of a movement to make triathlon and ultra-running much accessible for all kids of color. That's my vision.
Follow Sofía Ramírez Hernández on Instagram @sofiadrawseveryday.