Brewery Vivant has an ever-evolving rotation of French, Belgian and Bavarian-inspired dishes that deserve a published cookbook. Dinner specials change often and past plates have included roasted half-chickens in a vivacious pan jus and a cumin and bee pollen rubbed pork tenderloin sided with rosemary scented beets.
925 Cherry St. SE, Grand
Rapids; (616) 719-1604, breweryvivant.com


TC's Wood-Fired Fare (Arcadia Brewing Co.)
Although construction delays have pushed back the opening of Arcadia's new production facility and brewpub in Kalamazoo, TC's Wood-Fired Fare in Battle Creek hints at what the future site may offer. The house-smoked Texas spiced brisket has many ardent defenders and first timers should try the KC dry rub ribs. For something lighter, try a Lamb Roll-Up, a flaky pastry roll of seasoned lamb, spinach and red onion, in tangy marmalade.
103 W. Michigan Ave., Battle Creek; (269) 963-9690, arcadiaales.com


Lucky Stone Pub (Saugatuck Brewing Co.)
The best fish and chips are Saugatuck Brewing's ESB Amber battered Pollock fillets
and a heap of hand-cut chips. Many skip the sweets at brewpubs, but don't overlook
the spiced oatmeal cake created with spent grains, spices and beer-drizzled caramel.
Chocoholics beware, the ginger chocolate stout cake sends you beyond food coma
sugar shock and into hibernation.
2948 Blue Star Hwy., Douglas; (269) 857-7222,
saugatuckbrewing.com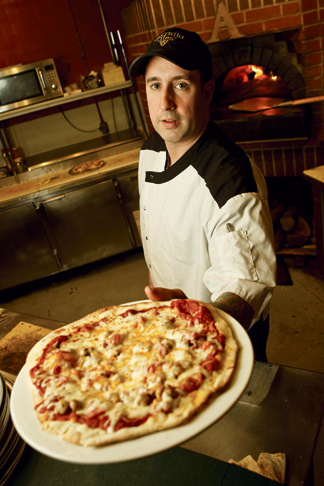 Grand Rapids Brewing Co.
Local farm-to-table freshness can be found in the hand-cranked sausages and succulent pork belly lollipops. GRBC has a lot going on beyond the beer. Where else can you find a Porchetta like this, a roasted pork belly seasoned with sage, stuffed with sausage and pumpkin, in smoky cheddar risotto?
1 Ionia Ave. SW, Grand Rapids; (616) 458-7000,
grbrewingcompany.com


Harmony Brewing Co.
Harmony has been around Eastown for just over a year. A small, contemporary brewery, its wood-fired pizzas beat most pizza shops in the area. The Handsome Ben lacks red sauce but has prosciutto, goat cheese, arugula and lemon-infused olive oil and cracked black pepper. Vegans can indulge in the saucy white cannellini bean Slide Whistle with artichoke hearts, red onions and spinach. Build your own starting at $8 and up. Technically, you could add everything for a touch under $30.
1551 Lake Dr. SE, Grand Rapids; (616) 233-0063,

harmonybeer.com
Pictured, top: Brewery Vivant's frites; right: Wood-fired pizza at Arcadia Brewing Company.
Cheap Eats:
Charlie's Crab Happy Hour
It's lent – time for fish. Feast upon Charley's Crab $4 craft beer battered cod with malt vinegar tartar sauce. For a dollar more, steamed mussels with orange zest and fennel will put your post-February Valentine blues on the backburner. If you want cheaper and require a quick and succulent stomach plug, the portobello mushroom fries and honey jalapeno aioli will do so for $3. Of course, this leads more pocketbook room for $3 wells and $4 wines.
4-7pm, Monday-Friday. 63 Market Ave. SW, Grand Rapids; (616) 459-
2500,

charleys-crab/grandrapids.asp
Dining Events:
Cheeeeeeeeese... The Kind that Oozes!
Uptown Kitchen, Grand Rapids
March 18, 6:30 p.m., $40
uptownkitchengr.com

, (616) 776-2655
Cheesemonger Kate Leeder from Art of the Table presents Valencay, Harbison, St. Felicien, Epoisses and more cheeses with a sampling of wine or beer. This hour-and-a-half $40 class will have five to six cheeses and include a coupon for 10 percent off your next cheese purchase at Art of the Table. If your cheese exposure is modest or you have a hankering addiction that can't be met, mark your calendar.