EVERYDAY PEOPLE CAFE

It's hard to make it past the appetizers at Everyday People Cafe in Douglas. The menu kicks off with braised local pork belly in a bed of arugula in apple-quince chutney and jiaozi pot stickers full of shrimp, pork and ginger, steeped in a black vinegar and soy sauce. There's even a meat/sausage plate selection featuring metwurst, house-smoked serrano, and prosciutto. The drunken shrimp sambuca features everyone's favorite Italian anise-flavored liqueur seeping into shrimp and shallots with garlic, sun-dried tomato, basil and cream in a puff pastry. For the traditional summer seafood romantic, the mussels monoldo's Prince Edward Island mollusks are kicked up by the melding of the white wine sauce and the Dijon mustard, in turn accented basil and garlic. Although roasted beet and goat cheese may sound slightly primitive and undesirable to some, the organic goat cheese from Dancing Goat Creamery stands out in a walnut vinaigrette. I'll be honest, I almost couldn't pass the hors d'oeuvres here.
Luckily, I have some scribbled notes on napkin with stains of what seem to be the house butter pickles and one of the 80 or so wines:
For less than $10, try the sumptuous pho made from local beef sirloin shaved thin, homemade rice noodles, shrimp miso broth with cilantro, mint, scallion, bean sprouts, peanuts, and a jalapeno-Korean style kimchee. The Gorgonzola pork chop is 12 ounces of sweet meet roasted with a caramelized onion marmalade.
If you want to go inside for some great dining and air conditioning, you'll enjoy the relaxed, casual atmosphere at Everyday People Cafe. Every Thursday through Sunday features live music from 6:30 to 10 p.m. 11 Center St., Douglas; (269) 857-4240, everydaypeoplecafe.com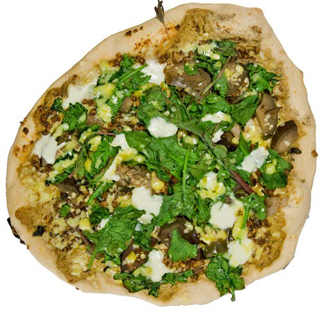 NEW EATS: CVLT PIZZA

Former Bartertownie Ryan Cappeletti's new joint venture offers the best of vegan and vegetarian pizzas unlike anywhere else. Take for example the black bean and egg pizza topped with spinach and walnuts with feta and goat cheeses. For something out of the truly ordinary, tackle the double-decker vegan breakfast pizza comprised of fried potatoes dripping in beer cheese, spinach and vegan mozzarella sandwiched beneath tempeh chorizo and tofu scramble, cashew cream cheese and spinach. Build your own or pick from the ever-changing daily specials pending available ingredients from Mud Lake Farms, Ham Family Farms, Green Wagon Farms, Lubbers Farm, Uptown Farm, Reformation Growers and Groundswell. 10 Jefferson St. SE, Grand Rapids; (616) 490-4911, cultpizza.com
EATING at the 44th ANNUAL FESTIVAL of the ARTS

I thoroughly enjoy strolling with out-of-town friends amongst the food booths of Festival. I indulge in devilishly tempting those with dietary restrictions, whether for religious, ethical, or other purposes; although chewing, gnawing and drooling makes a poor argument. You won't find a better sampling of different cultural cuisines elsewhere: Szechuan chicken skewers from the Chinese Association of Western Michigan, falafel sandwich from the Islamic Mosque & Religious Institute, or cream cheese wontons from the Buddhist Association of Michigan. Of course, if you happen to be overly picky, treat yourself to a massive elephant ear (don't forget a wet nap). Whatever your familiar favorite is, be sure not to miss something from the 30-some booths. Downtown Grand Rapids, June 7-9