Lindsay Patton-Carson
Restaurant: Big Bob's Pizza in East Grand Rapids
Meal: The Mediterranean Pizza, Spinach Artichoke Dip, Gin and Tonic
Big Bob's Mediterranean is my favorite pizza by far. The crust is soft, chewy and covered in olive oil in lieu of traditional tomato sauce. From there, Big Bob's goes wild with the toppings: covered in mozzarella and feta and topped with roasted red pepper, spinach and artichoke. The meal was garnished with spinach artichoke dip and my ultimate last-meal drink, a gin and tonic.
Denise Schott
Restaurant: Carmen's Cafe in Muskegon
Meal: Pancakes, eggs, salsa and sausage
I love all the fine foods in life, however, my last meal choice would be a food that brings back great memories, what I call "Happy Food." Good old fashion pancakes, eggs and salsa and sausage, even though I rarely eat meat. Carmen's Cafe in Muskegon is my favorite place for comfort food. It has great waitresses and great food at a fabulous price.
Kellie Zaplitny
Restaurant: Electric Cheetah
Meal: The Hot Brown, Hand-Cut Sweet Potato Fries
What better way to spend your last meal on Earth than with your best friend? The answer: none. Eastown's Electric Cheetah offers the palate a plethora of quality tastes. The Hot Brown is an unusual choice for us, but we pride ourselves on taking food risks. The sweet potato fries are the bees knees and are great for sharing. Watch out, Crack Fries.

Lauren Allen
Restaurant: Mangiamo
Meal: Back Door Pizza
A commonly overlooked feature of Mangiamo is its surprisingly affordable back-door pizzas. For $6 you get a fresh, hand-made, three topping, medium (8 slices) pizza that is better than a snuggle from a Puggle. There are a billion different toppings, but I stick with tomato, mushroom and feta. Caution: don't anticipate leftovers.
Jayson Bussa
Restaurant: Centre Street Taphouse
Meal: Mahi Tacos with fried pickles and beans
If I'm leaving this Earth, I'm doing so with a belly full of tacos. Fish tacos are all the rage, offering this delicious cuisine sans the potential gut ache. Centre Street Taphouse loads theirs with thick Mahi Mahi fillets and avocado cream, salsa and red cabbage slaw. As an appetizer, I mowed down a combo basket of fried pickles and beans.
Nick Manes
Restaurant: The Winchester
Meal: The Classic Burger with fries
It seems only natural that a last meal should go back to one of your earliest. For me, that means a giant cheeseburger. Grand Rapids gastropub The Winchester on Wealthy has nearly replicated the legendary Mr. Fables burger, and it would be great to have just before The Shot.
Kristi Kortman
Restaurant: C.F. Prime­
Meal: Jumbo seared scallops with sautéed spinach, grilled tomatoes, and lemon­basil vinaigrette. Choice New York strip steak with toasted brussel sprouts, walnuts, cranberries, Death by chocolate shake; Ghirardelli triple chocolate brownie with hot fudge, caramel, and whipped cream; homemade red velvet cake ice cream.
For my last meal, I must be true to my red­-blooded, carnivorous nature and head to my favorite Muskegon steakhouse for my final surf 'n turf experience. The dark wood paneling, warm lighting and cozy booths invite you to stay awhile, and the staff treats you like the royalty you will never be.
Kelli Belanger
Restaurant: Maru Sushi & Grill
Meal: Blushing Geisha Martini, Firecracker Shrimp & Rio Grande Vegetarian Rolls
For the first round, I crank up the heat with the Firecracker Shrimp. This fried shrimp is covered in Japanese seven-pepper seasoning and served with a sweet garlic chili sauce. For my main course, a fresh fiesta with the Rio Grande vegetarian rolls, which are filled with avocado, asparagus, red pepper, tomato and serrano and accompanied by fresh guacamole and pico de gallo.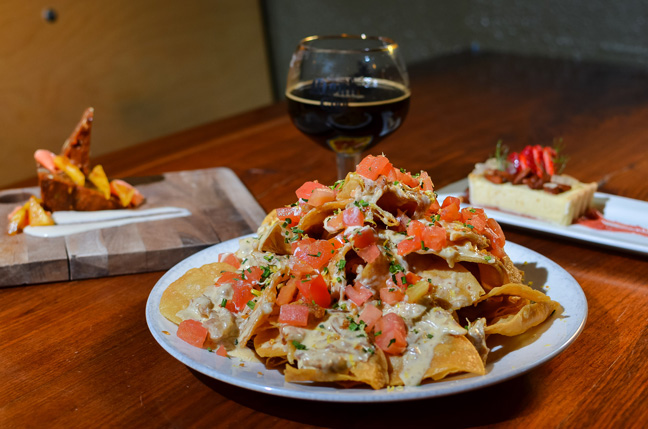 Kim Kibby
Restaurant: Brewery Vivant
Meal: Duck Nachos, The Undertaker (Belgian Style Dark Ale), Artisanal Cheese Board with accoutrements, Mascarpone Cheesecake with strawberries, rhubarb and almonds, Hummingbird Cake
If I'm going to kick it, I might as well fit in a beer or two first. And that beer might as well be called The Undertaker. Yes, a "dark, sinister pour" enjoyed in a former funeral chapel is my kind of party. For sustenance, I try Vivant's take on nachos — perfectly crunchy chips fried in-house, with duck confit, brie cream, and tomatoes piled on luxuriously. Do not wait for your last meal to try this dish (in fact, visit the pub on May 25 for Duck Nachos Day!).
Photo: Paul Bomers