You and partner Eric Alberton opened SpeakEZ Lounge in 2012. What gave you the idea?
He said, "Hey, you want to open a restaurant?" and I said sure. ... He has an economics degree, so the ethereal business stuff he handled. Everything that had to do with the menu and design, that was both of us. I came up with the menu items and made him eat them.
So he had the luxurious job of showing up and eating.
Yeah. [Laughs]
What's your background?
I've been doing this for almost 23 years now. I'm glad that I don't look it, I still get carded when I go to the store. I graduated from GRCC in 2000. I had been cooking for seven or eight years before that.
You feature a lot of options on your menu.
With the brunch menu, we have about 60 items. And honestly, it's because we challenge ourselves.
One of things that impressed me were all the options on your menu.
Half of our menu can be made either gluten free or vegan. I love to cater to things like that. People who are close to me, myself included, have dietary restrictions. So I'm very in-tune to that.
What vision did you have when creating your menu?
We are a gastro pub, which is a bar that serves good food. ... We have Euro-American cuisine. I call it American fare with European flair.
What's your most-ordered item?
The Jerk Cuban. Hands down, no question. It's the 2012 second-place Grandwich winner.
What do you think makes it your most popular?
I think everyone loves a good Cuban sandwich and I think places around downtown don't do them very well.
So, you're enjoying life at SpeakEZ?
I like to make people happy and I do that with food. ... Life's good. I ride my motorcycles in the summer and I work on cars in the winter.
MAKE THIS: Chef Scotty's Balsamic Vinaigrette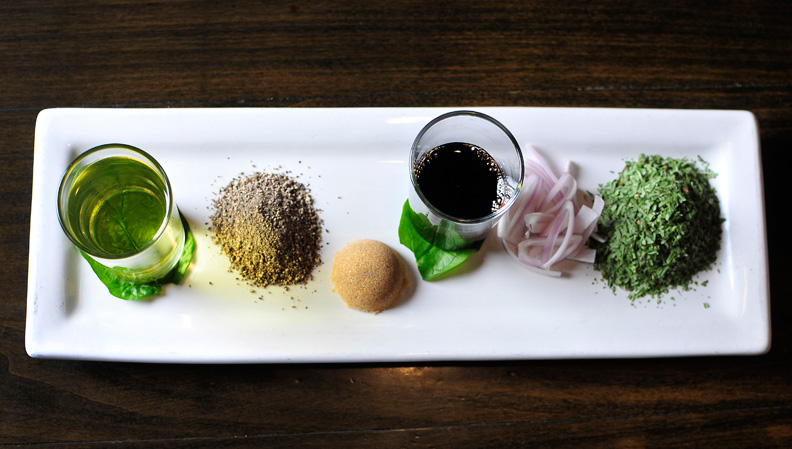 1/2 c. aged balsamic vinegar (I suggest 10 year aged for a richer flavor)
1/2 c. peeled chopped shallots
1/2 c. brown sugar (or appropriate sugar substitute, following the manufacturers suggested 1 c. replacement)
2 tsp. dried tarragon leaves
1/2 tsp. ground black pepper
1/4 tsp. kosher salt
2 c. canola, vegetable or salad oil (choose something with a simple clean taste)
Place all ingredients into a blender and turn on medium speed. Blend until smooth. Keep in a mason jar with a tight lid and refrigerate until ready to use. The dressing will separate upon standing. Shake well before using.
Interview conducted, edited and condensed by Lindsay Patton-Carson. Photos: Katy Batdorff