You took over as executive chef when Joel Wabeke left about three months ago. How's the new position?
The last three months have been my learning experience. ... But it's nice to have that creative flow to really cook food for people. I'm not a big talker. My food speaks for what I would say.
TerraGR originally opened as Trillium Haven. What happened with the name change?
The venue didn't change too much, we decided to partner with more farms. We didn't really do anything different food-wise. Trillium just wasn't the main farm.
What's your cooking background?
I went to culinary skills at Johnson Wales University in Rhode Island and I got a four-year degree in culinary nutrition.
Are you originally from Michigan?
Yes, I grew up on the other side of the state, in Birmingham. I moved to Grand Rapids about five and a half years ago and I started working at the JW Marriott.
You create your menus based on the season. What's your favorite season to work with?
Spring. Just because there are so many things popping up right now and it's a period after a long winter of root vegetables.
What is your favorite thing to make?
Personally, I like Asian fusion the most. And traditional Asian food too. ... I've traveled to Asia twice. One of my favorite things to do is butchery. Breaking down animals and working with proteins. ... Butchering rabbits is one of my favorite things to do. I know that sounds strange. It's a different art form of cooking. It's kind of relaxing. ... Kind of like knitting for most people.
What makes TerraGR stand out?
I think that we have a unique perspective on food. We do make everything in house. ... I think that handcrafted aspect of it is one of the things that makes us unique.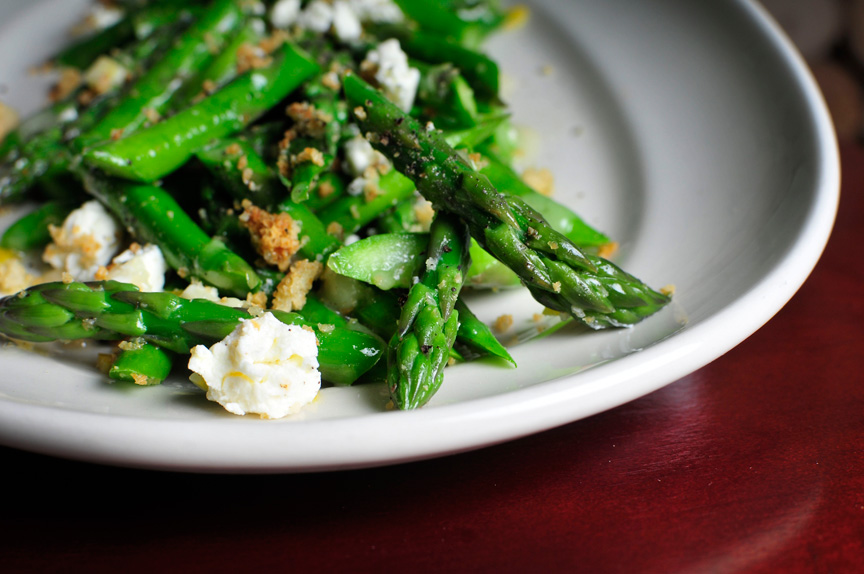 MAKE THIS: Roasted Asparagus and Preserved Lemon Salad
Serves: 4
2 cups crusty bread cut into ½ inch cubes
1 lb Asparagus spears, trimmed
2 tbsp olive oil
sea salt and cracked black pepper
preserved lemon vinaigrette
3 ounces fresh goat cheese, crumbled (I love dancing goat chevre)
Preserved Lemon Vinaigrette
Yield: 1 cup
1 tbsp diced preserved lemon
1 tsp chopped fresh chives
1 tsp sugar
1/2 tsp salt
1/4 cup champagne vinegar
2/3 cup olive oil
Directions:
Preheat oven to 425°. Arrange bread cubes in a single layer on a baking sheet. Toast, tossing halfway through, until golden and crisp, about 5 minutes. Remove, cool, and chop into coarse crumbs; set aside.
In a mixing bowl whisk all ingredients together for the vinaigrette; set aside.
Arrange asparagus on sheet. Drizzle with 2 teaspoons olive oil, and season to taste with sea salt and pepper. Toss to coat. Roast, rolling asparagus over once or twice, until just tender, 12 to 14 minutes; transfer to a large platter.
Sprinkle desired amount of preserved lemon vinaigrette over asparagus, then scatter bread crumbs on top. Top with goat cheese. Season to taste with salt and pepper. Serve immediately.
Interview conducted, edited and condensed by Lindsay Patton-Carson. Photos: Katy Batdorff