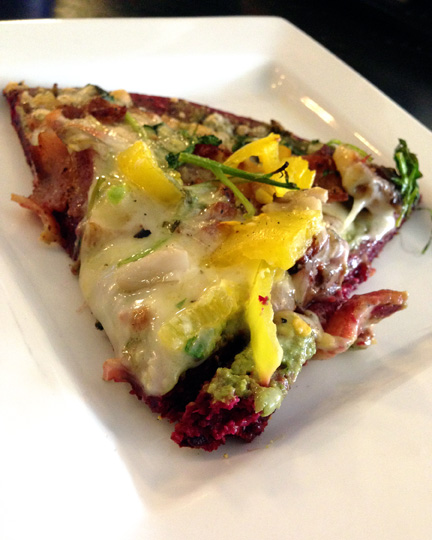 CVLT Pizza
10 Jefferson St. SE, Grand Rapids
jointhecvlt.com, (616) 490-4911
Item: Meat Lovers #3
Price: 10": $15, 14": $18, 18": $22
If you asked me why I hadn't tried CVLT Pizza until now, I would say it's because I had no faith in gluten-free pizza. The key word here is HAD.
One bite into the Meat Lovers #3 option with gluten-free crust and my world was rocked. This isn't just pizza, these are slices of gluten-free gold.
Made from a pesto base with bacon, potatoes and fresh greens, this pie is topped with goat cheese and CVLT Pizza's own mozzarella/provolone mix. It's the perfect combination of veggies and meat, especially if you're torn between being a vegetarian and a carnivore like me, and is rich enough to likely be the only meal you'll need all day.
What's more is that CVLT's East Coast-style pizzas are crafted with locally sourced ingredients from farmers around West Michigan. Whoever thought that eating pizza could be so fulfilling?