Complement your beer with some tasty eats. Scout out these well-loved menu items at regional breweries, guaranteed to surpass your expectations of traditional bar food.
BEST APPETIZERS
Sometimes the ideal complement to a drink or two is simply a few snacks to munch on. Bell's Eccentric Café (355 E. Kalamazoo Ave., Kalamazoo) serves up plenty of options that go above and beyond your typical brewery appetizers. For something a little adventurous, try the Kitchen Crack — a plate of Spanish rice, black beans, avocado, shredded cheese, pico de gallo, banana peppers and Sriracha sour cream: A combo that's perfect for scooping up with corn chips.


BEST SANDWICH(ES)
It's easy to miss the food menu at Founders Brewing Co. (235 Grandville Ave. SW, Grand Rapids) when you're busy mulling over which specialty beer to sample. But do take some time to check out the sandwich list, which includes a hearty fare that's easily shareable. Need a little direction? You won't be disappointed with the Stella Bleu; it has smoked ham, provolone, lettuce, tomato, red pepper, red onion, black olives and bleu cheese stuffed in the middle of a French roll. Runner-up: In Spite of the Club, which marries sliced roasted chicken smothered in Frank's Red Hot sauce with bacon, celery, tomato and bleu cheese served on an onion roll.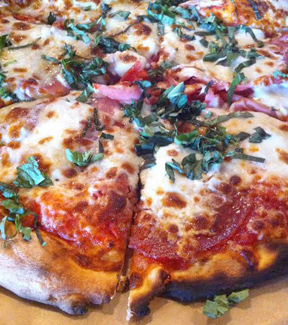 BEST PIZZA
Harmony Brewing Company (1551 Lake Dr. SE, Grand Rapids) has gotten a lot of buzz for its wood-fired pizzas, and for very good reasons. Although each crispy-thin pie appears plenty big enough to split, we bet you'll have no problem scarfing one down on your own — especially when you're washing it down with a cold one. The menu covers the classics, the unexpected and throws in a vegan option. Meat lovers, try the Crispy Pig, made with pepperoni, ham, prosciutto, mozzarella and basil. Vegetarians (or, really, anyone with good taste), order The Good Earth, a mouthwatering blend of spinach, mushrooms, caramelized onions, jarlsberg cheese and basil, with balsamic drizzled on top.


BEST BURGER
A good beer and a savory burger conjures up a pretty tempting image. At Perrin Brewing Company (5910 Comstock Park Dr. NW, Comstock Park), you get to choose from several mouthwatering choices. (And it wouldn't hurt to ask the server for recommended combinations.) Two in particular stand out: the Olive Burger, with a tantalizing house-made olive sauce, and The Black and Blue Burger, topped with bacon, blue cheese and Cajun seasoning. If you're craving a tasty side dish, order the beer-battered fried pickles or sweet potato fries.


BEST GOURMET COMFORT FOOD
Given its status as the Midwest's first USDA-certified organic brewery, it comes as little surprise that Grand Rapids Brewing Company (1 Ionia Ave. SW, Suite 1, Grand Rapids) would step it up with locally sourced menu offerings. Don't expect lean and boring health food here. GRBC has got a variety of indulgent plates that you can feel good about ordering. If you come with a large appetite, we recommend the Roasted Devries Pork Chops: succulent meat enhanced with polenta, veggie-chorizo hash and rosemary-apple butter.


BEST DESSERT
If possible, save room for something sweet at Dark Horse Brewing Company (511 S. Kalamazoo Ave, Marshall). There are just three options to choose from, which makes your decision a little easier. The turnovers will tempt fruit lovers, while the Elephant Ear — fried dough topped with butter, cinnamon sugar and icing — beckons to those who prefer a lighter, flakier after-dinner-and-drinks morsel.