Yep, it's still cold out, and it's not getting warmer anytime soon. (We're in this together, people.) Along with the urge to hunker down and cozy up, try adding a little heat with food and drink. Seek out these hot-and-spicy options to get your insides back up to normal temps. They're bound to make you feel at least a little better about being in the dead of winter.


Ethnic Eats, Booze and Beyond
Spice n Rice (525 Burrows Rd., Kalamazoo) abounds with sizzling menu items, from traditional hot-and-sour soup and Szechuan chicken to lesser-known fare like spicy salted squid and Singapore rice noodles. Anything can be tailored to your spice preference, so you don't have to limit your order to plates denoted "spicy" with a red pepper.
If you're in the mood for Mexican, stop into El Gallo Blanco (2838 Portage St., Kalamazoo) for authentic fare that will heat you up. The jalapeno tamales are a good start. Follow this appetizer with the Camarones a la Diabla, a plate of shrimp in spicy chile de arbol sauce served with salad, rice and refried beans.
Spanish tapas bistro San Chez (38 Fulton St. W, Grand Rapids) offers so many tasty and eclectic dishes that it's tough to narrow down your choices. Start out your dinner with the Medjool Rellenas Picantes, which is dates stuffed with lamb, chorizo, bacon and beef, topped with spicy harissa sauce. Adventurous types will also love the Gambas Asadas Al Fuego, a marriage of spicy fire-roasted shrimp, banana mustard cream and white rice that's delightfully sweet, hot and sticky. Other delectable variations of this theme include the Fire Cracker Shrimp at Maru Sushi & Grill (927 Cherry St. SE, Grand Rapids) and the Bang Bang Shrimp at Bonefish Grill (1100 East Paris, Terrazzo Fine Shops, Grand Rapids).
Comfort food gets creative at the Twisted Rooster (1600 East Beltline Ave. NE, Grand Rapids) with a Sweet & Spicy Reuben. Beef pastrami, smoked Gouda and French dressing meets spicy red cabbage and sweet crispy noodle slaw—all stuffed between two slices of rye bread.
Even if you don't have a beach vacation planned, you can still enjoy the flavors of the islands, right at home. From fried plantains with spicy slaw to jerk chicken and seafood gumbo, Chez Olga (1441 Wealthy St. SE, Grand Rapids) has you covered. All entrees can be served from spice level 1-10. There's also Latin-Caribbean restaurant, Casa Bolero (116 Portage Rd., Kalamazoo), which offers spicy small plates like bacon-wrapped jalapenos and chorizo cornbread bruschetta. Wash your meal down with the Chupa Cabre, a specialty cocktail made with tequila, lime juice, raw sugar, jalapeno and ginger beer.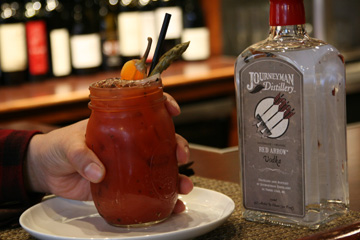 Another drink to get your taste buds aflame is the Serrano Pepper Ale at Saugatuck Brewing Company (2948 Blue Star Hwy, Douglas). Curious to know what this unique brew is like? You'll just have to taste it to find it. For those with a hangover, cruise into Salt of the Earth (14 E Main St., Fennville) and order the Rustic Bloody (pictured at left), made with Journeyman vodka, pickled vegetables and house tomato mix. Terra GR (1429 Lake Dr. SE, Grand Rapids) serves an organic Bloody Mary with Rain vodka and tomatoes pureed with a house blend of seasonings and spices.
At Arcadia Ales (103 W. Michigan Ave., Battle Creek), you'll find more than a few menu items with a kick. To name just two, they've got a salad with a Sriracha Caesar dressing and a buffalo chicken sandwich with house-made spicy wing sauce.
Ready to take your standard cheese pizza to the next level? Bernie O's (321 Center St., North Muskegon) can satisfy your craving a few different ways. Try the Dirty Bird, Hot Wing or Firebird if you're feeling extra bold. It's got spicy hot wing sauce, bacon and jalapeno bits, and a "Ghost Chili" powder. Choose from hot levels 1-3 (medium, hot, super hot).
If the concept of a spicy-sweet treat appeals to your palate, look to Grocer's Daughter Chocolate for inspiration. Unique gourmet creations like the Pecante' Bar (dark chocolate layered with pecans, cocoa nibs, thyme, arbole chili and sea salt carmelized in maple syrup) and Spicy Bark (dark chocolate mixed with ancho chili, aleppo pepper and guajillo chili, topped with guajillo chili powder, cocoa nibs and smoked sea salt) give you plenty of reasons to stop by and sample. Stores and products are located around the state, including 12020 S Leelanau Hwy (M-22), Empire and in the Grand Rapids Downtown Market (435 Ionia Ave. SW, Grand Rapids). You can also order and discover different products online at grocersdaughter.com. Wow houseguests with the Chocolate Chili Rub (cocoa, sea salt, chili and other spices) on your next meat or veggie dish.