Comfort food lovers, great news — Grand Rapids' thriving culinary scene continues to expand with the addition of two new barbeque restaurants this year. Two Scotts, run by Scott Hartmann and Scott Luecht, set up shop on the west side (536 Leonard St. NW). With an emphasis on simple and local, and years of perfecting a "Michigan" style of barbecue behind them, the two Scotts focus on doing a few things very well. The menu features a variety of meats, sourced from Sobie Meats in Walker, Mich., which are smoked, brined and seasoned on-site. You can choose from pulled pork, pulled chicken, sliced brisket and burnt ends, sausages and St. Louis-style spareribs, served in sandwiches or a la carte. Traditional sides like cornbread and potato salad are offered alongside more unique comfort food fare like pimiento mac and cheese.
Although the two Scotts advocate a "dry" barbecue approach, customers have the option of five sauces to complement their meats — three staples (South Carolina Mustard, House and Hot/Spicy) and two that will be changed out frequently. No alcohol here, but in the spirit of keeping things local, you can wash your hearty meal down with Schmohz Root Beer (or order a classic root beer float for dessert). Prices range: $2-$14.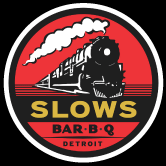 You'll have to wait just a bit longer for Slow's Bar-B-Q, which is slated to come to the Downtown Market (435 Ionia Ave. SW) this summer — signaling the market's first restaurant, and Slow's first location outside of Detroit. Established in 2005, Slow's has been keeping its customers happy and stuffed by giving them plenty of gourmet options, from sandwiches to sauces to sides.
In addition to a la carte barbeque offerings like beef brisket, pulled pork, smoked garlic pork sausage and more, they also serve Southern classics like Creole-style jambalaya and blackened catfish. The way to go here is by starting slow and sharing a lot. Appetizers like chili cheese fries and BBQ wings will tempt, but save room for Slow's mouthwatering sides, from fluffy Zingerman's cornbread to coleslaw and sweet potato mash.
Slow's promises to be a place you can linger awhile, sampling delectable dishes and complementing each dish with a brew from their extensive tap list featuring numerous Michigan craft beers. While comfort food is not typically thought of as special-diet sensitive, gluten-free folk need not worry — Slow's even has a menu just for you. Price range: $3-$28.