I have only a faint recollection of McFadden's, which is most likely:
a) Common
b) For the best

The long-running Irish pub — relatively vacant restaurant by day, notoriously wild dance club by night — closed its doors in late January. For some reason, I thought that had happened long ago, possibly because I'm now older than dirt.
The business was acquired in 2010 by BarFly Ventures, the Grand Rapids-based family of restaurants that includes Stella's, Grand Rapids Brewing Company and the ever-expanding chain of Hopcat brewpubs. It reopened in February as the Waldron Public House, a direct reference to the 58 Ionia Ave. building's birth name, when it was first opened as a hotel. The ambitious relaunch introduces a menu and decor inspired by the British Commonwealth, along with fancy craft cocktails, live jazz and weekend DJ nights aiming to retain some regular McFaddenites.
The Waldron Public House
58 Ionia Ave. SW, Grand Rapids
waldrongr.com, (616) 454-9105
The Waldron also claims to serve the best fish and chips in Grand Rapids, which is a bold statement in a city already home to several popular fried seafood joints and a feverish subculture devoted to Lenten fish-fry dinners. Devising a $13.95 downtown/upscale version of a working-class food that's plentiful and cheap if you travel two miles in any direction isn't as easy as dropping some whitefish in a fryer.
To that end, Garry Boyd, menu alchemist for Waldron and other BarFly restaurants, has whipped up an Alaskan cod fillet inside a brown ale batter which perfects the complex dance of moving pieces that make great fish and chips appear effortless. The two fillets with my entree order were in the Goldilocks zone: nearly melt-in-mouth rich, but not so flaky they'd fall apart with the first bite, and a batter exterior that was crisp but not crunchy.
However, the waxy paper lining my plate all but disintegrated as I ate suggesting the fish lands on the higher end of the greasiness spectrum, which for some customers, I suppose, is a selling point. The chips are scalloped, parmesan-garlic seasoned waffle fries that are less aggressively flavored than either of the well-known fries at Waldron's sibling restaurants — "Chronic" at Stella's and "Crack" at Hopcat — and, to my tongue, even better. (Waldron House offers all-you-can-eat fish and chips from 4—9 p.m. on Fridays.)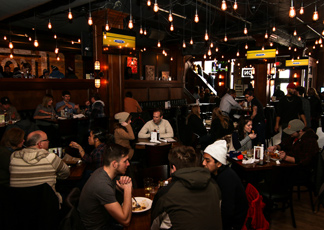 My guest, Chris, ordered another highly touted menu item, the $9.95 Bangers and Mac. The dish cleverly substitutes the potatoes in traditional UK bangers and mash with macaroni and cheese underneath a Division Street pork sausage from Corridor Sausage Co. in Detroit. It also incorporates Welsh rarebit, a cheese sauce served over a large, hot biscuit from Nantucket Baking Company in Grand Rapids. Between that and the macaroni noodles, it's arguably a bit carb-superfluous, but Chris enjoyed the comfort-food heaviness of the entree. While the cheese sauce produced a considerably different flavor than he remembered from the blue box mac-and-cheese he grew up with (intrinsic as it was to any 1980s or '90s childhood), he liked it as a novel eating experience.
For vegetarians, the only entrees available are a tempeh Reuben sandwich and an intriguing-looking whisky mushroom and potato pie (think shepherd's), with one soup and a couple of appetizers and desserts scattered around the menu.
Service, however, was well above par. Our server was attentive without being overbearing (a rarer feat than one might think). Of particular note: While Chris' 11-year-old son, Jack, was enjoying a plain hamburger and cola, the server, without asking, brought him another drink without taking away his original glass. That's ace detail work.
Now, as to whether the weekend dance nights maintain McFadden's levels of hedonistic indulgence, you're on your own. Some memories, hazy or otherwise, needn't be revisited