Jules Winnfield, Samuel Jackson's gun-toting character in Pulp Fiction, once famously said, "Hamburgers! The cornerstone of any nutritious breakfast." And while that was a scripted, flippant remark, a true burger addict would never turn down a mouthwatering patty at any time of day.
Luckily for you, Revue's staff is stocked with extreme Hamburglars. Here's some staff picks, detailing not only their favorite burger joints, but particular must-haves on their menus.
Maybe soon, West Michigan will finally get a Big Kahuna Burger… I hear they got some tasty burgers. In the meantime, here are a few existing spots on Revue's radar. —Rich Tupica
---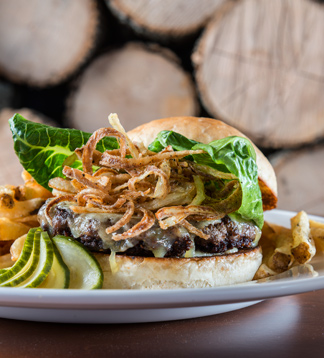 Joe Boomgaard, Revue Editor/Beer Czar's Picks
IRON Restaurant: Iron Burger, $10 (Pictured, left)
25 Ottawa Ave. SW, #103, Grand Rapids, irongr.com
Pro tip: Don't stop into IRON, one of the newest restaurants to hit the downtown Grand Rapids scene, and ask for ketchup. Chef Chris Perkey doesn't believe in the vile red concoction. Instead, Perkey, who also owns Osteria Rossa, uses his proprietary Iron sauce (think BBQ sauce meets steak sauce with a hint of tomato) to top the cast iron skillet-seared patty of the restaurant's eponymous burger. The patty itself is a special full-flavor blend of ground brisket, short rib and chuck roast sourced from Country Dairy in Muskegon. Topped with Michigan-sourced white cheddar, crispy charred onions, and greens from Grand Rapids-based Vertical Paradise, the Iron Burger comes situated in a grilled Field & Fire bun with homemade sliced pickles and a smear of horsey mustard on the side. The whole concoction is paired with a helping of Perfect Fries, which are made with kennebec tubers soaked in beef tallow and aged for a day before meeting their fate in the fryer. Pair it with a bottle of Dirty Bastard from Founders Brewing and you're in for a delight. This newcomer has put the standbys on notice.
---
Josh Veal, Associate Editor's Picks
Brick & Porter: Three B's Burger, $12
47 Monroe Center Ave., Grand Rapids, brickandportergr.com
GR's newest and downtown-est purveyor of brews and booze is also offering up some formidable competition in the cutthroat arena of local cuisine. Not surprisingly, the name for this burger comes from its three showcased toppings. The mild, creamy tang of boursin cheese balances out the smoky zest of blackened seasoning, with bacon coming in for an extra boost of flavor. You get what you pay for, too. My coworker described the patty as "girthy," an accurate description, albeit an unfortunate word choice.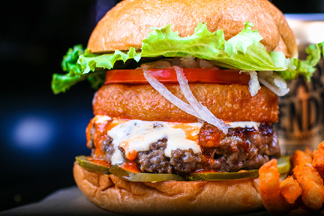 Stella's Lounge: The Buffalo, $11.75 (Pictured, right)
53 Commerce Ave., Grand Rapids, stellasgr.com
OK. I know publicly naming the Stella Blue as one of my favorite burgers ever would be, like, totally passé and super mainstream. So I'm not! This is The Buffalo. It's different. Yeah, it's still stuffed to the brim with gooey blue cheese crumbles and chewy little bits of bacon. And yes, it is also cooked to mouthwatering, juicy perfection. But it's also slathered in celery mayo and spicy hot wing sauce. That extra dose of dressing takes an already flavor-filled fare to the next level and adds a new dimension of heat without going overboard. So yeah, it's way different. I'm not mainstream. I'm hip.
Studio Grill: BBQ Bacon Cheddar Burger, $8.09
312 W. Michigan Ave., Kalamazoo, studiomoviegrill.com
My god. You can stuff a patty with barbecue sauce. I don't know what daredevil first took the leap, but we owe a lot to their intrepid experimentation. Studio Grill has nailed this tricky process, even going so far as to toss some cheddar cheese in there. After that, they load the burger up with more barbecue, more cheddar, and of course, some bacon. The result is one big, saucy, savory combo that was once voted the best burger in Kalamazoo.
---
Aebra Coe, Revue Writer's Picks
Everyday People Café: EPC Burger, $9
11 Center St., Douglas, everydaypeoplecafe.com
Here's a half-pound burger without too many frills that's all about the meat. The beef is grass-fed and locally sourced from Creswick Farms northwest of Grand Rapids. This thick patty is bursting with flavor, served between a toasted brioche bun and jazzed up with a special sauce that doesn't stray too far from aioli. Pickle planks add more crunch and flavor than your garden variety dill slices, and thinly-cut, crispy wisps of fried onion add just the right amount of flair to this otherwise humble sandwich.
O'Toole's Public House, South of Bridge, $10.25 or $5 on Sunday
448 Bridge St. NW, Grand Rapids, otoolesgr.com
What this behemoth burger lacks in modesty, it makes up for in flamboyance. The beef patty plays a supporting role as bacon, brined jalapenos, pepper jack cheese, white cheddar and chipotle mayonnaise steal the spotlight in a kick of smoky spice accentuated by an encore of crispy haystack onions. My recommended pairing for this hot mess of a burger is a nice, cold beer to cool the palate. It all tastes even better on Sundays, when the price drops to $5.
Gun Lake Casino: Fry Bread Burger, $9.99
1123 129th Ave., Wayland, gunlakecasino.com/dining
Some traditional Native American fry bread — crunchy on the outside, chewy on the inside — serves as a twist on the standard bun here, adding a shot of texture and flavor. Between those slabs of deep fried dough is a thick patty loaded with toppings: Two slices of tomato, a healthy portion of raw onion, pickle planks and lettuce. It's your choice of mustard, ketchup and mayonnaise to finish it off. This burger is big and rich enough for two and can be ordered with 'tater tots in lieu of fries.
---
Josh Spanninga, Revue Writer's Picks
Brewery Vivant: The Burger, $14
925 Cherry St., GR, breweryvivant.com
The first time I saw the price of this burger, I scoffed. However, once I finally plunked down the cash and gave it a shot, I was begging Vivant to take my money. Eight ounces of premium beef and crumbled bacon make up this decadent patty, topped with fresh bibb lettuce, tomato and a house-made bacon-onion marmalade. This is more than a simple burger, folks — it's a gourmet meal on a bun. I suggest trying it with gruyere cheese on top ($1 extra).
Brick Road Pizza Co.: Brick Road Burger, $9.50
1017 Wealthy St. SE, GR, brickroadpizza.com
The Brick Road Burger is one of those sandwiches that's so good it doesn't even make sense. I mean, a restaurant whose main attraction is pizza makes a meatless, dairy-less burger? How tasty could it be? But once you sink your teeth into this sweet, slightly nutty fresh-made veggie patty, the answer is obvious: abso-frickin-lutely scrumptious. Decked out with French fried onions, barbecue sauce, Daiya cheddar and veganaise, this is a burger sure to please everyone from hardcore vegans to the most finicky carnivore.
The Station Grill: Station Grill Signature Burger, $9.29
910 W Broadway, Muskegon, stationgrill.com
Sometimes you just want to forget all the frills and have a simple, greasy, old-fashioned all-American burger. Look no further than the Station Grill. Located in an old car service station, the Station Grill has a cool retro-diner atmosphere and huuuuuge burgers. Their signature dish is a Muskegon classic, with grilled onions, bacon and bar cheese. And if a half pound of meat isn't enough for you, you can upgrade any burger to a three-quarter pounder.
---
Nick Macksood, Revue Food Writer's Picks
Choo Choo Grill: Hamburg, $4.89
1209 Plainfield Ave., Grand Rapids, facebook.com/ChooChooGrill
What could be more simple than a classic burger? A ground beef patty slapped between a soft, squishy bun. Lettuce, tomato and onion. Cheese? Optional. Condiments: highly debated (mustard for me, with a nickel-sized splotch of ketchup). This is the way classic burgers are served up at the Choo Choo Grill, a postage-stamp of a diner on the corner of Leonard and Plainfield that's been dishing out burgers for seventy years. Seventy! And rightly so. The grill also offers a variety of other toppings and a one-pound patty, dubbed The Legend.
Broadway Bar: Olive Burger, $6.50
740 Broadway Ave., Grand Rapids
You might know this place for the wall-to-wall Christmas décor or spooky Halloween set-up, depending on the holiday season, but regulars know this as the spot for Notre Dame fans and alums alike. And while Jack and Robert Kennedy's rich, charming gazes look down on patrons from the old pub's walls, Broadway's burgers are for the workingman. Fresh ground chuck is handcrafted into an irregularly sized, juicy pub patty — no perfect frozen pucks here. My favorite, the Olive Burger, is heavy on the olives and light on the mayo, so you know you're being treated right.
Blue Dog Tavern: The Papa D, $12
638 Stocking Ave., Grand Rapids, bluedogtaverngr.com
Okay, so their whole "dogs playing poker" thing weirds me out, but the Blue Dog has some inspired burgers. One-third pound burgers are dished up in this English-style pub with one of the nicest looking bars in the city. My favorite is The Papa D: a pastrami burger with Swiss, Dijon mayo and kapusta, a braised cabbage. The Papa D was the People's Choice runner-up in 2015's Grandwich contest and deservedly so. This fat burger not only pays homage to the Westside's Polish roots, it reminds us that, yes, there are delicious things you can do with cabbage.
---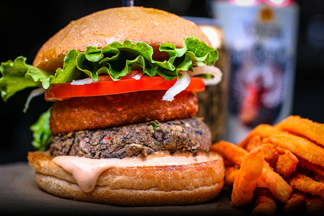 Troy Reimink's Veggie-Burger Picks
Stella's Lounge: Hippie Stuffed, $10.50 (Pictured, left)
53 Commerce Ave. SW, Grand Rapids, stellasgr.com
I mean, who do you think serves the best veggie burger in Grand Rapids? The cockiness underscoring every aspect of the Stella's presentation is on full display within its long list of vegan and vegetarian fare. The slightly better (although it's close) of Stella's two vegetarian burgers is a black bean and lentil patty stuffed with tempeh sausage and vegan Thousand Island dressing that provides an unexpected kick. Being one of the restaurants that raised the bar for vegetarian food in West Michigan, it's no surprise Stella's veggie burgers are every bit the standard-bearers as their nationally recognized meat counterparts.
Marie Catrib's: Larry David, $10.25
1001 Lake Dr. SE, Grand Rapids, mariecatribs.com
An entire episode of Curb Your Enthusiasm deals with Larry David's doomed effort to get his favorite deli to name a decent sandwich after him. Marie Catrib's didn't need to be asked. Its Larry David has a lentil and wild rice burger topped with a spicy tomato jam and garlic veganaise, served with grilled onions, tomato and spinach on an oat bun. It's hard to imagine David himself sampling his Grand Rapids namesake and not giving it his trademark endorsement — "pretty… pretty… good!"
Winchester: Sweet Potato Burger, $12
648 Wealthy St. SE, Grand Rapids, winchestergr.com
This sweet potato and wild rice patty, served on a Nantucket pumpernickel bun and topped with goat cheese and greens prompted the following revelatory question in my mind: Where has goat cheese on burgers been my entire life? Winchester's menu rotates constantly, but this veggie burger deserves a permanent spot in the starting lineup.