If you want to see Shelby Kibler's eyes light up, ask him about the miracle of fermentation.
His Field & Fire artisan bakery, one of the Grand Rapids Downtown Market's original tenants, specializes in a style of baking consistent with the ethics of the "farm to table" movement, employing a two-to-three-day fermentation period for all dough awaiting its turn in one of the bakery's two enormous wood-fired ovens.
Kibler, who operates Field & Fire along with his wife Julie, came to Grand Rapids after 12 years with Zingerman's, the wildly popular food business community on the east side of the state. Since opening in 2013, Field & Fire has slowly expanded its footprint in West Michigan. It recently started selling its bread in the Grand Rapids area's three Harvest Health locations. Its products have been added to the Doorganics grocery-delivery service. Later this year, Field & Fire will open a second location, a cafe on Monroe Avenue NW.
With the ovens crackling in the background, Kibler, 44, explained his methods.
What are the philosophies being expressed through Field & Fire?
We are artisan bakers, first and foremost. We don't just try to make something that tastes great, but something that is good for people, in a way that does not ravage the earth as much as if we didn't care about anything except the bottom line. We're passionate about fermentation here. Most of the products we sell are fermented by yeast and bacteria. Sourdough is big, which makes a baked good healthier. We use only organic flour, grain, nuts and seeds.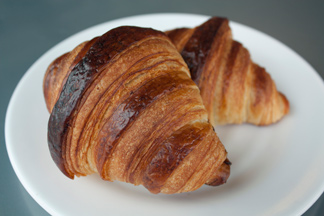 For the layperson, could you explain how fermentation works?
You take flour and add a liquid so it's hydrated, then biological activity can take place. The flour is transformed by yeast and bacteria in a way that breaks down some of the constituents and produces some more healthful consequences. It's pre-digestion, really. It gets digested prior to you consuming it in a way that you're able to utilize almost the whole bit when you finally eat the product. Time is an ingredient in what we're doing.
Why did you come to Grand Rapids?
When I looked into this community, it was underserved in this style of baking. There wasn't anybody producing the type of stuff I envisioned selling. Because the beer scene has really caused a great deal of growth in this city, and consequently the food scene is really in its growing stage, it felt like it was a great time to get into this market.
What would you recommend to somebody who's never been to Field & Fire?
I like to eat a wood-fired croissant every day. They're especially good in the morning, so if a guest comes at 9 a.m., they should try a croissant. The best croissant I've ever had in my life is what we have here.
Do people misunderstand bread when they participate in trends like low-carb and gluten-free diets?
It's a complicated matter. I try to remember what everybody wants is to be healthy. We don't sell anything that's gluten-free here, because that's not what I do. My opinion is that if you take grains and you ferment them properly over a long period of time, you're going to produce something that anybody should be able to eat. If you're truly Celiac, then you can't eat gluten. But most people who just feel a little sensitive to gluten can eat most of the stuff that we sell without any detriment. Because of the long, slow fermentation and high hydration, you're left with a product that 100 percent of my intellect and spirit believes is healthful for the people who buy our stuff.
VISIT:
Field & Fire (In the Downtown Market), 435 Ionia St. SW, Grand Rapids
(616) 551-3491, fieldandfire.com
Monday-Saturday: 9 a.m.-7 p.m. / Sundays: 10 a.m.-7 p.m.
Second location coming soon to 820 Monroe Ave. NW, Grand Rapids