After a long day's work there are few things I enjoy more than curling up, Ron Swanson-style, with a thick, juicy hunk of animal meat and an equally luscious single-malt scotch.
While my appetite for vast quantities of meat is admittedly less than the mustachioed libertarian of Parks and Recreation fame, I do possess a vigorous ferocity for cuts of all shapes and flavors.
Thankfully, this region has plenty of options to settle my inner carnivore into a placated, purring kitten. Be it traditional kielbasa or a city chicken, an aged cut of steak or the occasional pig roast, West Michigan's butchers deliver.
Here's where to start.
With warmer weather on the horizon, your grill, lonely from those long winter months, is yearning for sausage season. If that's the case, Lewandowski's Market has you covered. The butcher shop, located at 1107 Walker Ave. NW on Grand Rapids' West Side, forms an old-guard of West Michigan butcher shops and carries "only the good stuff," according to Owner Vic Hill.
Hill is a man of few words, but those words ring true in the ears of his customers, many of whom have been with him for nearly as long as the store has been in business. They travel great distances to purchase his shop's legendary kielbasa, German Wieners and hot sticks. Hill takes his sausage very seriously and maintains a cadre of homemade recipes that include fresh garlic and no extras like MSG, he said. His staff also spends a lot of time ensuring that no "junk" — gristle, bone and other unsavory things — makes it into those all natural casings.
"If I wouldn't eat it, it's not going in the sausage," he said.
Lewandowski's also carries a complement of steaks, veal, city chicken and more, the bulk of which he buys from Fillmore Beef Co. in Holland. In addition to its meat products, Lewandowski's also stocks an array of imported sauerkraut, pickles from Germany and Poland, sardines and other goods.
In addition to the old-school meat slingers, a new vanguard of butcher shops opened in the region in response to customers wishing to be closer to their food.
One of those newcomers, E.A. Brady's, opened 18 months ago in Grand Rapids' Eastown neighborhood when two brothers sold a family business and opted to pursue their passion for meat on a larger scale.
Now, instead of defrosting suckling pigs in their shower at home, the brothers are hanging quarters of beef and slinging homemade hot dogs — a customer favorite — in their new shop at 1413 Lake Dr. SE, said Founder Evan Brady.
"Being in the backyard of SpartanNash and Meijer, it's an uphill battle with people used to going to those places," Brady said. "But we're starting to convince people with stuff that people didn't even know butchers do."
Beyond a full menu of homemade sausages and other typical meaty offerings, E.A. Brady's has taken a cue from pre-World War II butcher shops by roasting chickens on Fridays and making their own Bolognese sauce and deli meats.
Brady said his butcher shop focuses on unique cuts of beef like bavette, which is similar to a flank steak but meatier and more tender, and sells at prices more palatable for cost-conscious consumers. In addition to the meat counter, E.A. Brady's sells an ever-growing complement of "meat accessories," including mustards, cooking oil and pickles.
Along the Lakeshore, Earl's Meats has operated in Holland for the past 40 years and carries a wide variety of meats, cheeses and eggs from its shop at 5685 143rd Ave. At Earl's, you'll find everything from steaks — which the shop will cut to order — and pork chops to 30 different varieties of freshly made beef jerky, according to Earl Bosch who runs the joint with his two sons. The Bosch family has carved (har har) a name for themselves on their quality products, especially when it comes to steaks. All of Earl's Meats' steaks are aged for at least two weeks, making them much more tender than the store bought variety, Bosch said.
"That's why people come to me, because the grocery stores don't have time to age the meat as long as I do," Bosch said. "If you eat a steak that was butchered and not aged and then eat one of mine, I guarantee you'll be able to tell the difference."
Beyond its meat counter fare, Earl's also offers catering services. However, by catering I don't mean little containers of pulled pork. These guys go all out with either a complete pig roast or a full-scale chicken barbecue, if the crowd is big enough.
Pictured above: E.A. Brady's in Eastown. Photo: Megan Lendman Photography
---
More West Michigan Butcher Shops
7647 Riverview Dr., Jenison and 12059 Felch St # 40, Holland
4040 Blue Star Hwy., Holland
1760 44th St. SW Suite 1B, Wyoming
(616) 301-6949
1413 Lake Dr. SE, Grand Rapids
5685 143rd Ave., Holland
750 Fulton W., Grand Rapids
58 Mill St., Galesburg
654 River St., Kalamazoo
855 Michigan St. NE #102, Grand Rapids
grandbutchers.com, (616) 454-7411
6908 E. Apple Ave., Muskegon
(231) 788-1928
3500 Plainfield Ave. NE, Grand Rapids and 2420 Eastern Ave., Grand Rapids
2225 Plainfield Ave. NE, Grand Rapids
1107 Walker Ave. NW, Grand Rapids
(616) 454-2281
844 Leonard St. NW, Grand Rapids
1106 Wealthy St. SE, Grand Rapids
2330 E. Broadway Ave., Muskegon
451 Washington Ave., Holland
303 E. Broadway Ave., Muskegon
7405 Port Sheldon, Hudsonville
3450 Remembrance Rd. NW, Walker
606 E. Savidge St., Spring Lake
(616) 296-1371
3442 Plainfield Ave. NE, Grand Rapids
(616) 363-0801
5002 Wynn Rd., Kalamazoo
(269) 382-0345
---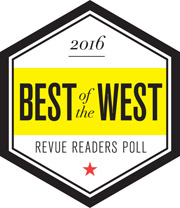 Do you have a favorite butcher? Nominate/vote for them in Revue's Best of the West Readers Poll! revuewm.com/bestofthewest