This week, Rockford Brewing Co. took its new kitchen for a test drive with a multi-day soft opening.
I hopped in the proverbial passenger seat, eager to see what Executive Chef Ryan Bolhuis was bringing to the table — or in my case, the bartop.
The menu is almost entirely what I'd describe as comfort food — sandwiches, potatoes, a pasty, etc. — but absolutely elevated to another level. For instance, the Braised Pork Belly BLT is comprised of gruyere, pickled onion, an over-easy egg, tomatoes and shredded romaine on toasted sourdough.
A decent portion of the offerings are also Korean-inspired, such as the Korean BBQ Lettuce Wraps (bulgogi beef, kimchi, fuji apples, pickled carrots, scallions and sticky rice) and the Korean Sticky Wings, which have already garnered a reputation in-house for being challengingly spicy.
For my appetizer, I opted for the Crispy Braised Beef & Mashed Potato Dumplings, which are served on a wasabi-ranch dipping sauce and topped with chives and a soy-balsamic reduction. The texture was spot-on, as the crispy shell broke apart under my fork to expose an even mixture of perfectly fluffed potatoes and juicy, tender beef. I did end up asking for an extra serving of the sauce, but only because it provided the perfect touch of zing to an otherwise hearty dish.
After that, I chose the Sloth Queen Noodle Bowl: Hand-made noodles, grilled shiitake mushrooms, sprouts, pickled chiles, cilantro, basil, scallions, RBC chili sauce, crispy garlic, and umami broth. It's a lot of flavor. Like, a lot a lot.
Umami is a Japanese word that can be translated to "pleasant, savory taste." The broth certainly lives up to that description, with a rich, full flavor that's not exactly your $0.23 store-bought ramenpackage (though I love those too). There's also a spice that builds, but isn't in your face. All this, and the dish is still vegan, which I didn't even realize until just this moment, if that says anything.
By the way: In case you're looking for something lighter, there are a handful of specialty salads that look top-notch too.
Food aside, the bartenders were also incredibly helpful and service was remarkably quick, which is especially impressive considering it was a full house all evening.
Pair all that with a Paradigm pale ale, made entirely with Michigan ingredients, and you'll be glad you made the trip.
The kitchen opens to the public for dinner on Monday, Oct. 10. Check it.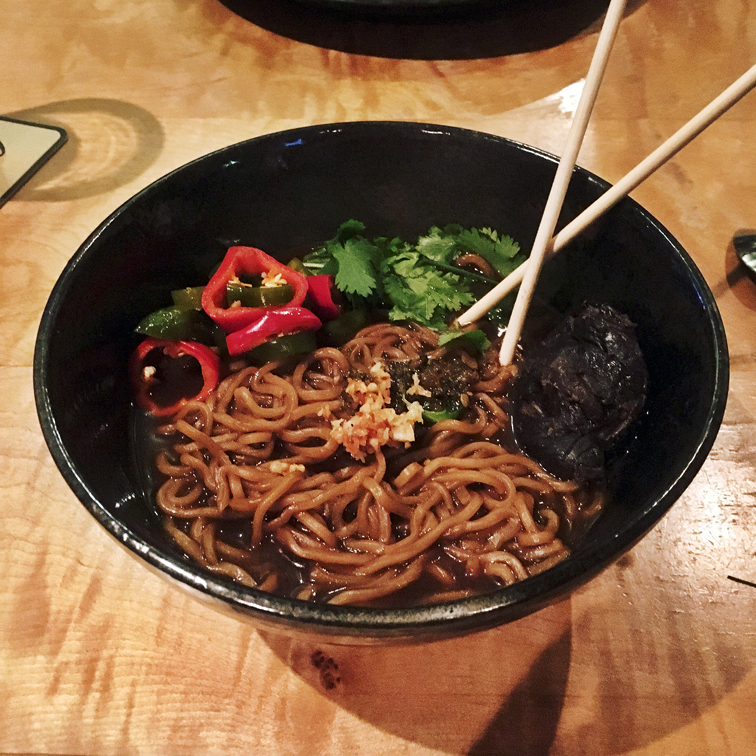 The Sloth Queen Noodle Bowl. Photo: Josh Veal's iPhone 6S