The future of West Michigan dining is here, and it feels a lot like the past.
As the local food scene continues to fill with distinctly modern eateries, some local restaurateurs are making waves by pairing cutting-edge cuisine with dining experiences that are emphatically and refreshingly out of step with "new" Grand Rapids.
The Cherie Inn, which opened in 1924, is one of the oldest restaurants in the city, but it doesn't act its age. The mainstay of the Cherry Hill Historic District added a menu in October that embraces forward-thinking, big-city culinary movements such as veganism, local sourcing, gluten-free fare and oil-free cooking.
"Even though we are the oldest restaurant in town, it doesn't mean we aren't innovative," said Michael Kulczyk, who has owned the Cherie Inn since long before its neighborhood became the thriving dining district it is now.
Cherie Inn's healthy pivot mirrors Kulczyk's own journey. In March of this year, he weighed more than 300 pounds, and decided he needed to get healthy in order to continue running the business effectively. Kulczyk changed his diet and has since dropped more than 100 pounds. He consulted with author and vegan cooking instructor Sue Stauffacher and new Executive Chef Alex Schulte to create the vegan menu, which the restaurant serves alongside its existing roster of traditional breakfasts, omelettes and sandwiches.
"I felt a responsibility to my customers," he said.
Another factor was the abrupt 2014 closure of the nearby Gaia Cafe, which left a void for meatless dining in the neighborhood.
"We were welcomed with open arms by the vegan and vegetarian community," Kulczyk said, noting that he expects sales from the vegan menu to account for 25 percent of business by the end of the holidays. "They appreciate a vegetarian sandwich on the menu, or maybe a vegan hash, but that's stuff that they do at home. When they go out to eat, they want to see something made by a chef."
The vegan offerings include an avocado benedict, sweet potato hash, non-dairy smoothie bowls, a gourmet "Wolverine" waffle and the avocado "Kamau," containing vegetables, quinoa and Caribbean spices. The makeover extends to the regular menu, which now emphasizes local, organic meat and produce.
But Cherie Inn retains a sensibility far removed from the hip-yet-sterile atmosphere that characterizes many new restaurants. (Kulczyk calls them "glass boxes with cement floors.") Cherie Inn's customers dine in a cozy, intimate setting, minimally adorned with antique decor.
"When you eat in the Cherie Inn, you're eating in your aunt's dining room, or you're eating at a cafe in Paris," Kulczyk said.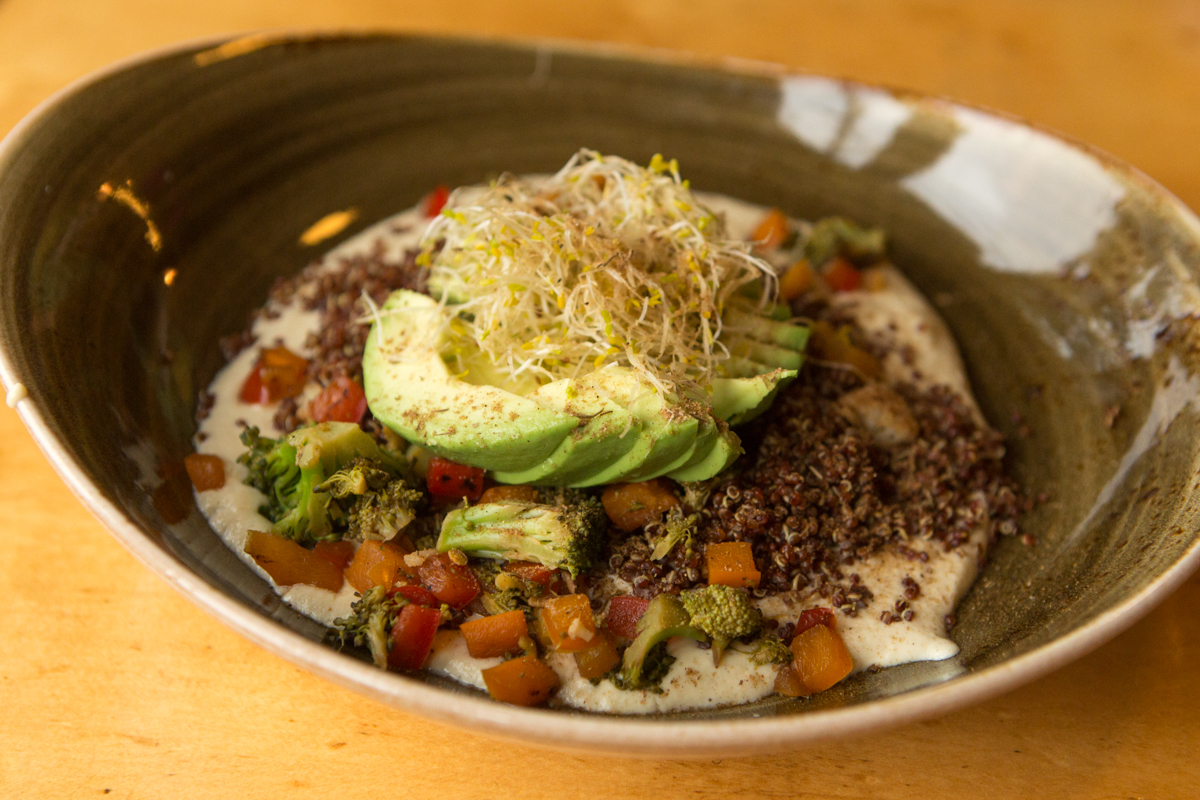 A similar aesthetic is the driving force behind The Lazy Susan, a new, much-buzzed-about restaurant just west of Grand Rapids that is, quite literally, a tiny neighborhood mom-and-pop diner. The Lazy Susan has a staff of four and a handful of tables — each decorated by little more than silverware and napkins atop, yes, a Lazy Susan centerpiece. Its cinderblock walls are mostly bare except for small, vintage pieces of wooden shelving that hold teapots, Dutch delftware and other assorted knick knacks.
But The Lazy Susan has culinary ambitions that far exceed the norm for a restaurant of its style. It boasts a vegetarian menu as extensive and considered as its omnivorous output. Most of the food comes from one of two area farms, and everything is seasonal. Masterful takes on standards like cheeseburgers and fried chicken are a launching point for bold dishes like cider-glazed pork loin in cornbread pudding, Great Lakes white bass on creamy risotto, and a Polish hunters' stew with kielbasa, mushrooms, sauerkraut, brussels sprouts and cauliflower.
There are vegetarian takes on some of the regular menu items, but also meatless standalones like the cavatelli pasta dish and gnudi ricotta dumplings, which were both part of a rotating section of the menu that interprets cuisine from various world cultures — November was Italy, October was Mexico and December will focus on Southeast Asia.
The Lazy Susan's owners are the married team of Shana and Bob Waterbury, who bring a combined 30 years of experience in some of the area's best-known restaurants. Shana spent years at Bistro Bella Vita, while Bob was most recently executive chef at Grove in Cherry Hill, which under his leadership became one of the state's most acclaimed dining destinations.
"We saw an opening," Bob said. "There was no place to go get locally-sourced handmade, thoughtful food around here without going downtown."
While Bob does most of the cooking, Shana primarily handles customer service and hospitality, which so far has connected with the community as much as the cuisine. There already are plenty of regulars, and staff will routinely bring out extras from the kitchen free of charge.
"I want to build something for this side of town I think people want and deserve," Bob said. "The biggest thing right now for us is gaining people's trust, so they can come in and order something they've never heard of, and it will be good. (We're) just kind of redefining what hospitality is like. It changes everybody's experience, and that's how we get to talking and learning about each other."
As with Cherie Inn, the warmth and charm of The Lazy Susan's throwback setting is an uncommon pairing with upscale-quality food. Kulczyk believes this type of dining experience sets an example others will likely follow.
"I think some of the newer restaurants need to catch their breath and take a look back at old-school," he said.