Whether they like it or not, craft breweries need to pair good food with their beers if they want to attract a diverse clientele.
That's especially true for breweries outside of urban environments, where they need to draw from surrounding areas and become a destination for customers. Ask a craft brewery owner these days and they'll say that while they may lure people in with libations, they often earn repeat customers by pairing the liquid with interesting and well-executed food offerings.
It explains why companies like Cedar Springs Brewing and Creston Brewery have opted to open with niche food offerings — and why Rockford Brewing added a full kitchen and specialty menu last fall.
Revue decided to visit those three breweries to sample their beers and food and see how well that pairing is working.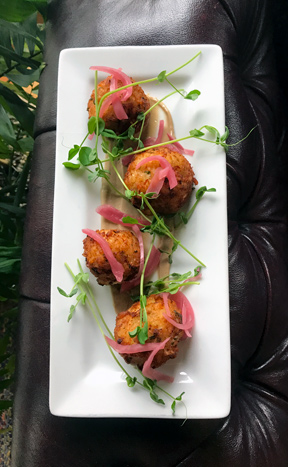 Creston Brewery
1504 Plainfield Ave. NE, Grand Rapids, crestonbrewery.com, (616) 805-4523
In a way, Creston is the odd choice of this group because it's essentially a local brewery and pub named for its home base: Grand Rapids' Creston neighborhood.
But aside from killer beers from brewer Scott Schultz, Creston also sports a menu steeped in Latin American street food. We're talking about a slew of empanadas, plus beef barbacoa, jackfruit and mojo chicken (served as tacos, a burrito, a bowl or a quesadilla) for the lunch menu. The dinner menu includes enchiladas, posole, skirt steak, brick chicken and more, as well as weekly specials.
When Revue spoke with co-founder Vincent Lambert a couple of months back, he said the partners focused on offering a strong menu.
"Intentionally, when we started this, we wanted to have this be a real nice lunch place, and we don't want it to be real expensive," he said at the time. "All of our menu items are $6, $7 or $8 — there's nothing on the menu more than $9, actually. It's all made from scratch."
Entrees they've added since range from $11-16.
Favorites during our lunchtime stop included the Roasted Sweet Potato bowl, made with blue cheese, bacon and guacamole, as well as the beef barbacoa, served either in burrito form or as a quesadilla. Pair any of them with The Bloody Fifth — hands down, one of the best beers in West Michigan right now — or take your pick from the taplist. You can't go wrong.
(Pictured: Creston Brewery's Shallot-Feta stuffed Risotto Fritters on a bed of black garlic aioli and garnished with pickled red onion and Ingraberg Farms Pea Tendrils
Rockford Brewing Co.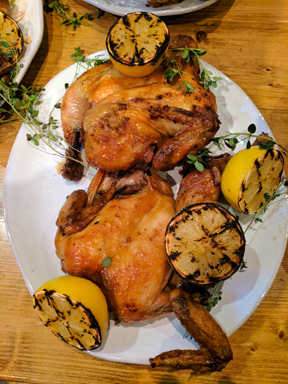 12 E. Bridge St., Rockford, rockfordbrewing.com, (616) 951-4677
You had us at Korean comfort food, and then you paired that with an eclectic worldwide bar food menu.
We'll take 666 of everything.
For nearly the first four years, Rockford Brewing made a name for itself strictly as a brewery. Co-founder and head brewer Jeff Sheehan said adding the kitchen has been an adjustment for the company, but it's allowed them to add a new level of seasonality to the business and showcase what's available from local farms. It's a natural progression from RBC's Permaculture series, which highlights timely ingredients in various beer styles, using everything from maple sap in spring to squash in fall.
"We responded to demand, and it's been a positive experience," Sheehan said. "Farm-to-table means something to a lot of different people. A lot of chefs use it to generate a demand, but that's unrealistic for a lot of local farms. We turn that around and ask farmers, 'What can you grow really well?'"
For Aaron Trapp, a sort of jack of all trades at RBC, the move to offering food added another layer of connection to the brewery because of his family's 100-acre Trapp's Berry Farm, which is located about 10 miles away.
"I'll come in before a shift with a bin full of produce for the kitchen and people really respond to seeing the ingredients," Trapp said. "It's been a pleasant surprise. … We have a good sense of timing and seasonality."
Favorites during our recent visits have included the Korean BBQ Lettuce Wraps, Sloth Queen Noodle Bowl and more traditional entrees like the RBC Butter Burger and Rogue River Brown Braised Beef Pasty. (Holy wah!)
(Pictured: Rockford Brewing Co.'s Roasted Chicken with Lemon)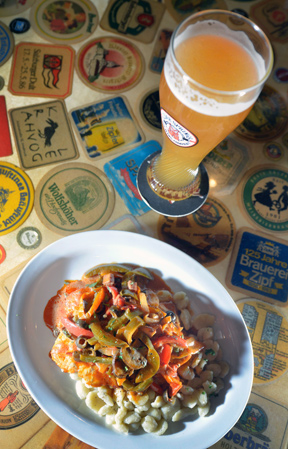 Cedar Springs Brewing Co.
95 N. Main St., Cedar Springs, csbrew.com, (616) 696-BEER
In founding Cedar Springs Brewing Co., "Director of Happiness" David Ringler took tradition very seriously.
As he developed the brewery's Küsterer brand of beers, he used as his benchmarks the traditional beers he consumed when he worked at a brewery in Upper Bavaria.
Likewise, he took a similar traditional approach when he developed Cedar Springs Brewing Co.'s Bavarian menu.
"I wanted to serve food that I learned (about) living out there," he said.
Because even the old-school German restaurants around West Michigan served highly Americanized dishes, Ringler and Chef Shaun Wooden had a "fresh start" in introducing traditional Bavarian classics, including Leberkäse, Kase Spätzle and Jagerschnitzel.
Ringler and Wooden developed the initial recipes, but refined many of them after a culinary exploration of Germany last year to "taste the dishes in their habitat."
That trip led to a revision of the menu, the third since CSBC opened in November 2015. The number of Bavarian dishes has doubled since then.
According to Wooden, the results speak for themselves, particularly when German natives stop into the brewery.
"To hear people say that this dish is just like (they) had in Germany, that's very rewarding," he said.
CSBC offers the Bavarian menu alongside "American smokehouse" fare like sandwiches, burgers and fried chicken. (Pro tip: Get the Brussels sprouts.) Ringler has noticed that people tend to eat exclusively from the German menu or the American menu, but lately, the German menu is "where the growth is."
"We're definitely the oddball in being ethnic and traditional," he said.
At Revue, we are fans of the Bavarian Brauhaus Breze (a pretzel the size of yo' face), the Paprikaschnitzel (a pork cutlet smothered in a sweet bell pepper and cream sauce), and whatever Chef Shaun has as his Schnitzel des Tages (of the day). As they say, Schmeckt Gut!

(Pictured: Paprikaschnitzel — a Romanian specialty schnitzel with a pork cutlet, sautéed and smothered in sweet bell peppers and paprika cream sauce over spätzle. Photo: Katy Batdorff)