Brunch is no longer just a late breakfast for lazy folk.
No — this weekend tradition is a sacred event dedicated to early morning drinking and specialty menus, far superior to your standard breakfast offerings. Nothing will get you rushing out of bed and to your car faster than that text from a friend asking if you want to meet for brunch and Bloody Marys. It's a celebration of sorts, one that was all but nonexistent in West Michigan until recently.
For mornings that leave you thinking, "What happened last night?" grab some buds and head to somewhere with platefuls of eggs, pounds of bacon and piles of potatoes arranged in ways you never imagined.
SpeakEZ Lounge
600 Monroe Ave. NW, Grand Rapids
Every Saturday and Sunday from 10 a.m. to 2 p.m., you can get your brunch on at one of the best bars in the Monroe North District. Swing by after a post-night out sweat sesh at CKO Kickboxing or Beer City Barre and grab yourself a seat in one of the massive wood booths inside this old warehouse building.
Our bets are on the SEZ CBH (by Prangley). It's a hand-mixed hash of house-smoked pastrami, Yukon golds, onion and panko bread crumbs piled high on toasted ciabatta and garlic, wilted spinach, O'Bryan potatoes and two poached eggs, and most importantly, topped with creamy jalapeno cheddar sauce and hollandaise. It might as well be dubbed "The Rejuvenator."
Cap off your meal with a Suffering Bastard. Complete with Bluecoat Gin, orange, lime, cucumber, mint, Angostura bitters, egg white and soda, this light, frothy drink is the ultimate Bloody Mary-alternative.
Graydon's Crossing
1223 Plainfield Ave. NE, Grand Rapids
For a morning trip across the pond, head to Graydon's brunch on the weekends. A decked-out $4 Bloody Mary bar accompanies unique transatlantic food options, like the Shirred Eggs — three oven-poached eggs with an herbed cream sauce, grilled asparagus, toast and strawberry/jalapeno jam. Or try the Sweet Potato Hash Scramble, with scrambled eggs, chili-spiced sweet potatoes, onions, mushrooms, asparagus, goat cheese, hard cider syrup and scallions. Graydon's is also well-known for its impressive craft beer selection, pulling in mainstay and specialty brews from all over the country. You have from 10 a.m. to 2 p.m. on Saturdays and Sundays to make it there.
Vander Mill
505 Ball Ave. NE, Grand Rapids
This tucked away brunch spot is the coolest place to hang come Sunday. Vander Mill, known for its delicious selection of crisp, seasonal ciders, is serving up a new brunch menu fit for the local foodie. Try dishes like the jazzy Avocado Toast, with smoked hazelnuts, deviled egg, torn mint, dill, espelette on Field and Fire bread. We also highly recommend the Shrimp and Grits, with Laughing Bird shrimp, southern braised greens, smoky tomato-pepper butter and an optional slow egg. Also, a recent collaboration with Long Road Distillery has lead to some creative liquid brunch concoctions.
Stella's Lounge
53 Commerce Ave. SW, Grand Rapids
Ask anyone in Grand Rapids where you should go for the best "creatively greasy" breakfast and they'll point you toward Stella's. This non-traditional brunch spot by weekend, go-to burger joint by day, is decked out with vintage arcade games and TVs playing retro reruns. Come Saturday and Sunday morning, you'll find locals stuffed into the booths mowing down platters of The Dude's Pancakes with chocolate chips, vanilla wafers, house-made whipped cream and Old Grand-Dad maple syrup. Or, get a taste of the nationally praised, GQ-reviewed burger with the Biscuits and Groovy Burger. Complete with three biscuits, Gov't Cheese burger, bacon-sausage gravy and a scallion garnish.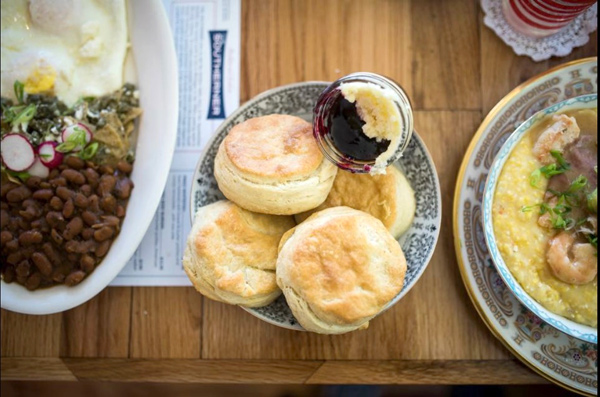 Farmer's Breakfast, Flaky Biscuits and Shrimp & Grits at The Southerner. Photo: Walcott Imaging
The Southerner
880 Holland St., Saugatuck
As its name suggests, The Southerner brings soul food to West Michigan. Stop into brunch for some Grits & Greens, stewed in tomato pot liquor with garlic and miso, or a fried Chicken & Honey Butter Biscuit sandwich (which one Revue staff member refers to as "a miracle"). Sides include baked beans, cabbage slaw, and other southern staples. The Southerner also features breakfast cocktails like the Maple Old Fashioned.
Crows Nest
816 S. Westnedge Ave., Kalamazoo
There may be no "adult" beverages at the Crow's Nest, but it's celebration-worthy regardless. Our pick for vegans and vegetarians, this locally owned upscale diner features full breakfast, lunch and dinner menus all day long. At any given time, you'll find townies and college kids packed around tables enjoying big, flavorful breakfast burritos, omelettes, burgers and numerous cups of coffee.
Little Lucy's Cafe
1747 Plainfield Ave. NE, Grand Rapids
Creston's hottest brunch spot is the neighborhood's first café and eatery. A go-to for healthy, eclectic breakfast, this café and eatery brings an urban feel to the up-and-coming Creston neighborhood. Menu includes breakfast standards like French toast, omelets, scrambles and more.
Lazy Susan
411 Wilson Ave. NW, Walker
This family-owned, tucked-away gem is a modern diner with the comforts of tradition. A menu decked out with "Grandma's kitchen" classics from around the world, the Lazy Susan is the new brunch spot you won't stop talking about. Instagram-worthy dishes include Aebleskivers (Danish Pancakes) with caramelized bananas and rum-brown sugar syrup, along with the Bigos (Polish hunter's stew) with kielbasa, cauliflower, brussel sprouts, paprika broth and a soft egg.
Grand Rapids Brewing Co.
1 Ionia Ave. SW, Grand Rapids
If your crew consists of mostly Beer City nerds, then head out to Grand Rapids Brewing Co. on Saturday and Sunday until 3 p.m. Check out the impressive Brewer's Brunch, a classic with John Ball Brown Ale sausage from Sobie meats, stuffed with cheese and paired with two eggs cooked to order, bacon and a side of Nantucket Baking Co. sourdough toast.
Bell's Eccentric Café
355 E. Kalamazoo Ave., Kalamazoo
This small but mighty brunch menu is served every Sunday from 11 a.m. to 4 p.m. Feed your Mexican craving with chorizo, avocado and black bean brunch tacos. Or get a taste of home with a comfort classic like Biscuits and Gravy.
The Old Goat
2434 Eastern Ave. SE, Grand Rapids
The Old Goat is serving up breakfast favorites with a twist on Sundays from 10 a.m. to 4 p.m. Ze French Toast is a pumped-up classic with lemon curd, boozy cherries and candied walnuts. The Hippy Hash is a house special that features roasted fingerlings, mushrooms, red peppers, butternut squash, poblano, jalapeno, fried eggs, and tomatillo salsa.
Old Dog Tavern
402 E. Kalamazoo Ave., Kalamazoo
In the battle of old animals, Old Dog Tavern puts up a real fight. Have you ever had Breakfast Mac and Cheese? What about a Breakfast Pasty? Or maybe the Muff Burger is more your speed, with an eight-ounce patty, a potato cake, an egg and sausage gravy in an english muffin. It's time to step out of your comfort zone and into Flavortown.
Terra
1429 Lake Dr. SE, Grand Rapids
Terra's brunch is an unsung hero of weekends in Eastown. Give the Bubble & Squeak a shot, if not for its name then for the seasonal vegetables, mashed potatoes, kale, brown butter bearnaise, and cage-free eggs. If you're really ambitious, go in on the Breakfast Pizza, with bacon, kale, potatoes, eggs, mozzarella, hollandaise and red sauce.

---
Bloodies
The best hair-of-the-dog in town might be right around the corner. With the expanding food and drink scene in West Michigan, trying to find the best-of-the-best is getting harder to narrow down. Here are our favorite Bloody Mary bars throughout West Michigan — complete with all the fixings you could ever need.
Stella's Lounge (53 Commerce Ave. SW, Grand Rapids): Rehab brunch plus video games is an awesome combo. But it's even better with one of the best build your own Bloody Mary bars in town for only $5, complete with house-infused liquors. The only thing missing from this Bloody bar is a slice of pizza and a side of breadsticks.
The Knickerbocker by New Holland Brewing (417 Bridge St. NW, Grand Rapids): Not so new to town, New Holland's Knickerbocker is offering its own version of the Bloody experience — a Bloody Mary Flight. It's three small glasses of three different kinds of Bloody Marys, all with skewers of food to dunk and enjoy, and then a cold pale ale to top it all off.
Birch Lodge (732 Michigan St. NE, Grand Rapids): Bloody Marys are good. But a Bloody Mary with all-you-can-eat free tacos is perfection.
Rockwell Republic (45 S. Division Ave., Grand Rapids): The best place to go when your party is a mix between Bloody Mary lovers and haters. Brunch is served 11 a.m. to 4 p.m. on Sunday afternoon and features a Bloody Mary bar and $6 happy hour menu from 11:30 a.m. to 5 p.m.
Hops at 84 East (84 E. 8th St., Holland): When summer season rolls around, Hops is your best bet for a pre-beach Bloody Mary (or Mimosa) bar. Pick your own vodka, plus a beer sidecar, and load up on fixings like pickles, cheese, olives and more.
Little Lucy's Cafe (1747 Plainfield Ave. NE, Grand Rapids): Creston's breakfast/lunch hotspot offers a killer bloody bar on the weekends, with all the accoutrements you could ever need (blue-cheese stuffed olives, bacon, fresh horseradish, etc.) and a sidecar included in the price.