In an early Halloween episode of "The Simpsons," Homer eats a forbidden doughnut supplied by the devil (Ned Flanders) and gets sent to hell. He lands in the Ironic Punishment Division, where a demon interrogates him: "So, you like doughnuts, eh? Well, have all the doughnuts in the world!"
He is then force-fed a never-ending supply of generic doughnuts, which he consumes gleefully, failing to understand that he's being tortured, his waistline ballooning to accommodate his insatiable hunger.
Twenty-plus years later, one wonders what Homer would make of today's fancying-up of the simple doughnut. Would he continue to inhale them indiscriminately, or would he pause to Instagram the artisan creation before him, pondering its optional gluten content and locally sourced glaze before savoring each bite?
Either way, a new era of doughnut consumption has dawned. West Michigan already is home to several beloved doughnut stops that receive well-deserved praise every time a media outlet needs to generate clicks with a best-of slideshow. So while we eternally extend the maddest of props to Marge's Donut Den, Sandy's Donuts, Van's Pastry Shoppe and all other perennial must-visits, we're interested today in some of the impressive new players that have joined the market in the past year. We have some hearty recommendations to show for the pounds acquired in this process.
D'arts Donuts
1444 Lake Dr. SE, Grand Rapids, dartsdonuts.com
D'arts Donuts opened in Eastown in August — coincidentally, not long after Propaganda Doughnuts' controversial closure in the Heartside district — but was already familiar to pastry enthusiasts who had made the eponymous food truck a popular local fixture. Basing his work on a nearly century-old family dough recipe, owner Adam Ouellette has struck a deft balance between contemporary culinary trends and the comforting warmth of traditions passed through generations.
D'arts offers a menu that rotates weekly with about a dozen options categorized as either "classics" or "signatures." On a recent visit, we grabbed one from each menu: a Michigan honey-glazed yeast doughnut from the classic side for me (I opted for one with sprinkles, because I am not a monster). My companion chose what has become D'arts' biggest hit: a cake doughnut topped with crumbles of maple bacon. Because, America! The menu also includes vegan and gluten-free options and, for more expansive appetites, doughnut sliders, breakfast sandwiches and doughnut poutine.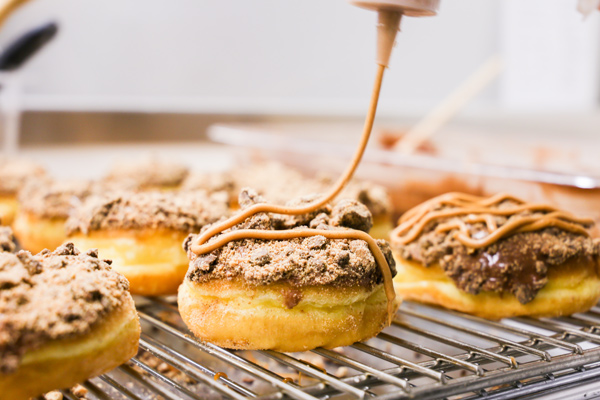 The Donut Conspiracy

1971 East Beltline NE, Grand Rapids, facebook.com/thedonutconspiracy
Since opening in October near Knapp's Corner, Stacy Williams' Donut Conspiracy has established itself as perhaps the area's most wildly experimental doughnut destination. Creative toppings abound on its menu of nearly 40 varieties — candy bars, cream cheese, cereals, cookie crumbs, bubble gum — with names like Rehab and Anger Management, Midnight Snack and Cookie Monster.
I believe in deploying a scrambled-egg principle when assessing a breakfast/dessert treat like an elaborate doughnut. Meaning: You can often judge a quality chef by how seriously he or she approaches a seemingly simple item, i.e. scrambled eggs. So in a recent order of a handful of ornate Donut Conspiracy doughnuts, I included as a control the Bedazzled, a straightforward frosting-and-sprinkle option. Its tiny spherical sprinkles added a perfect crunch to a chocolate cake doughnut roughly as dense as a dying star, and it ended up being my favorite. In other words, they're not messing around here.
Rise
Available in various locations, risegrandrapids.com
The all vegan/gluten-free bakery does not yet have a storefront; it operates out of a rented commercial kitchen space on Grand Rapids' West Side, where it produces doughnuts, cookies, cupcakes, pies (*pauses mid-list to wipe drool from chin*), buttercreams, cheesecakes and tarts. Baker Nick Van Liere's handiwork is available at coffee shops throughout the city, such as Ferris, Lantern, Squibb, Sparrows, Global Infusion and Lightfast.
Van Liere, who became vegan in high school, applies rigorous dietary ethics to Rise's extensive menu of dairy-, gluten- and soy-free doughnuts, available in nearly 20 varieties, ranging from the traditional (chocolate sprinkle, classic glazed) to the less-so (orange cardamom, peanut butter sriracha).