Ah, summer: that magical time of year when even the Revue brain trust emerges from its favorite womb-like dive bars to join the dining masses on the region's scenic restaurant patios, porches, decks, verandas and what have you.
Yes, outdoor dining season is upon us. We kicked off last summer by surveying some notable alfresco eating locations in the area, and we could have filled an entire issue with it. But since print space, like summer, is finite, we'll simply offer another (admittedly incomplete) pile of suggestions for outdoor dining spots that are new, notable or worth revisiting.
Elk Brewing
(700 Wealthy St. SE; elkbrewing.com)
The hip restaurant cluster on Wealthy Street offers a variety of outdoor dining and drinking experiences, but Elk's might be the most impressive. It's big, comfortable and full of ample seating that never feels cramped; plus fires, cornhole and unrivaled dog-friendliness.
Creston Brewery
(1504 Plainfield Ave. NE; crestonbrewery.com)
We'll amend our previous "tables on sidewalks don't count" policy to make room for the popular new Plainfield Avenue brewery, which recently opened an adjacent charmingly rustic outdoor picnic-table section.
Vander Mill Grand Rapids
(505 Ball Ave. NE; vandermill.com)
The Spring Lake cidery recently celebrated the one-year anniversary of its expansion into the snowballing Grand Rapids craft food/beverage market. The timing is fortuitous, as it coincides with the arrival of warm weather and the perfect excuse to congregate around the stone fire pit that is the centerpiece of its massive outdoor area.
Bell's Eccentric Cafe
(355 E. Kalamazoo Ave., Kalamazoo; bellsbeer.com)
The still-largest brewery in Michigan has an outdoor dining/drinking/stage area befitting its top-dog status. Rows of picnic tables overlook a massive lawn that, on show nights, can hold up to 750 happy, twirling, buzzed music fans.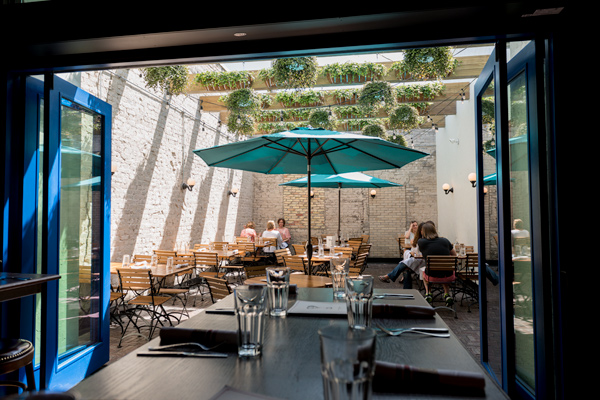 Butcher's Union
(438 Bridge St. NW, Grand Rapids; butchersuniongr.com)
What makes a patio? Does a room without a roof count? Well, it does at Butcher's Union, where the enclosed patio avoids many of the pitfalls of typical outdoor dining (incessant traffic noise, the sun's merciless blaze, strong gusts blowing away menus, etc.) while still giving you that open-air experience you clearly crave. (Photo: Jeff Hage/Green Frog Photo)
The Old Goat
(2434 Eastern Ave. SE; baaaaaaaa.com)
I'll confess that I always look for reasons to include Old Goat on lists partly so I can share its fantastic web URL. Alger Heights was too cute a place not to have a restaurant exactly like Old Goat, whose front patio offers a perfectly charming vantage point from which to watch the world go by and contemplate the passage of time. Or just eat, whatever.
Mitten Brewing Co.
(527 Leonard St. NW; mittenbrewing.com)
The Mitten once had the west side of Grand Rapids to itself, but now that the competition has stiffened, the pizza and baseball mecca has managed to stay ahead of the pack by continually improving its operation and dining space, which now features separate upstairs and downstairs outdoor decks, an excellent refuge from the likely disappointing Tigers game unfolding on the screens inside.
The Deck
(1601 Beach St., Muskegon; thedeckmkg.com)
The aptly named barbecue and beer joint does not squander its status as Muskegon's sole Lake Michigan beachside restaurant. Its wide deck offers unrivaled sunset views and bands on summer weekend nights. Odds of Jimmy Buffett being played: a near certainty.
Taqueria San Jose
(1338 S. Division Ave.; Facebook page)
If you don't agree that Taqueria San Jose serves the best tacos in Grand Rapids, I will arm-wrestle you until you admit your error. The tiny, family-operated eatery is in the location of a former drive-in restaurant on the south side of town, and the long, broad awning shades several picnic tables.
Logan's Alley
(916 Michigan St, NE; logansalley.com)
Well, the development money finally poured onto Michigan Street. It's strange these days, driving past decades of classic watering holes now literally dwelling in the shadows of giant apartment developments. Logan's Alley, the longtime beer bar and, more recently, damn good restaurant, offers an outdoor trellised deck on which to nurse your wounds following your softball team's most recent humiliating defeat.
JD Reardon's
(940 Monroe Ave. NW; jdreardons.com)
Hidden inside the Boardwalk Condominiums building, JD Reardon's boasts one of the largest patios in town in a setting that is undeniably unique — the sprawling courtyard overlooking the pool area enclosed on all sides by condos.
Greyline Brewing Co.
(1727 Alpine Ave. NW; greylinebrewing.com)
The new-ish brewery on Grand Rapids' west side sports a self-effacing motto: "Not taking over the world, one beer at a time." The no-BS worldview applies to every facet of the operation, including its outdoor section, a handful of picnic tables overlooking Alpine Avenue, appealingly surrounded by foliage.
K2 Pizzeria at the Kirby House
(2 Washington Ave., Grand Haven; thegilmorecollection.com/k2)
The longtime downtown Grand Haven hot spot, now operated by the Grand Rapids-based Gilmore Collection, boasts an upstairs pizzeria with a splendid deck perfect for listening to boats make their mournful way into and out of the Grand River.