For some of us, getting through a meal without any pain is just too boring. What's the point of plopping down $14 for dinner if it doesn't make you feel anything? Now, most spice fanatics opt for Indian or Thai if they really want to dive deep. Spots like Curry Kitchen and Thai Chef will gladly crank the heat up to 11 for you.
But if you're looking to expand your spice horizons, West Michigan has plenty more to offer. We've rounded up some of the most blazing hot dishes around that don't sacrifice flavor for suffering.
Devil Dancer, $9.75
Founders Brewing Co.
235 Grandville Ave. SW, Grand Rapids
Challenging the Devil to a fiddle contest is one thing, but dancing with him takes it to the next level. In that spirit, Founders has thrown all the fire it can on one sandwich, with roasted chicken, Muenster and Pepper Jack cheeses, jalapenos, banana peppers, red onions, chipotle mayo, and the most hellish of all: chipotle peppers. You'll find no solace in the Devil's arms.
Fire Dragon Roll, $12.50
Rockwell Republic
45 S. Division Ave., Grand Rapids
Sushi isn't exactly known for bringing the heat, but Rockwell's Fire Dragon is here to change that, while still letting the fish shine. The roll starts off mild, with panko-crusted shrimp, cucumber, avocado and ahi, but then throws sriracha mayo, sriracha, jalapenos and eel sauce into the mix. You're probably not going to run home crying, but this roll may very well be the most biting in West Michigan.
Rajin' Cajun Burger, $8.95
Rocky's Bar and Grill
633 Ottawa Ave. NW, Grand Rapids
It's a true crime that Rocky's food is so underrated. Then again, I shouldn't complain — it keeps some of the best bar cuisine around incredibly cheap. The Rajin' Cajun piles on spice and flavor at once, with a cajun-seasoned beef burger, cheddar cheese, chipotle mayo, jalapenos, lettuce, tomato and habanero-garlic sauce. If you need something to control the burn, slaw and a pickle come on the side.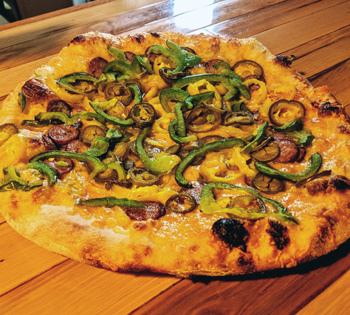 The Heater, $14.99 (pictured, left)
The Mitten Brewing Co.
527 Leonard St. NW, Grand Rapids
In terms of pure spice per slice, there really is no beating The Heater. Start with a local product, Scoville Farms' Everidae Sweet Habanero Sauce, then load on andouille sausage, jalapenos, banana peppers, green peppers and Colby Jack cheese. Even with all that, the heat level isn't insufferable, which means you still get to enjoy plenty of flavor and likely even taste your beer afterward.
Potato/Vegan/Chicken Wings, $7.95-$11
Stella's Lounge
53 Commerce Ave. SW, Grand Rapids
Wings are about the sauce, above all else. If the flavor isn't there, the rest doesn't matter. That's why Stella's is able to make potato and vegan wings work just as well as its chicken wings, and why the whiskey bar only needs four sauces to choose from: buffalo hot, mild, golden BBQ and sweet chili. They're all robust, gooey and well-spiced.
Spicy Burger, $13
Bell's Eccentric Cafe
355 E. Kalamazoo Ave., Kalamazoo
Bell's offers no mercy with its Spicy Burger. Aside from the bun and beef itself, there's not a mild topping in sight: jalapeno relish, chipotle mayo, ghost-pepper jack cheese and The Brinery hot sauce, which is made with five kinds of peppers. Escape briefly from the heat with a Bell's Lager, or lean into it with something hoppy like a Two Hearted.
Maniac Dog, $3.25
Mad Dogz
3916 W. River Dr. NE, Comstock Park
Years ago, Mad Dogz offered a hot dog smothered in ghost sauce. It made the bike ride home … difficult. The explosive level of heat may be why it didn't last, but the Maniac Dog is not a bad replacement. Banana peppers, chili, jalapenos, Frank's Red Hot sauce and onion all join forces to take your mouth by storm on this spicy pup. After that, cool off with the Yo-Yo, topped with bacon, ranch, sour cream, lettuce, tomato and crispy fried onions.
Other Spicy Specialties
Spicy Italian Sausage, Harmony Hall, 401 Stocking Ave. NW, Grand Rapids
Sausage made with fennel, red pepper, garlic, pecorino romano cheese, red wine. Topped with fried bell peppers, onion, mozzarella, oregano.
Chihuahua Dog, Blue Dog Tavern, 638 Stocking Ave. NW, Grand Rapids
Chorizo jalapeno, red pepper, onion, Cholula hot sauce.
Spicy Nashville Fried Chicken, Rockford Brewing Co., 12 E. Bridge St. NE, Rockford
Pickled jalapeno slaw and Smaug aioli (the hottest sauce RBC has) on a potato bun.
Spicy Pork, Ando Asian Kitchen, 415 Bridge St. NW, Grand Rapids
Thinly sliced marinated pork shoulder, onion, carrot, scallion, kimchi, zucchini, cabbage. Served with a bowl of steamed rice.