In Michigan, "patio" is its own season. At the first sign of 65-degree weather, we open the back door, sweep off the remaining dead leaves (and sometimes snow) and break out the camp chairs. Really, does anything beat drinking a cold beer on the back porch with a cool breeze cutting the humidity, listening to your favorite summer jams? Probably not.
With grueling winters, it's no surprise that we celebrate the beautiful release into spring and summer with craft beers, seasonal cocktails and snacks at our favorite restaurants. Whether you're traveling and looking for the best outdoor drinking spot or you're a local wanting to change up your normal routine, these are the patios and beer gardens where you'll find us enjoying the sunshine this season.
Sovengard Biergarten, Grand Rapids
This beautifully eclectic space meshes together Midwest vibes with traditional Scandinavian culture. The tucked-away backyard space features access to the main restaurant and a bright red shipping container bar. Picnic tables and yard games complete this summer atmosphere — perfect for trying out a new sour beer or a dish from the constantly changing, seasonal menu.
Rose's Restaurant, East Grand Rapids
If you're searching for a place to take a date, look no further than Rose's on Reeds Lake. This stunning patio juts out into the lake where you can view swans diving in, ducks paddling around and kayakers making their way through the water. People-watch from your chair as you enjoy the mix of Mediterranean and Italian cuisine.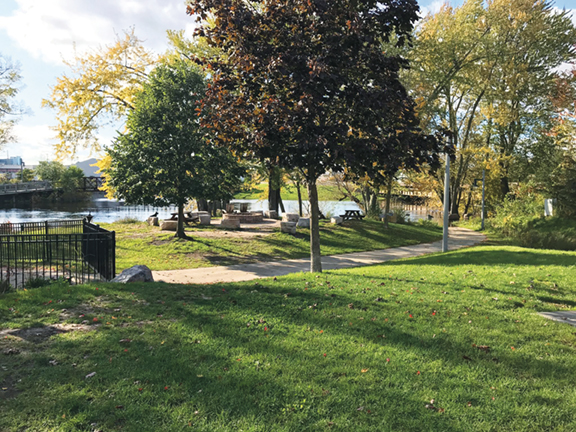 Arcadia Ales, Kalamazoo
Well-behaved pups are welcome! Arcadia Ales welcomes Fido in the Beer Garden that sits in Downtown Kalamazoo with a waterfront view. The historic bandshell features live music throughout the year and the brewery has access to the Kalamazoo river for kayaks, canoes and paved bike and pedestrian pathways. Hang out over a game of shuffleboard and cornhole or take it easy around the gas-lit council fire.
Sandy Point Beach House, Grand Haven
The Grand Haven area has too many outdoor dining options to mention, including patios, decks, tiki bars and much more. But Sandy Point Beach House is top of the list. A quiet and secluded location, Sandy Point is the city life getaway you crave. The restaurant offers live music every Saturday and American cuisine ranging from seafood to steak, salads and more. Try your hand at a round in the bocce ball court!
Bostwick Lake Inn, Rockford
It wouldn't be a patio article without mentioning the king: Bostwick Lake Inn. The comfortable, large deck snuggles up to the short of Bostwick Lake, right outside of Rockford and Belmont. The Inn has a Midwest lodge feel with antique décor and regulars who post up at the bar on weekends. The interior plays homage to the history of the building and the deck is a great place to relax and enjoy the view and your meal.
Bell's Eccentric Café, Kalamazoo
With more than 20 draft options, a full-service restaurant and a luscious beer garden, Bell's Eccentric Café is a premiere craft beer destination in West Michigan. The massive beer garden has a stage for music, a large lawn to lie on, plenty of picnic tables, unusual seats and more. Whereas most patios have some greenery here and there, Bell's is a proper biergarten.
Harmony Brewing Company, Grand Rapids
The long-awaited expansion to Harmony Brewing in Eastown opened this summer, and we're all eager to check out its expanded patio with more seating options and the indoor expansion with large garage doors to give an outdoor covered patio vibe. And if you're looking to enjoy some pizza and beer on your own patio, Harmony now offers delivery of both food and drinks.
The Winchester, Grand Rapids
It's hard to pick a favorite outdoor eatery on Wealthy Street, but for a varied food selection and excellent cocktails, The Winchester might just take the prize. The menu is constantly updated with seasonal dishes and the full bar, cocktail, wine and beer list is one of the best in the area. Meanwhile, the patio itself features plenty of wood, nice shading to keep you cool under the sun and ample space for larger parties.
Citizen, Grand Rapids
Creston's newest restaurant is certainly doing it right. The authentic tiki bar features modern, cheerful interiors and an outdoor patio complete with tiki umbrellas and a sandy, stoney floor. It's perfect for mid-day drinking Instagram-worthy cocktails that will make all your followers jealous. Drinks include both Tiki Cocktails and Tiki Bowls — like the South Paw Punch, which includes spiced rum, white rum, Wray and Nephew rum, pineapple and lime juices, orgeat, grenadine, and ginger beer. Are you thirsty yet?