Restaurants today aren't afraid to "elevate" a classic food staple. In Grand Rapids, you can find a fresh, local burger with fries for $5 at your favorite takeout joint or a gourmet burger with cheese for $16 at your neighborhood brewery. With such a wide gamut before us, we decided to investigate the difference between chicken wings that are $1 apiece versus twice that price.
$ Wing Doozy
3916 Plainfield Ave. NE, Grand Rapids
2359 Health Dr. SW, Wyoming
Wing Doozy reigns supreme in Revue's Best of the West readers poll. As the top dawgs of the 2018 wing category, they had to be here on this hunt. I took mine home in the standard operating procedure of many takeout wing joints: Styrofoam container in a thin plastic shopping bag.
Now, there's a lot of steam in there — more than enough to ruin some wings even on the shortest of drives home. But once home, upon opening the box, voila: the wings are wrapped in aluminum foil, keeping them seriously hot, and more importantly, crispy! It's innovation at its finest.
By far the sauciest of all the wings I tried, and certainly the most classic of presentations, these puppies were messy and the medium sauce had some zip to it — clearly these were not just tossed in a little Frank's. Wing Doozy's sauce had a little tanginess to it, and the texture was crispy, the insides molten hot. Doozy's wings are satisfying, and to me, the balance of a classic wing and the ability to take them home for the game means these are a GR staple for a reason.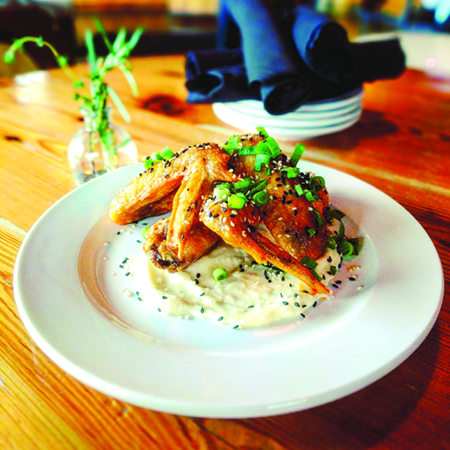 Long Road Wings. Courtesy Photo
$$ Long Road Distillers
537 Leonard St. NW, Grand Rapids
Long Road's wings were above average in size & served as whole wings rather than the drums and flats you find most often. They're tossed in a house bourbon hot sauce, which is very light and more sweet than spicy. Three of them come served up with a garnish of celery shavings, bleu cheese crumbles and bacon ends, and a little glide of bleu cheese dressing underneath it all.
Quality-wise, these were the best of the bunch. The chicken skin was shatteringly crisp — a sign of fresh over frozen — and the sheer size of them was satisfying as well. And while I like a traditional hot sauce, Long Road's bourbon blend was an excellent substitute.
It is, to this day, the only plate of wings ever to convince me to eat the celery. Give the bacon bits and bleu cheese credit as the perfect conduits for what is typically a net-zero calorie afterthought.
At Long Road, we have clearly stepped into elevated bar food territory. This is how you start a food fight. These wings were placed onto the plate, their crispy little ends sticking up like a praying mantis, not dumped from mixing bowl into a wax paper-lined basket. I mean, these were great to eat, but you could argue that they were equally meant to be photographed. You choose which you like more.
Personally, I like Long Road's commitment to quality ingredients in the coupe and on the plate, even if you have to sacrifice a Monday Night Football game to enjoy them in their natural habitat, with an elegant craft cocktail in hand.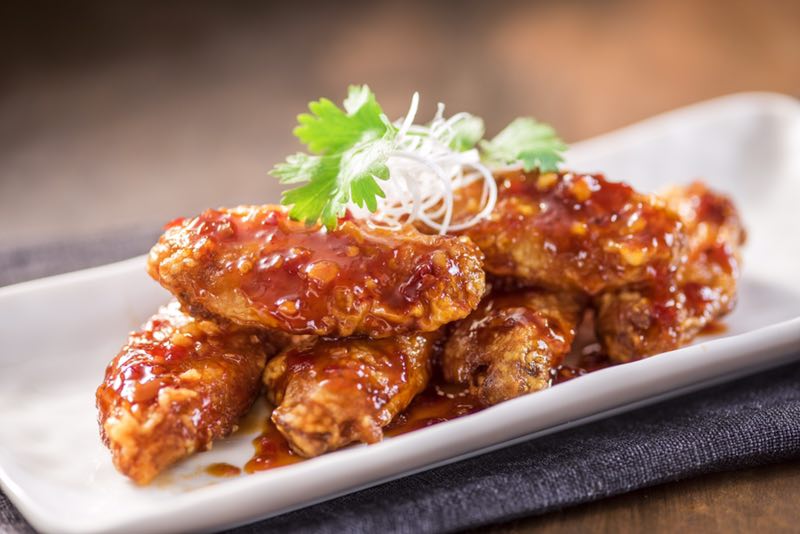 The Kitchen by Wolfgang Puck wings. Courtesy Photo
$$$ The Kitchen by Wolfgang Puck
187 Monroe Ave. NW, Grand Rapids
At $12, the six wings Wolfgang Puck has engineered for you are by far the most expensive. That's $2 a wing, which is what Wing Doozy wishes it could charge you, and it's $5 more than what Long Road will charge you for wings during happy hour.
Puck's wings were also the smallest of the bunch, and suspiciously uniform in appearance. Here, we've returned to the drums and flats presentation, and they are meticulously prepared.
But here's where it gets interesting and where you just knew your boy Wolfgang would come through: Each one was perfect and exactly alike. Maybe they were frozen, maybe they weren't, but they were rubbed in a light spice to blacken them before hitting the fryer. The unsauced wings themselves had a little smoke to them and all six were uniformly juicy on the inside. No duds here.
Between the three comparisons, the chili-garlic sauce these were served with was the best. I would have happily devoured them at the swanky hotel bar if they were smothered in the stuff and it was running down my face. But, because it was on the side, there was the added bonus of putting a dab of it on the tender middle of the wing. Puck just thinks of the little things.
Nota Bene: The Kitchen is also the only bar I know of in town where you can have a glug of Louis XIII cognac with your chicken wings. What a world we live in.