In the 1960s, when trade officially halted between the U.S. and the new island republic, virtually all the sights, smells and sounds of Cuba remained unchanged. Visit Havana today and you will still see vintage Chevrolets rolling down the old streets, the buildings left squat and unchanged in the last 60 years compared to its capitalist neighbor. And all for the better, in my opinion.
Missing out on the vast hyper consumerism during the '80s and the '90s in a sense protected Cuban culture and cuisine from the stale corporate landscape that has only recently pivoted in our own American farm-to-table revolution. All these years, Cuba was 60 years ahead of us.
Which brings us to Danzon Cubano. Grand Rapids' latest and only full-service Cuban restaurant opened last month in earnest and brings with it that little slice of culture and history. Cuban cuisine brings nothing wholly unfamiliar to West Michigan. Its roots run deep in Spanish, Caribbean, African, Creole and even Chinese influence. Rice, for instance, looms large in Cuban cuisine but is not native to the island. The Chinese immigrants who moved to the New World brought rice and its cultivation to the Caribbean. But that does not mean Cuban food does not have its own signature creations.
For lunch, there is the ubiquitous favorite: the Cubano, otherwise known as the mixto. It's a sweet, spicy, briny sandwich with mojo pulled pork, ham, swiss mustard and pickles, all pressed flat onto a crusty thin roll.
Or go for the lesser-known Elena Ruz. Legend has it that a young socialite used to ask the chefs at the El Carmelo restaurant in Havana to make a special sandwich not on the menu, one on medianoche bread with cream cheese spread, strawberry preserves and roasted turkey slices. They complied, and Cuban sandwich stands have been offering the Elena Ruz ever since. But personally, a perfect day-off lunch for me may be the gambas (shrimp) drenched in garlic butter and some pastelitos (filled pastries) with a cafe cubano, the milky, espresso-strong coffee that keeps Cubans buzzing.
After dark, however, is where Danzon Cubano really lets loose. On a recent Saturday night, we caught Kevin Jones and Tenth World, a local jazz ensemble with Afro-Caribbean vibes, as we took in a classic mojito and a Portuguese vihno verde (green wine). Fortunately for our heads, the drink menu was not fully explored that night, although the wine list with mostly European and South American varieties was intriguing, as was the array of rum-centric cocktails.
The dinner menu is stuffed full of mouth-watering options. Staples such as ropa vieja, a shredded beef dish stewed in white wine, tomatoes and spices, appears alongside stunners like a whole roasted red snapper with Cuban vegetables and white rice. We had our sights set on the Cuban paella, however.
Paella is, of course, a Spanish dish of Valencian origin. According to Danzon, its Cuban cousin does not feature saffron, the highly aromatic — and highly expensive — spice painstakingly harvested from the stigma of the Crocus Sativus flower. Danzon Cubano offers a vegetarian version, with roasted garlic, avocado and chickpeas, another with chicken and Spanish chorizo, and finally, one with seared scallops, shrimp, sautéed calamari and charred octopus. Paella de mariscos it is.
But first, we had the tostones stuffed with congri — twice-fried plantains filled with black beans and rice — which ought to go swimming in the garlicky, bright herbal sofrito served with them. Paired with some crusty empanadas filled with a mango-guava mixture and served in a papaya glaze, the duo made a fine sweet and salty introduction to the main dish.
Which was, like, bonkers good.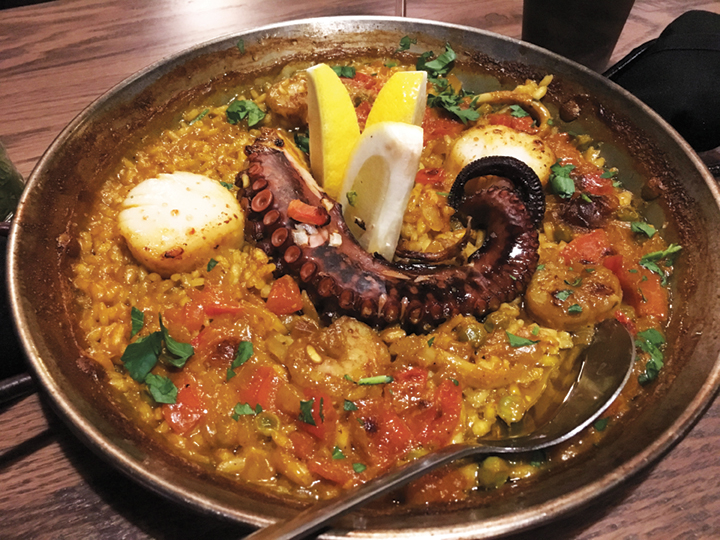 Served blisteringly hot in a cute little paella pan, the aromatic tomato-garlic oils sending up savory S.O.S. signals, we dove spoons-first into the crunchy-bottomed rice, scooping up little shrimp and squid along the way. Each element of the sea-briny dish was cooked perfectly.
The danger of a dish like this is to blast everything to pieces, rendering seafood chewy and rice mushy if not cared for properly. I'm proud to declare that Danzon Cubano paid great attention to the fruits of the sea: scallops and shrimp delicate and sweet, the calamari slight enough to dissolve, and the octopus tender on the interior and nice black char on the outside. It was something to box up and savor reheating in a cast-iron skillet the next morning.
Unfortunately for us, as Kevin Jones and Tenth World made the rounds after their first set, we grabbed our keys, piled on our coats — my mind dizzy with spices, we walked into the cold November air, the paella box sadly forgotten on the table.