Who among us hasn't been offered an innocuous pot brownie at one point, only to face an existential crisis an hour later?
That was the case for my driver on a recent Thursday afternoon, whose one of a few experiences with edibles ruined pot-laced food for him. He ate half of a Rice Krispies baked treat after some mild peer pressure from a co-worker. He was unable to wait tables. It ended with his sleeping through the last two hours of his shift at a Lansing restaurant.
He relayed this story on our recent trip to Muskegon Heights, where we'd meet a team of chefs skilled in producing much different outcomes. Michigan Cannabis Chefs — a three-person team of chefs with decades of combined experience — would be serving a three-course meal of pot-infused and non-infused dishes.
The group sells tickets to adults 21 and older for monthly dinners at an event space in Muskegon Heights. They also cater private events, like in-home dinners.
The company was started by Corey Roberts and his wife, chef Lynette Roberts, and chef Nigel Douglas. Chef Joaquin Acamapichtli was also brought on board.
Each one's cooking style is based on family upbringing and travels, which include southern Texas, Hawaii and the U.S. Virgin Islands. Each has been an avowed cannabis user — for medical and recreational purposes — for years.
Meet the chefs
Acamapichtli, 36, was raised in McAllen, Texas, a border town in the Rio Grande Valley at the southernmost part of the state. Before going to culinary school, he was in the nu metal scene (Korn was popular at the time) with a band called Fed of Me. Acamapichtli's first mentor was a sushi chef who would inspire his Hispanic-Asian fusion style of cooking, which he's been at for nearly two decades. He came to Michigan for family reasons in 2015 and co-founded the now closed Fuego: A Fusion Kitchen in Hart.
For Acamapichtli and other longtime pot users, being part of a legal cannabis market is freeing. They're no longer living outside the law.
"Part of me feels like it's a chance to be a kid again," he said.
Douglas, 37, was raised in West Michigan by parents who owned a restaurant in downtown Muskegon. He was born with Cerebral Palsy and started using cannabis in his teens for pain relief. He attended culinary school in Chicago and spent several years at West Michigan restaurants, then two years in St. Thomas in the U.S. Virgin Islands before returning to West Michigan and founding Port City Tavern in Muskegon. While focused on upscale bar food, Douglas' restaurant also closed.
"This is a drinking town. Bringing high-quality food to Muskegon is challenging," he said.
Douglas describes his cooking style as "across the board," and he specializes in seafood and Caribbean dishes.
"If food doesn't take you back in time," he says, "it better take you forward."
Chef Roberts, 34, was born in Colorado and has spent most of her life in Hawaii. She has used cannabis to treat chronic health problems and opioid addiction. Her interest in food also began as a child, watching family members in the kitchen. Her style comes from her Italian roots and Hawaiian upbringing.
"I call it 'Hitalian,'" Roberts said. "This is even more Hitalian."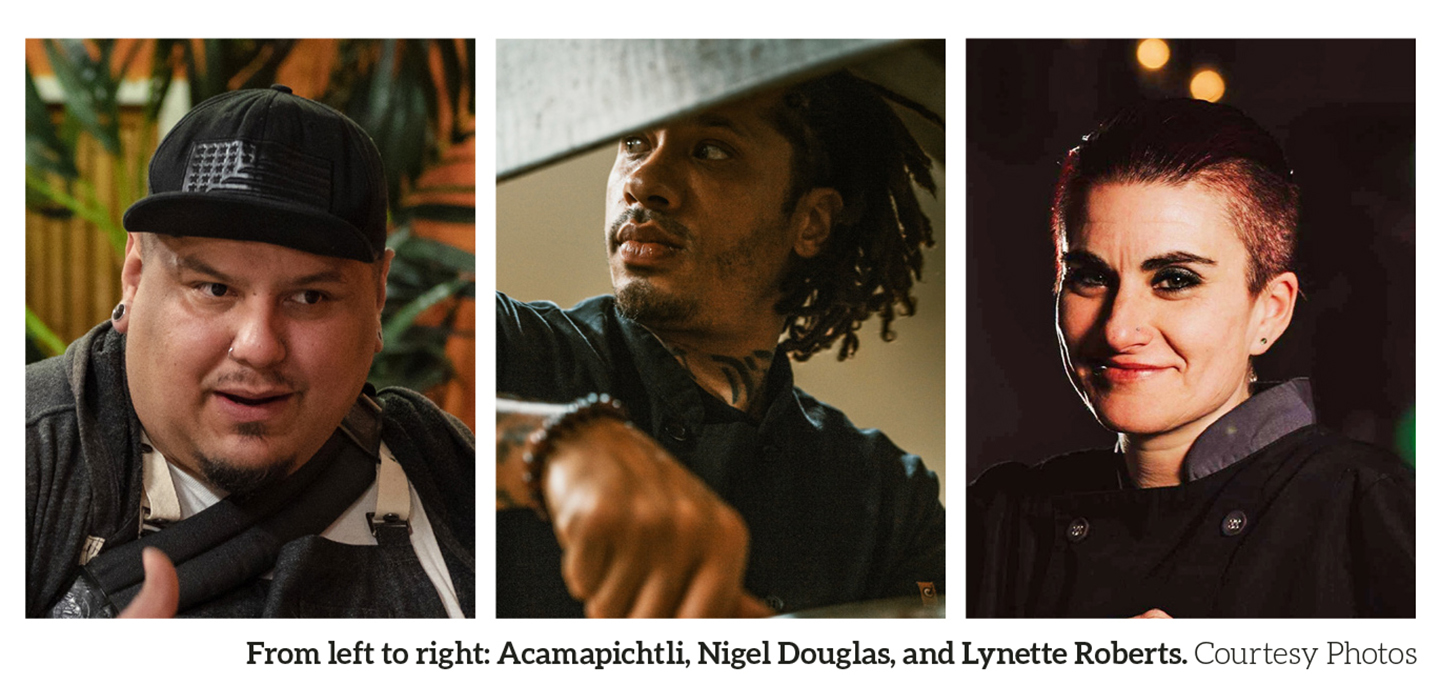 Three courses and distillate
My driver and I arrived as Douglas and Roberts were finishing up each course of the meal prepared for us. (He ordered non-infused plates.)
The chefs cook with a distillate, which is concentrated THC that's been extracted from a marijuana plant into a golden, gooey oil consistency. Distillate breaks down in fats and is used in small quantities that won't overpower with taste. It's also key to measuring dosage. Unlike the haphazard practice of cooking down pot in butter or oil, which can lead to negative and unpredictable experiences, distillate THC is measured down to the milligram. The chefs keep it in a syringe that holds up to 1 gram. This is especially important when eating several infused courses.
My tolerance for THC has built up, but it's not high, so I asked them to take it easy on me. Around 10 mg of THC distillate will generally get the average person high. The pot website Leafly recommends 1 to 2.5 mg of THC for mild pain relief and "microdosing"; 15 to 30 mg for "strong euphoria" geared toward "well-seasoned consumers"; and 50 to 100 mg for "experienced THC individuals only." (This leads to the type of panic-inducing episodes you hear about from infrequent pot users.)
The first plate was a seared scallop with baked triple cheddar truffle mac and cheese served over Frangelico butter sauce, topped with candied bacon and confit garlic and cannabis leaves.
"Like using collard greens," Douglas said.
The scallop was sous-vide and charred with a torch which, along with the creamy mac, balanced well texturally with the crunchy bacon and breadcrumb toppings. Cannabis leaves were cooked down in oil with garlic and tomatoes. The dish had 10 mg of distillate in the Frangelico butter and another 10 mg in the confit. The rich flavors of the dish made the distillate indistinguishable.
Second course: baked fresh crab cake breaded with panko crumbs, served over greens with a red pepper aioli that had been infused with another 10 mg of distillate. Again, the flavor of pot was impossible to detect while the crab cake was lighter than those that are fried or overly mixed with mayonnaise.
The dessert course was raspberry cheesecake served on a chocolate cookie with sweet cream, surrounded by raspberry sauce and topped with chocolate ganache infused with 10 mg of distillate.
I couldn't tell if it was some sort of placebo effect, but after 20 minutes I was feeling the initial tinges of a cerebral edibles high — what John Prine may have referred to as an "Illegal Smile," though illegal no more. I took two bites of dessert and pumped the brakes, saving the rest for a nightcap.
After an hour, the food and that old familiar feeling were kicking in. By the Coopersville exit heading eastbound on I-96, there was no doubt. The driver put on Connan Mockasin's album Jassbusters, which distracted me from the dread of an upcoming deadline.
Though most of my edible experiences have also brought a rush of confusion and negativity, I chalk up the distillate (of which I probably consumed around 20 mg) to keeping the entire experience steadily pleasant for about six hours.
While cooking and celebrity chefs have gone mainstream, shows like Vice's Bong Appetit prove weed-infused food is also hitting the masses and helping to normalize legalization. Michigan Cannabis Chefs seeks to stand apart with high-quality ingredients, concepts and attention to detail. Though the decor of the chefs' space doesn't suggest high-end (more a social hall), the food certainly does — both in taste and presentation. I grew up in the area, and the food competes with some of Muskegon's best restaurants.
On March 22, the group was scheduled to host another monthly private dinner for about 100 people. At $35 for either infused or non-infused plates, the price per ticket is competitive with other catered meals and thus a true form of gifting the marijuana (the only way to legally share recreational marijuana at this point), the group maintains. The five-course menu included salmon sashimi and sushi, beef tenderloin, the seared scallop dish, jerk carnitas and Kahlua mousse baked meringue. The team is aiming higher and plans to explore molecular gastronomy.
"We want to keep going up with it," Douglas said. "Our discussion from the get-go has been: If we have the talent, why make burgers and fries?"