Navigating West Michigan's food scene is a daunting task, given that there are hundreds of restaurants sprawled across dozens of cities. On that front, we want to help local and newcomer alike.
There's no way we can point you to every single amazing eatery in the region, but these Quick Bites capture some of the most beloved, unique, and enterprising restaurants around. Whether you're visiting town or just looking for a new place to love, we've got you covered.
Burgers
Cottage Bar
18 LaGrave Ave. SE, Grand Rapids
cottagebar.biz
You don't get voted "Best Burger in Michigan" by USA Today without having something to show for it. That may have been in 2010, but Cottage Bar knows nothing if not longevity, serving up burgers since 1927. Even in its historic location, Cottage's burgers have kept up with the times, including nine top-tier burgers (10, if you count a patty melt) that know no boundaries. The famous Cottage Burger itself is served on a dark rye bun with green olives, hickory mayonnaise, lettuce, tomato, bacon and cheese. Whether you're a local or just visiting, it's a true West Michigan experience.
Nonla Burger
2103 S. Burdick St., Kalamazoo
nonlaburger.com
Nonla may just be the paragon of the modern burger joint. It's tiny, yet welcoming. It's hip, yet unpretentious. It's quirky, yet approachable. More than anything, it's go-tell-it-on-the-mountain delicious. The burger menu is simple: hamburger, cheeseburger and double cheeseburger, each of which costs less than $5. If you're craving adventure, the daily specials are where it gets buck wild, like the Pizza Burger and Guinness Brat Burger. Either way, Nonla is the kind of spot you make a special trip for.
Goog's Pub & Grub
667 Hastings Ave., Holland
googspub.com
If variety is the spice of life, Christopher Columbus would have been ecstatic to discover Goog's. This pub has 24 — and really, take a minute to let that soak in — different kinds of burgers to choose from, plus the ability to make your own. There is no reason to ever tire of Goog's, aside from a healthy fear of mortality. The choices are no joke either. For example, the Frynal Countdown has seasoning, American and Cheddar Jack cheeses, french fries, chili, sour cream and scallions. Another example, the Fred, has … peanut butter and raw onions. OK, you don't have to get that one. But if you're looking for burger nirvana, this just might be it.
Pizza
Vitale's Pizza
834 Leonard St. NE, Grand Rapids
vitalesonleonard.com
Narrowing down the best pizza in West Michigan is an impossible task, so we decided to just narrow it down to the best pizza from restaurants called "Vitale's," which proved equally hopeless. So, let's just say Vitale's on Leonard stands out for its incredible versatility near downtown Grand Rapids. Whether you're looking to pick up a pie, dine in a nice setting or hit up the sports bar, Vitale's delivers (except for literal delivery. They don't do that.) The pizza itself is the kind of food that leaves you constantly craving a return visit, thanks to the robust sauce, ooey-gooey cheese and first-class ingredients — the sausage alone has me drooling right now.
Erbelli's
6214 Stadium Dr., Kalamazoo
8342 Portage Road, Portage
erbellis.com
It's hard to know where to start with Erbelli's, given that the restaurant has more than 40 specialty pizzas to choose from. When one of your pies is called the "Be Careful Not To Choke Pepperoni Shocker," you must be doing something right. The variety of options is just astounding, and impossible to capture fully here, but that would be all for naught if the pizza itself wasn't up to par. It's beyond satisfactory though — Erbelli's rewards your curiosity with topping-loaded, flavor-packed, award-winning pizza.
Fricano's
107 E. Main St. SE, Caledonia
fricanos.com
Eating Fricano's pizza is nothing short of an experience. There's something about the hyper-thin crust and limited topping choices that bring you closer to heaven. Maybe it's the crispy texture, satisfying in a way no other pizza is. Maybe it's because there's less distance between your tongue and the toppings. Maybe it's all about the ratio, as so much of life is. Perhaps we'll never know. Regardless, if you live in West Michigan, you need to visit a Fricano's. They're spread all over, owned by different family members with varying degrees of vocal politics, but you won't be let down no matter where you get your thin slice of perfection.
Barbecue
American Char
6394 Adams St., Zeeland
facebook.com/americanchar
Wood plays a large part in proper barbecue, and American Char exemplifies that, from barrel-aged sauce to outdoor fire pits and a dining room almost entirely made of wood. It's a comforting atmosphere, amplified by positively succulent Texas-style barbecue. The spices, the sauces and the high-quality meat itself all come together to create a total flavor bomb, whether you're eating brisket, pulled pork or chicken wings. For a classic barbecue experience in a community-centric environment, this is the place to be.
The Grilling Company
6231 W. River Dr. NE, Belmont
thegrillingco.com
I appreciate the Grilling Company's name as much as its food — you know exactly what you're getting here. Just about every meat you can imagine is smoked in the owner's custom-made smoker the old-school way, using all wood to give it the most authentic flavor. You'll find ribs, turkey, pork, brisket, a wide variety of sausages and more, with plenty of sides to boot. It's classic barbecue done right.
The Pit Stop
6479 28th St. SE, Grand Rapids
pitstopcateringgr.com
You might think you get the pun of "Pit Stop," but there's another layer here: They slow cook their meat over dried Michigan cherry pits, hardwood charcoal and Michigan Red Oak. That combination has won Pit Stop loads of awards, as well as many loyal customers. All the meats you'd come to expect are here, plus smoked corned beef and "Micknuggits," double-smoked beef burnt ends. You should also try one of the wraps, because there's no wrong way to enjoy barbecue.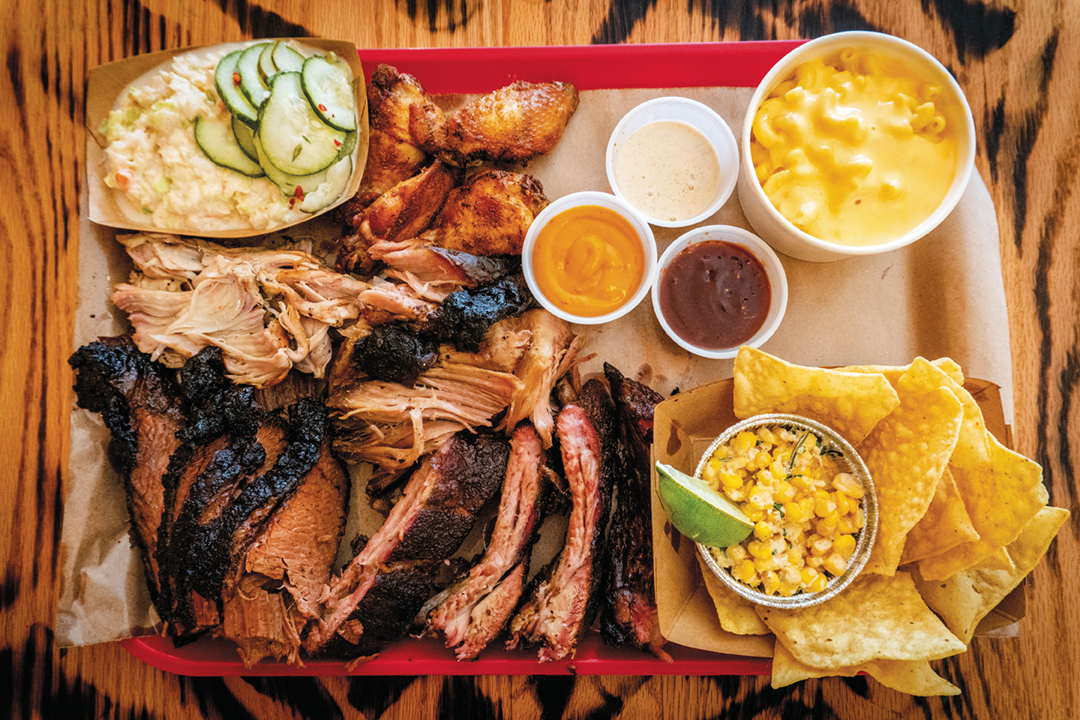 American Char. Courtesy Photo
Ramen
Ginza Sushi and Ramen
1015 Michigan St. NE, Grand Rapids
ginzasushiramen.com
Ginza is new in town, but has already made quite a splash, just like an egg dropping into a steaming hot bowl of ramen. As the name implies, Ginza does indeed have plenty of sushi to choose from — not to mention the bento boxes and poke bowls — but the real gift here is stepping up Grand Rapids' ramen game in a big way. Ginza has six ramen options, PLUS pho, such as the Tonkotsu Ramen, with milky pork bone-flavored broth, sliced roasted pork, egg, bamboo, mushrooms, nori and green onion. Basically, this place is the real deal.
Cravings Deli
229 West Kilgore Road, Portage
pacificrimfoods.com
Inside Pacific Rim Foods, a "premium Asian market," lies Cravings Deli, where you'll find bowls made by true ramen enthusiasts. The owners have taken the time to prepare, eat and write in-depth reviews of all kinds of packaged ramen, including tips on how best to prepare each brand. That's how you know they're bringing their A game to Cravings' ramen, which offers all the favorites: tonkotsu, miso, beef brisket, wheat noodles, duck — the list goes on. Ramen aficionados shouldn't pass up this spot right outside of Kalamazoo.
Sapporo Ramen
5570 28th St. SE, Grand Rapids
sapporonoodle.com
Sapporo arrived in Grand Rapids after winning over all the students in East Lansing with its fast, affordable ramen. It's a much more fast-casual setting, but that doesn't mean they take their nine ramen dishes any less seriously. Whether you're looking for pork, vegetarian, corn or even brothless breakfast ramen, Sapporo has you covered. They also have four udon dishes, if you're craving some thicker noodles.
Small Plates
San Chez
38 W. Fulton St., Grand Rapids
sanchezbistro.com
Through all the years, San Chez has held strong as one of Grand Rapids' best restaurants. It's the kind of place you can go for a business meeting, a nice brunch or a special occasion — it all feels right. The star here is the tapas, a Spanish concept that involves ordering lots of small plates and sharing them with friends. The fun lies in getting to try a dozen different dishes that are incredibly unique, and then realizing they're so good, you want more. San Chez is essentially the standard-bearer for sophisticated dining in West Michigan.
Zoko 822
822 Ottawa Ave., Grand Rapids
zoko822.com
Zoko takes the tapas concept and hones the focus a bit, drawing its inspiration from the Basque region of Spain. You'll find all kinds of plates to share, from octopus to miniature omelettes, chorizo and more. Zoko also introduced pintxos, a bite-sized version of tapas that make for a popular bar snack in northern Spain. Between all that and a drink menu focused on gin, you're not going to find anywhere else like this around here.
Taste
402 Phoenix St., South Haven
tastesouthhaven.com
If you're looking to share some small plates in a less fancy atmosphere, this is the place to be. Don't worry, the flavor is still there — Taste has won multiple awards for its huge selection of food, big and small. The menu here is a little more global, with a diverse collection of dishes like miniature beef wellington, Korean barbecue chicken, potato pancakes, bay scallops scampi and far more. You know when your friend's dish comes out and you regret your order? Taste puts an end to that. Sharing is caring.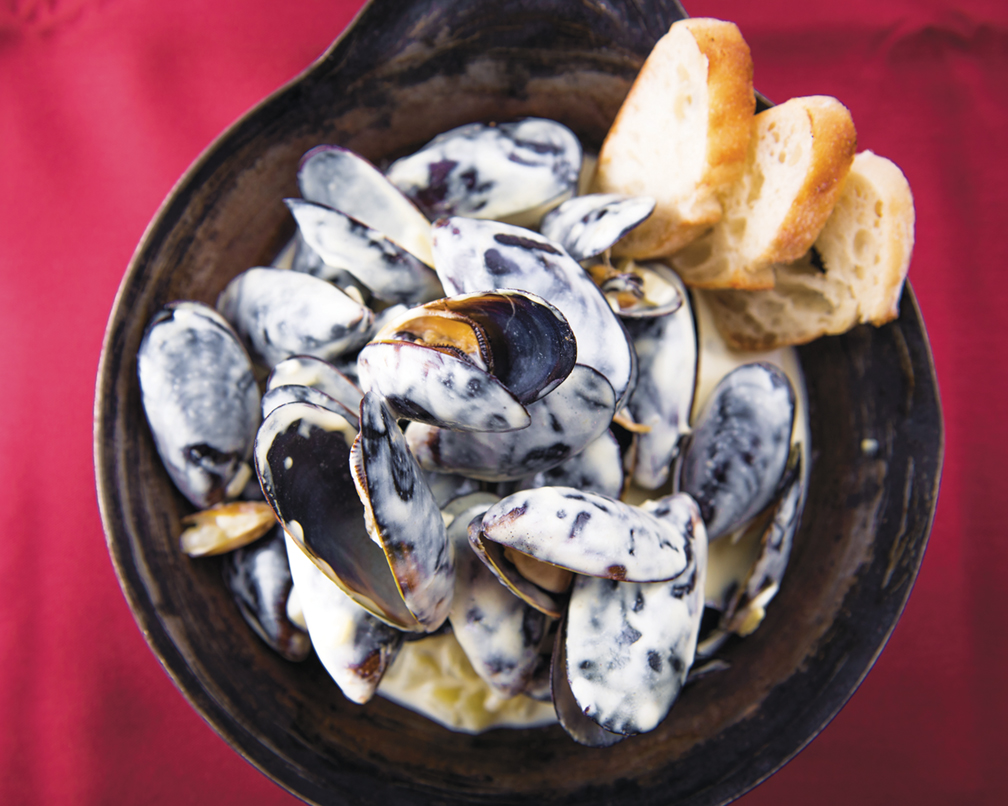 Taste. Courtesy Photo
European
New Hotel Mertens
35 Oakes St. SW, Grand Rapids
newhotelmertens.com
Admittedly, Europe is a big place with dozens of very different countries, but some restaurants really embody the European spirit in a unique way. For instance, New Hotel Mertens is dedicated to capturing the French experience through food, atmosphere and approach to service. Who else in West Michigan has an afternoon tea service? Most importantly, however, the food is truly delicious, with dishes like coq au vin, bouillabaisse and quiche lorraine exceeding any Frenchman's expectations.
Rustica
236 S. Kalamazoo Mall, Kalamazoo
rusticakzoo.com
Rustica is all about rustic European cuisine presented by a classically trained chef, blending influences from France, Italy, Spain and other surrounding countries. This is your special occasion restaurant, your chance to try some of the most distinguished food in West Michigan. The Grilled Black Kobe Tri-Tip, for instance, is served with crispy potato, king trumpet mushroom, pak choi and bordelaise. More importantly, it's to die for. At Rustica, the focus is on the food.
Euro Bistro
6450 28th St. SE, Grand Rapids
eurobistrogr.com
The name says it all. Euro Bistro is a more casual take on the European concept, with food leaning slightly toward the French palate. It's a warm, comforting space offering dishes like charred asparagus risotto and perch meuniere. Despite the exterior, Euro Bistro makes you forget that you're in a strip mall, much less West Michigan. It's an unpretentious, yet exceptionally delicious experience.
Caribbean
Danzon Cubano
1 Carlton Ave., Grand Rapids
danzoncubano.com
Danzon Cubano is not your typical Caribbean restaurant. The atmosphere and menu are both inspired wholly by Cuban culture, wanting to capture the authentic experience of dining in the Caribbean isle. You'll find dishes you've never seen before, like Aguacate Relleno, avocados stuffed with your choice of rice and beans, tuna tartare or shrimp. The entrees focus on delicious meat with beans, rice and plantains, which sounds simple until you taste how they've elevated each ingredient to be full of unique flavor. Basically, it's a dinner you're not going to get anywhere else in West Michigan.
Irie Kitchen
6630 Kalamazoo Ave. SE, Grand Rapids
irie.kitchen
Irie's not just pumping out Caribbean street food willy nilly. The kitchen is dedicated to keeping it fresh, both in terms of ingredients and overall experience. The food is made to be both healthy and full of flavor at the same time. Just head in and order an Irie Box with your choice of protein — jerk chicken, curry goat, garbanzo beans, etc. Then they'll hook you up with some sides like plantains, festival, roti, knots, all kinds of stuff that you'll learn to love if you haven't already. It's the real deal, with a modern twist.
Havana Grill
12059 Felch St., Holland
havanagrill616.com
If you're looking to expand your culinary horizons, Havana Grill goes all out. The menu here is massive, offering dishes that are hard to categorize as belonging to any one country, which I suppose is why the Holland restaurant labels itself as "Latin American cuisine." From Mexican dishes like burritos and enchiladas to Cuban dishes like Ropa Vieja, the world is your oyster. Havana Grill offers a huge variety of food with massive portions and no shortage of flavor.