Restaurants open all the time across West Michigan, but some do so with a much larger effect than others. I always wonder if the incoming eatery will burn up in the atmosphere or leave a lasting mark where it lands.
The variables are endless. Do you have the right location? Are you opening at the right time? Are you offering the right food, the right atmosphere, the right people? When you pull it all off, you enter the collective consciousness as a new "hot spot," becoming more than just a place to eat — you're a topic of conversation.
Over the past few months, three new Grand Rapids restaurants have entered the conversation: The Commons, Zivio and Hancock. They all offer completely different experiences, yet seem to have success in common. We talked to the people behind these new arrivals about how they got started and what's ahead.
The Commons
547 Cherry St. SE, Grand Rapids
facebook.com/CommonsGR
The Commons arrived at the tail end of 2018 in a unique location, with an even more unique theme. Located in the basement of the historic Oakwood Manor Apartments, the restaurant went all in on a retro '70s lounge theme.
Walking in truly does feel like stepping back through time. The walls are covered in wood paneling, the furniture is straight out of Mad Men and the back of the restaurant houses two living rooms that could easily be your grandma's, except much cooler (no offense).
"Honestly, I wanted to go with what is familiar and relevant to me," said Elizabeth Rich, The Common's owner. "I loved my childhood. I remember that time with so much fondness, and I am a nester who wants the familiar and comfort around all the time. I was hoping that our guests would feel at home and nostalgic too, or that the younger people would recognize that it's cool, and maybe reminds them of grandma's house, or the movies."
This is no gimmick, though. The theme wouldn't work without amazing food and drinks to back it up, and The Commons delivers with classic American food made right. When I visited, the double cheeseburger had everything I want in a burger, from the incredibly savory patties down to the perfect ratio of ingredients. And normally, I leave a few fries behind to trick myself into thinking I'm a healthy eater — that wasn't going to happen here. My companions' sandwiches, fried chicken and portobello, were equally satisfying.
On top of all that, despite a packed house that led to a longer wait, the impossibly comfortable atmosphere meant we didn't mind one bit. Clearly, Rich knows what she's doing, likely thanks to her experience running a small craft beer and wine bar in Los Angeles. She returned home out of a love for Grand Rapids, and the city has returned the feeling.
"We already have amazing regular customers," Rich said. "We have had an outpouring of support from the local restaurant and business community, and feel like this a partnership. We intend to return that support to the community through continued involvement in events and issues, patronizing our business neighbors, hiring local and taking good care of our staff."
Zivio
724 Wealthy St. SE, Grand Rapids
ziviogr.com
Speaking of burning out bright, Georgina's Fusion Cuisine suddenly closed at the end of last year. Luckily, Zivio took its place almost immediately. The "modern European tavern and grill" was opened by the Duratovic family, who also owns Bosna Express in Wyoming. Dino Duratovic said they were looking for another location and when this spot in an "amazing community" opened up, they knew they had to go for it.
The concept is to serve not just Bosnian cuisine, but Turkish, Greek and food from other Central European countries as well. Zivio's menu lives up to that, with a wide variety of modern takes on European classics.
There are seven gyros to choose from, and they get creative, with toppings like fried onion straws and pico de gallo. The starters are fun too, with names like Can't Stop, Won't Stop Fries and Pita Pita! It's an affordable, relaxed place that keeps it fresh, great for both a quick lunch or a nice dinner out.
The goal, again, is to make you feel comfortable. Zivio's staff feels like a family and the restaurant wants to be a real asset to the community.
"Zivio means 'live on' in Bosnian," Duratovic said. "It is how we would cheers each other. We decided on the name because we believed it was inviting and had the right meaning behind it."
We'll eat to that!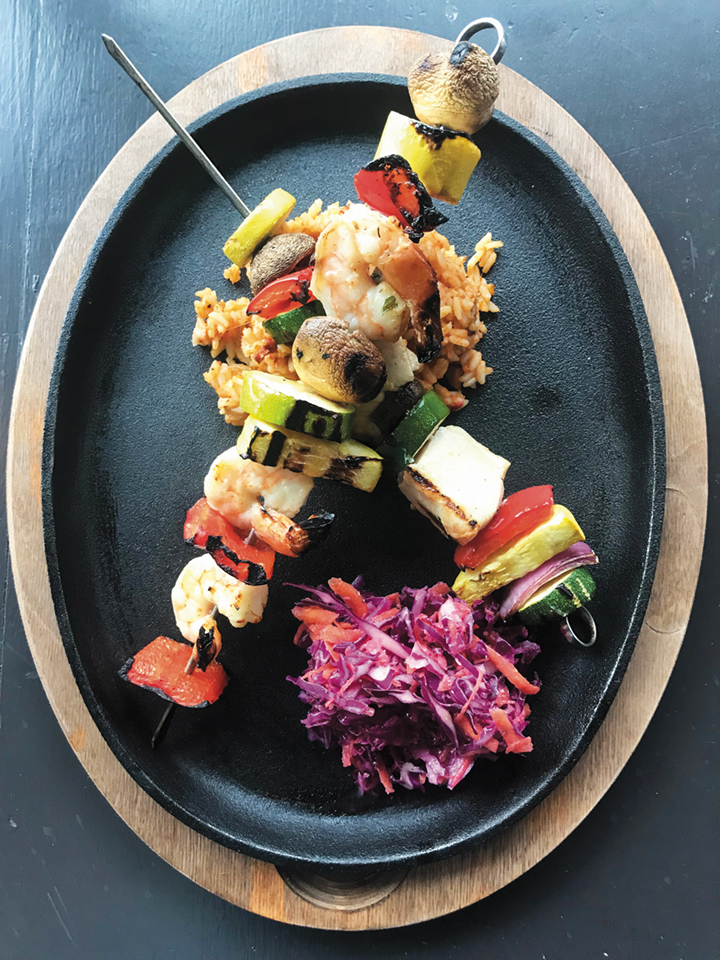 Zivio. Courtesy Photo
Hancock
1157 Wealthy St. SE, Grand Rapids
hancockgr.com
Wealthy St. Station, an amazing little diner at the corner of Wealthy and Fuller, was an icon of Grand Rapids dining when it closed. Whatever came next had some massive shoes to fill, but Hancock, which just opened in March, seems to be up to the task.
It's the newest venture from Paul and Jessica Lee, owners of Winchester and Donkey. When they acquired the space, the first goal was to be unique. Hancock's name ended up coming directly from a defunct gas station chain with a strutting rooster for its logo — the perfect blend of the food they hoped to serve and the service station aesthetic.
The focus is entirely on fried chicken and sides. You won't struggle with option paralysis here — just choose your chicken's heat and serving mechanism, then pick a classic side and you're good to go. You order at the counter and then servers come around to help after that, keeping it casual.
Perhaps even more unique, Hancock features champagne in a big way, which is rare for GR.
"It again came down to what this city didn't offer," Paul Lee said. "Champagne is generally enjoyed as part of a special event, but we felt like champagne is great all the time. What better way to enjoy champagne than with some fried chicken and sides?"
Even the beer list is atypical for the area. I can give you all of Hancock's options right here: Stroh's in a can. And that really sums up the Hancock experience.
"At times, it feels tired and uninspiring when every dining establishment in a half-mile radius has the same craft bottle and draft selection," Paul Lee said. "People go out to dine for an experience. How do you get that if the only thing that's different is the venue?"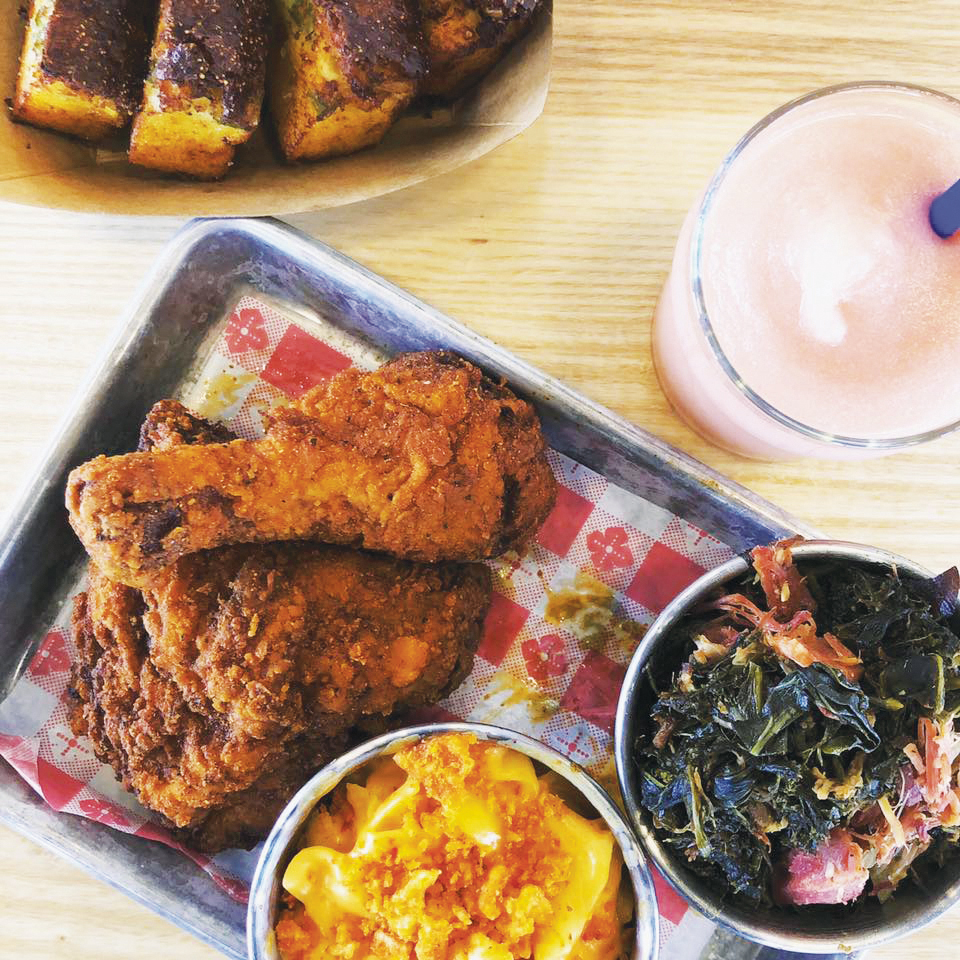 Hancock. Courtesy Photo