In today's world, perhaps the greatest gift anyone can offer is an escape — from technology, from the stresses of life, from the world at large.
On every level, Max's South Seas Hideaway is that escape.
The new tiki bar and restaurant in Grand Rapids is a sort of alternate reality, an immersive experience rivaled — in my travels — only by the bars and eateries in Disneyland. I mean that as the highest compliment: Max's has an attention to detail you'd typically only get from the Imagineers.
Those details are what suck you in. It starts the moment you walk through the door and your eyes begin to adjust to the darkness, looking over hand-carved tikis, with calming luau and exotica music setting the mood. There are no windows and no TVs, so you find yourself lost in time. It's a "perpetual twilight," as co-founder Martin Cate told me.
"It's always cocktail hour on the island," Cate said.
You turn the corner and see a 14-foot, illuminated tiki waterfall looking over the ground floor. Yes, there are two floors. Head upstairs and you might sit next to a 500-gallon saltwater aquarium — or have a drink at the huge central bar, shaped like a boat.
Every nook and cranny is filled with some piece of art that has a story.
Co-founder Mark Sellers' colossal tiki mug collection joins forces with co-founder and artist Gecko's Polynesian carvings, alongside vintage art from bygone tiki bars all over the world.
Nothing in the building is a cheap factory-made replica. The hanging lanterns and bars are all custom-made. Even the platters and bowls are made by an in-house ceramicist. That authenticity elevates the experience beyond the kitschy gimmick it could be if the owners didn't care.
Drinking Tiki
That same level of thoughtfulness extends to the cocktail menu, which comes as no surprise given Cate's reputation as a rum and tiki cocktail expert. Max's has more than 150 rums on hand. The cocktail menu boasts an impressive 44 cocktails, all illustrated on the menu by local artist Anthony Carpenter.
On one visit with my lovely girlfriend, I dove into Max's Barrel-O-Rum: a blend of rums, some lime and pineapple, "and a few secrets." It's refreshing, tropical, balanced; a classic tiki experience.
Then we absolutely had to split the Boo Loo, a shareable drink served straight out of a fresh pineapple with two giant straws. Like much at Max's, it's both head-turning and delicious.
Sadly, I couldn't try all 44 cocktails in one visit — my doctor forbade it — but I can guarantee you'll find at least one drink matchmade for you.
Island Eats
The food is largely unique as well. Chef Joseph Peebles wanted the menu to have a "seaside, island feel," approaching Pan-Asian cuisine with a New American technique and a touch of gastropub. You'll find plenty of seafood appetizers and entrees, not to mention the raw bar, as well as burgers, steaks, smoked pork, and much more. The entire back of the menu is vegan, and Peebles noted much of the staff was surprised to learn they loved the vegan dishes even more than the meaty entrees.
Many dishes on the menu promise an experience. The Tableside Campfire literally brings a fire to your table, so you can cook s'mores in your seat. On one visit, I happily ate the entirety of the Seafood Platter, a sharable dish with oysters, ceviche, poisson cru, seared tuna and poke.
I do have to say: Much like Disneyland, if there's one thing that might jerk you back into the real world, it's the food prices. The cheapest nonvegan entrée is the burger, coming in at $18.
That being said, you get what you pay for. I ordered the Polynesian Pork "Wing" for $32 and received a massive portion that I ended up needing to share. If all the dishes are that size, you could easily split an appetizer and an entrée between two people and end up paying no more than any other decent restaurant in the city.
Of course, the meal was fantastic, too. You cut into crispy, slightly fatty skin with a tangy mustard glace to find a juicy, tender pork shank, served with a gravy-like sauce I simply couldn't get enough of — all alongside a refreshing tropical slaw. It was beyond satisfying.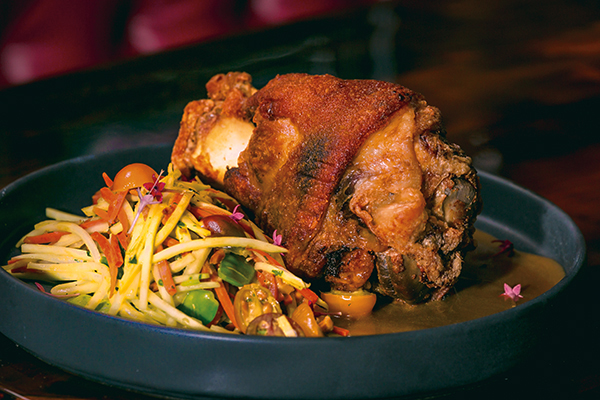 Polynesian Pork "Wing". Courtesy Photo
All Good Things ...
In the end, even after racking up a decent bill, drinking two cocktails each and eating 'til stuffed, we realized we really did not want to leave. Be warned: Max's is such an escape that to walk back outside, where the sun is up, the wind is blowing and deadlines are approaching — it's like leaving the warmth and safety of your bed in the morning.
I guess I'll just have to go back.
Personally, I'm now looking forward to winter, when I can escape the ice and snow for a couple hours by escaping into Max's, traveling in just a few steps from a frigid peninsula to a warm island where the sun is always setting.