Cheesesteaks are the perfect food for this moment in time.
The delivery-only pop-up restaurant 9th Street Steaks opened the first week of April in Grand Rapids, offering a super focused menu of cheesesteaks, onion rings, fries and milkshakes. The goal was to recreate a true Philadelphia-style cheesesteak that you won't find anywhere else in West Michigan.
I've never been to Philadelphia, but having tried 9th Street, I can tell you that these cheesesteaks are warm, comforting, and delicious.
The texture of everything is perfect, the meat is loaded with flavor and the cheese whiz is perfectly gooey without tasting "processed" or fake (because they make it all in-house). Not to mention the excellent onion rings with perfectly crispy outsides and the giant chocolate milkshake that was the size of my head. Even without the milkshake — though you do want the milkshake — it's a perfect meal for two, for around $12 per person.
That all said, opening a new concept during this pandemic is definitely a bold move! It's run by Mertens Hospitality, who also owns New Hotel Mertens, but they're two separate concepts.
To get the story behind 9th Street, we talked to owner Anthony Tangorra.
How did the delivery-only concept come about?
First of all, there's long been an opportunity in the hyper-local, chef-driven upgrade of fast-food, comfort food and diner food along with the added dimension of accessibility via delivery, to-go and drive through. That trend has been around for a while nationally, but when any of us take a ride down 28th Street, we still see that it's a hodge-podge of national chain after national chain. And as we've developed concepts at Mertens Hospitality, we've been focused on that trend. The COVID-19 crisis just pushes all of us on trying to meet that trend further and faster than we ever imagined.
Why cheesesteaks?
My parents moved to Philly right after I left home for college and so for 20 years, I dove head-first into Philly food culture. If cheesesteaks come down to Pat's or Geno's (and it shouldn't come down to just those two, but if it does), then count me as a Pat's guy. And that style is what you'll find at 9th Street; which is where we focused on developing a house-made Amoroso Bakery style roll and we chop the ribeye on the flat-top as opposed to keeping it as whole slices. Those sort of details may sound insignificant, but they're taken very seriously by many! Including us!
Why launch it now?
Weeks ago, when we first though about how we can positively respond to this crisis, accelerating these concepts was at the top of mind. We believed whole-heartedly in the trend of hyper-local, chef-driven comfort food that is accessible via delivery/to-go/drive-through. We had already developed concepts around it, so accelerating those concepts to meet the current demand for delivery made a lot of sense. Add in the fact that we suddenly had significant expensive under-utilized capacity in our existing kitchens, then it made even more sense. However, the work it took for a family business to move from conceptual to operational in a matter of weeks while also trying to weather the storm for our flagship brand (New Hotel Mertens) was-and-still-is exhausting. But we sort of consider ourselves lucky to be able to bury ourselves in work right now. In many ways, it is a welcome distraction in the face of something that is very painful for our entire community.
The menu says "Don't choose swiss." Why is whiz the way to go? Why offer swiss anyway?
My family has always taken food too seriously. In the middle of eating dinner, we'll talk about what we'll have for dinner tomorrow, we'll analyze every aspect of every ingredient and on and on. It sometimes felt like we were living in the movie "Fatso" (if you don't know that movie, go find it). I'm sure you know families like this or perhaps your family is like this. So when John Kerry's loss in the 2004 presidential election was at least partially attributed to the fact that he chose Swiss for his Pat's cheesesteak — well, we could appreciate an entire community's frivolous application of food values to something far more serious. So, we like to have fun with it. Why offer it? Because we have it in stock anyway. And because Pat's still offers it too. And it's fun to talk about.
What makes a true Philadelphia cheesesteak so good?
My family's tradition was to always go down to Pat's the day after Thanksgiving, because after all that good Italian-American food that we would painstakingly cook on Thursday, a good cheesesteak, cheese-fries and cherry peppers was the perfect change-up to all of Thanksgiving's formality. It's comfort food. Unabashed, simple comfort food. At 9th St. we're bringing in a little formality in how we make the cheesesteak and everything else because we're making everything from scratch in-house. Honestly, I have never heard of any place anywhere taking the same painstaking attention to detail that we're taking with cheesesteaks.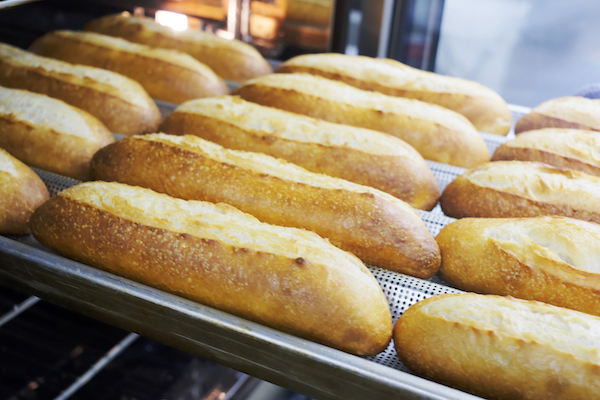 The bread is made from scratch here (that alone is unique) and it's modeled after Amoroso Bakery. The shakes start with ice cream from house-made vanilla bean crème anglaise. We bring in whole, fresh ribeyes and slice them down ourselves. Every fry and every onion ring starts with, you guessed it, whole onions and potatoes. Even our whiz is housemade. Now, when it gets to the guest, it certainly doesn't look formal. It still drips on you just like any good cheesesteak should, but the taste and texture will all be from doing it the hard way with no short-cuts. Ultimately, we expect — heck we demand — that people from Philly that live in GR pick us apart. That's OK, we do it ourselves. We expect that we are never going to be as good as their favorite cheesesteak from Philly, because who can compete with home? But we hope they respect the time and effort and thought that we've put into this, and that they ultimately accept us as a solid option for a cheesesteak in West Michigan.
Where is the food actually being made?
9th Street is a completely separate brand and business that has nothing directly in common with New Hotel Mertens except the ownership by Mertens Hospitality, and the intention from the start was to have 9th Street and our other forthcoming concept to have its own, very small physical space off-site that focuses on delivery/to-go/drive-through. But when this happened, we suddenly had a massive amount of capacity in our multiple kitchen/prep areas at 35 Oakes. So we are going to use those spaces for now, and then, when 35 Oakes' capacity is once again being utilized by demand for New Hotel Mertens and if 9th Street is doing well, then we will move offsite. This was never the plan, but we've tried to deal with the cards we've been dealt as positively as possible. And make no mistake, we're not growing out of strength. We're struggling in every way just as the entire community is. We're growing out of an instinct to survive and, just like everyone else in our community, in an effort to put bread on the tables of NHM families; including my own family of four, our teams' families and the many NHM suppliers' and partners' families.