Coming up with a new menu for the family every single night isn't easy. Take a break and support local with big meals from nearby restaurants!
Some eateries are offering fully prepared meals, while others have meal kits and take n' bake options. Find what works best for you and dig in!
Max's South Seas Tiki Party
58 Ionia Ave. SW, Grand Rapids
maxstiki.com
Max's South Seas Hideaway has a couple platters that feed four, including the Tiki Party, featuring 12 pieces of buttermilk fried chicken strips, 10 Huli Huli ribs, 32 ounces of garlic fried rice, 32 ounces of truffle mac & cheese, your choice of cocktail mix, crushed ice, swizzle sticks and a sticker. From food to drinks, it's fun for the whole family!
If you're just looking for some appetizers, Max's also has its Pu Pu Platter to go, with three volcano wings, three Huli Huli ribs, three chicken strips and crab rangoon dip.
Two Guys Brewing
2356 Porter St. SW, Wyoming
facebook.com/twoguysbrewing.beer
On top of all kinds of entrees, Two Guys has a wide selection of take n' bake meals, such as chicken and broccoli mac & cheese, which feeds 2-4 people for just $12! Other options include penne Bolognese, au gratin ham & potatoes, wet burritos and more.
Luna
64 Ionia Ave. SW, Grand Rapids
lunagr.com
Luna provides a full on taco party with its family dinner, featuring 1.5 pounds of taco proteins, soft corn tortillas, toppings, chicken flautas, chips, salsa, guacamole, rice and beans! Plus, you can get margarita and paloma mixes to mix with your favorite tequila.
New Holland Brewing
417 Bridge St. NW, Grand Rapids
newhollandbrew.com
New Holland Brewing's Grand Rapids and Holland locations alike both have a Family Meal Deal. For just $35, you get two wood-fired pizzas of your choice, an order of pepperoni pinwheels with chipotle ranch and pizza sauce, and a family-style green salad. Plus, you can get any number of cocktail kits or summer 6-packs!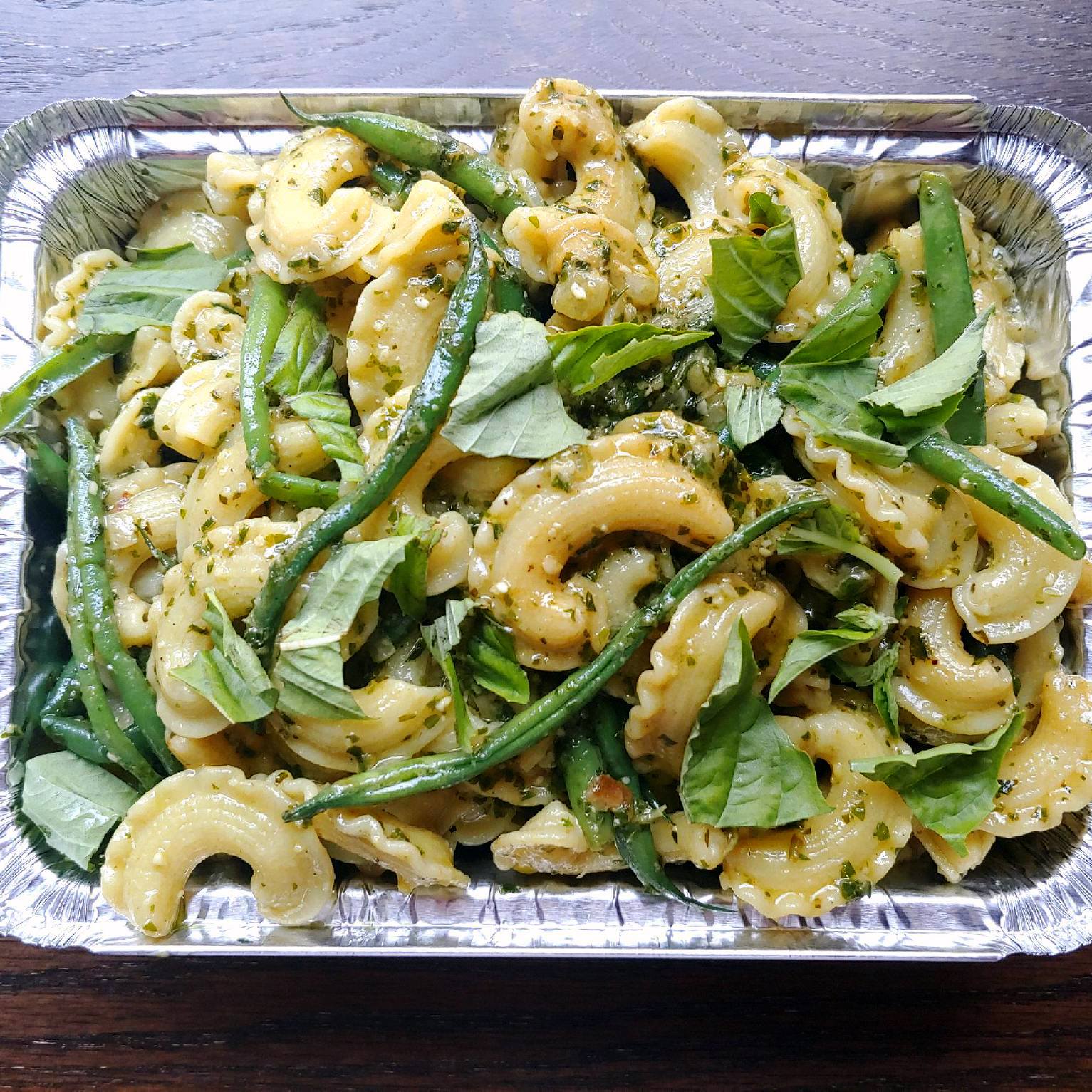 Pronto Pasta
35 Oakes St. Sw, Grand Rapids
prontopastagr.com
Each dish at Pronto Pasta — from the minds behind New Hotel Mertens and 9th St. Steak — serves two people, so you can get a variety of pastas to feed the whole family. Try out Mama's Gravy for the meat lovers, with red tomato pork sauce made from ribs and sausage, and Pesto Creste de Gallo (pictured above) for the veggie eaters, with rooster crest pasta, basil pesto and crunchy green beans.
Peppino's Pizza
130 Ionia Ave. SW, Grand Rapids
5065 Lake Michigan Dr., Allendale
peppinospizza.com
At Peppino's Grand Rapids and Allendale locations, you'll find plenty of family meals for $40 each. Check out the Rosemary Chicken meal with nine pieces of slow roasted chicken, butter mashed potatoes, garlic green beans, salad, and breadsticks or cheesy bread. Other meals include Lasagna, Fettucini Alfredo, and Mac & Cheese with Wings.
Hancock
1157 Wealthy St. SE, Grand Rapids
hancockgr.com
Right now, Hancock has whole birds with four sides for $36. That's eight large pieces of fried chicken, which should be plenty for four people. There are ton of great side options, including pickles, baked beans, braised greens, coleslaw, waffle fries, mashed potatoes, mac & cheese and corn bread.
Ando Sushi + Bar
415 Bridge St. NW, Grand Rapids
andosushi.com
Ando Sushi just rolled out its family meals meant to feed four with a wide variety of food. For $75, you get four sharing plates, two simple sushi rolls, one signature sushi roll, an order pad thai, and an entree (choice of bulgogi beef or vegetable bibimbap)! That's something for everyone, and then some.
Amore Trattorio Italiana
5080 Alpine Ave. NW, Comstock Park
facebook.com/amoretrattoriaitaliana
Amore has been helping out the community in many ways during this time, including with take n' bake items for the whole family. The "Famous Lasagna" feeds 8 to 10 people for just $45 and is ready to eat in 40 minutes! You can also pick up a pizza kit for $11, or to-go quarts of pasta sauces, such as Bolognese, vodka sauce, vegan tomato sauce and many more.
Jimmy Berger's Chicken Shack
919 Cherry St. SE, Grand Rapids
jimmybergers.com
At Jimmy Berger's, you can get a whole roasted chicken — lemon herb, BBQ or jerk chicken — with three sides for $35. And if your kids are picky, feel free to throw a chicken tender basket on the side.
Westside Social Tavern
2802 Lake Michigan Dr. NW, Grand Rapids
westside.social
Every Sunday, Westside Social offers large family meals, such as Westside BBQ, with a whole peach BBQ bone-in chicken, cheesiest mac, green beans, coleslaw and cornbread, all for $45. Just check their menu on Facebook ahead of time and make sure to order ahead by 5 p.m. on Friday!