With summer comes many things, and at the top of that list is ice cream.
Of course, the ideal "ice cream" can be hugely different from one person to the next. Personally, I'm almost always going for a malt or a Flavor Burst — a tower of soft-serve with a perfect swirl of flavored syrup around the outside, like the onion domes of Russia. However, some friends prefer a thick, chunky hard-serve full of bold toppings, like you'd find at Coldstone.
You'll find a huge variety at your local ice cream purveyors, though not every shop has the same offerings. Instead of always sticking with the place nearest you, consider a drive or bike ride to try something different! That's what summer is all about.
Here are just a few of our favorite shops around.
Love's Ice Cream
434 Ionia Ave. SW, Grand Rapids
lovesicecream.com
Located in the Downtown Market, Love's has plenty of love and ice cream both. The latter is made from scratch and comes in a huge variety of flavors, from Madcap Coffee to Raspberry Cheesecake to Rum Horchata, London Fog, Vegan Blood Orange Mango and so much more. These are all available in pints to go, or you can get a single scoop, or even cookie dough to bake at home.
Some of these flavors are actually sorbets or gelatos, so double-check with the website to make sure you're getting what you want!
Also, if you order through this website right now, your payment will be matched by Michigan Economic Development Corporation to help support Love's in this trying time!
Furniture City Creamery
958 Cherry St., Grand Rapids
furniturecitycreamery.com
When my friend told me she was going to work at "Furniture City," I thought, "Wow, sounds like a lot of heavy lifting!" Then I found out it was an ice cream shop and I've been in love ever since. Named after Grand Rapids' biggest industry before craft beer arrived, this spot on Cherry Street makes all of their own ice cream in-house.
While toppings are there IF you wish, you don't need really need them, since the ice cream is so full of flavor on its own. You can order a single scoop or full pints to go. And if you do want to get wild with it, go for a sundae! Or an ice cream sandwich, for that matter. Whatever you're feeling, there are plenty of vegan options too.
The best part is, Furniture City has its own cute little indoor shop, so they're open to serve you year-round.
Frosty Boy
1757 Plainfield Ave. NE, Grand Rapids
6051 Belding Rd. NE, Rockford
frostyboygr.com
Best of the West voters love Frosty Boy, and that's partly due to a gargantuan menu, and partly due to everything being so delicious. At this lovable walk-up spot with two locations, you'll find: soft-serve, Flavor Burst, hard-serve, banana splits, flurries, sundaes, shakes, malts, slushes, freezes, AND floats — all with vegan and GF options to boot.
So basically, everything you could ever ask for and more. Just remember with walk-up spots like these to follow their social distancing protocols!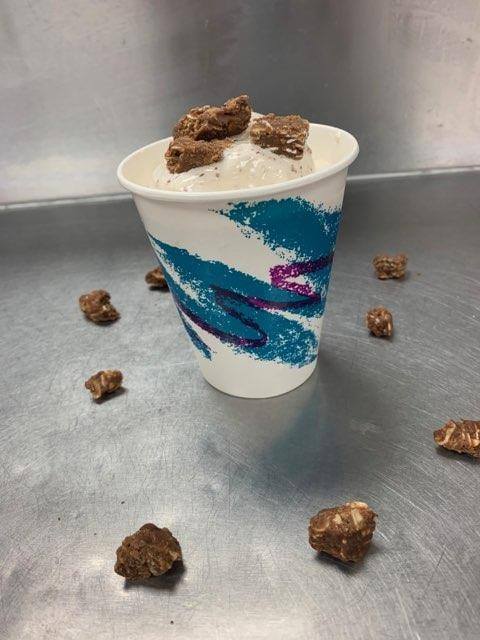 Rocky's
110 N Main St., Rockford
micones.com
Similar to Frosty Boy, Rocky's is a community staple and has been for years. When I've biked along the White Pine Trail all the way up from Comstock Park, Rocky's is a perfect place to rest and refill before heading back.
Along with all the offerings you'd hope for — soft-serve, hard-serve, sundaes, etc. — Rocky's has Dole Whips. That's right, you don't have to go all the way to Disneyland to get this specialty treat anymore! While typically made with chunks of frozen pineapple and pineapple juice, Rocky's is doing a new flavor every week.
Finally, Rocky's has those packaged ice cream bars like Spongebob and the Powerpuff Girls, if you're too slow to catch the ice cream truck.
Palazzolo's Artisan Dairy
palazzolosdairy.com
Generally, you'll see Palazzolo's in stores all around — Meijer, Kingma's, Ken's Fruit Market, etc. They make ice cream, gelato and sorbetto in tons of flavors like Cappuccino Dark Chocolate Swirl and Toasted Coconut Almond, as well as packaged milkshakes, slushies and malts for you to take home from the store and enjoy.
However, Palazzolo's also has an outlet in Saugatuck at 176 Blue Star Hwy, open Saturday and Sunday. The shop doesn't just have all the ice cream you could ever ask for, there's also tons of from-scratch frozen meals in case you want a dinner to go with your dessert.