Local baker turns Food Network win into new business with The Cake Boutique.
At this point, it's pretty safe to say that Beth Meyer won this past holiday season.
Not only did the Michigan pastry chef win a share of $10,000 on Food Network's "Holiday Baking Championship: Gingerbread Showdown" – alongside her competition partner Mary Jo Dowling – she's using her winnings to fulfil a lifelong dream by opening her own bakery, The Cake Boutique, now located at 56300 City Center Circle in Mattawan (just west of Kalamazoo).
"I was a home baker for years and years," Meyer told REVUE of her nearly two decade-long journey in baking.
Fondly remembering baking alongside her mom growing up, Meyer first took cake baking a bit more seriously when she became a mother and wanted to make memories for her own kids.
Previously Meyer had worked as an adjunct professor of English and Internet Technology. Her young family moved around a lot for her husband's job, and she was living in Texas at the time when she first started making cakes for fellow parents in her kid's playgroup.
"My son's birthday was in the summer, and I ended up inviting the girls from my play group over, and they wanted a cake, and it just kind of snowballed," she said. "Eventually, I ended up in culinary school."
Now an award-winning cake artist, chocolatier, confectionary creator, instructor and certified judge, Meyer has continued to challenge herself, growing her specialty cake business out of her home in Mattawan, while commuting across the state to the Detroit area to attend classes at Oakland Community College, and expand her client base.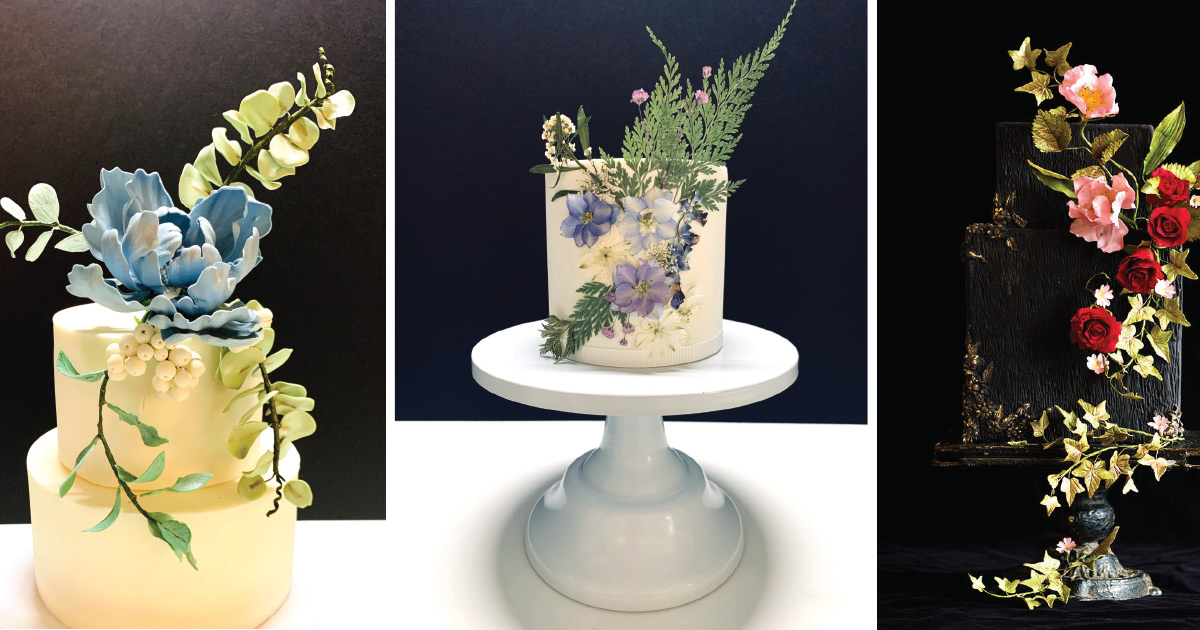 She's made countless cakes well before her Food Network appearance, showcasing her unique take on barrel cakes that pour liquid, crafting handbag cakes that clients can actually carry, and upside-down chandelier wedding cakes on Instagram.
She even had the incredibly rare opportunity to make a cake for the U.S. Ambassador to Angola, while she and her husband lived in Africa.
"He ordered an anniversary cake for his wife," Meyer said. "And it's a little intimidating when the secret service show up at your door. They do wear black suits and black sunglasses and they have that little ear piece. But it was just a great experience. Difficult, but rewarding."
She looks back on the whirlwind of her experience on TV this past year in a similar way,
"That world is so foreign to me," she said about being on set. "It goes so fast, I don't even think you have time to think… You get there and you're filming all day long, and you turn around and you do it again the very next day. But it's a really good opportunity.
"We're both competitive, so we weren't going to lose," she added. "We were like that's not an option for us. And we're both Type A, just nose to the grindstone, so there wasn't a lot of jibber jabber from our station."
Meyer now hopes The Cake Boutique will provide her with a brick and mortar foundation to grow even more, by giving her a place to make more of her attention-grabbing celebration and wedding cakes, and also a space to host baking classes, so she can share some of her skills with others.
"I've had so many people request classes, whether it's macaroons or just cakes or cookies," Meyer said. "They want to go do stuff. These people are done with COVID, and they're ready to be able to go and have a normal life where they can learn a new skill… During COVID people baked and cooked, and learned all kinds of new stuff."
She plans to call her first class "The $5,000 Bonbon," because of her split of the prize money.
"I've had people call, and they just want to learn the champagne curl part of it," she said of sharing her Food Network winning technique with others. "I just thought, let's just do the whole thing. So I think that'll be my first class. I'd love to teach people molecular gastronomy and bonbons and that whole thing. That's my goal."
The Cake Boutique by Beth Meyer
56300 City Center Circle, Mattawan
(281) 387-0640
bethscakeboutique.com