As much as Grand Rapids is known for its beer and craft food scene, it's also making a name for itself with a number of specialty bakeries and sweet shops. Many of them cater exclusively to those with dietary exclusions, while others offer a robust selection of treats, from vegan and gluten free to low and no sugar and more, in addition to traditional fare.
For the health-minded, whether because of food allergies, carb consciousness, or a desire to forgo dairy, there are options galore. While there are too many to name here, we've got a round-up of some of our favorite spots.
Dr. John's Healthy Sweets doesn't have a storefront, but customers can order online and pick up at their corporate office or have their items shipped directly to them. What started as a simple sugar-free lollipop has expanded to include an array of confections made with all-natural ingredients and no artificial colors or flavors and fortified with nutrients. They're considered tooth friendly, too, and the number one candy recommended by dentists. Ideal for those cutting out sweets or with sugar-restricted diets, their huge assortment of offerings includes chocolates, caramels, taffy, gum, mints, and hard candies.
» 5320 West River Dr. NE, Comstock Park • 888-664-0933 • drjohns.com
Monarch Bakery in downtown Rockford bakes up vegan pastries using the best sourced ingredients—and local, when available—to ensure the highest quality. They taste just as good as traditional, and even refined palates will be hard-pressed to tell the difference! They also have French macarons, the majority of which are gluten free, and occasionally offer other gluten free pastries at their storefront. Most gluten free items are ordered by special request, including cookies, cakes, cupcakes, and scones. Their menu features plenty of traditional items as well, for those without restrictions.
» 54 Courtland St, Rockford • 616-884-0622 • monarchbakery.com
For frosted deliciousness with a flair for the creative, visit Kentwood's
The Salted Cupcake. Each week their menu includes two wheat free and one vegan option—and, they can also make a special-ordered wheat free and vegan cupcake with 24-hour notice. They note that their gluten free cupcakes are termed "wheat free" because they're made in the same kitchen as their wheat-full counterparts, though with 100% gluten free ingredients. Their vegan cupcakes are popular with those who enjoy an animal product-free lifestyle, as well as those with dairy allergies. Check their website or social media on Mondays to see their weekly menu, which runs Tuesday-Sunday. DM them on Messenger to order.
» 2481 32nd Street SE, Grand Rapids • 616-990-9300 • thesaltedcupcake.com
Look for sweets from One Sweet World locally at Fresh Thyme, Bridge Street Market, Horrocks, Southeast Market, Ada Fresh Market, and select D&Ws. A 100% plant-based bakery, they make everything from scratch and by hand. Available in stores are their Chocolate Ganache Cake, Carrot Cake, Turtle Brownies, Cookies & Cream Brownies, Peanut Butter Brownies, and Chocolate Trifle Cups. They take custom orders for pickup, such as birthday cakes, wedding cakes, and tiramisu, and many of their desserts can be made to accommodate nut, egg, soy, and dairy allergies. In addition to being animal product free, they also use Michigan products when possible and in-season fruits.
» 616-369-8434 • allsweetness.com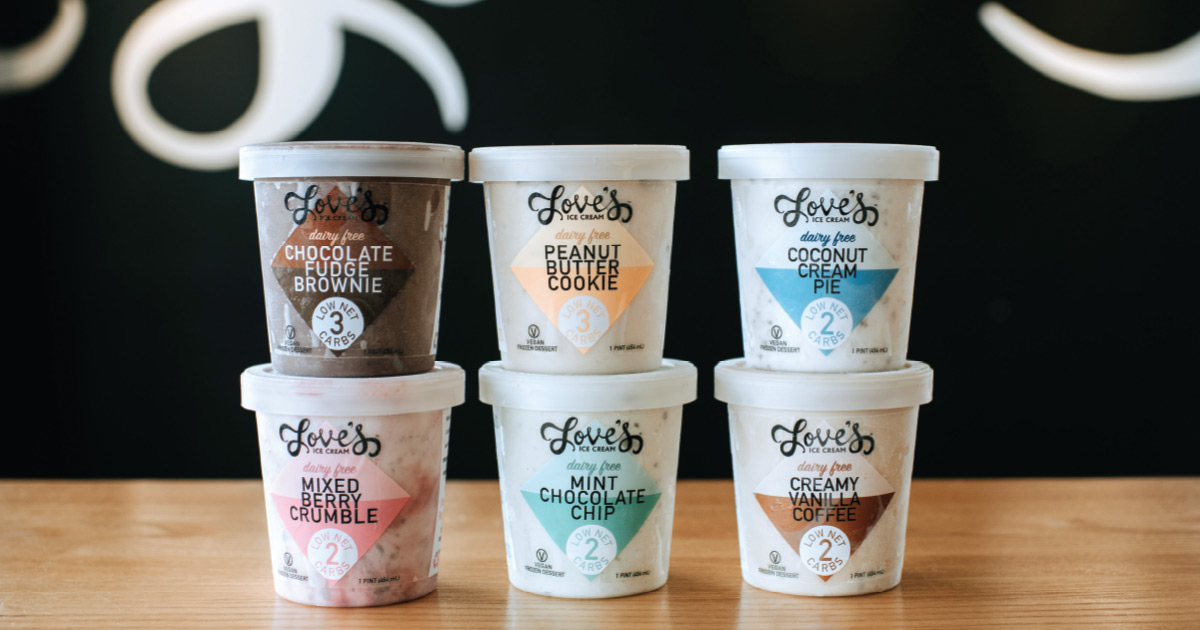 Love's Ice Cream & Chocolate in the Downtown Market serves up from-scratch scoops of low net carb dairy-free gelato, which is a great option for diabetics, those on a keto or low-carb diet, or those looking to reduce their sugar consumption. All of Love's ice creams and dairy-free gelatos are gluten free, and all dairy-free pints are gluten free and vegan. They also sell an 85% dark chocolate bar and bulk 100% unsweetened chocolate, which contain flavanols, minerals, theobromine, saturated fat, and antioxidants. Visit their website for wedding ice cream catering, a pint locator, and local and nationwide ordering.
» 435 Ionia Ave SW, Stall 106, Grand Rapids • 616-965-1054 • lovesicecream.com
Stop into Rise Authentic Baking's café on the West Side for a menu that's entirely gluten free, vegan, and soy free, as well as free from all artificial flavors and colors. They pride themselves on making products with real ingredients, with a variety of pastries, cakes, and tarts to choose from, plus a selection of items without refined sugar, such as cheesecake bars, millionaire bars, cobbler bars, and date balls. They have a savory menu, too, and an Immunity Bowl that's packed with fresh fruits. They strive to help folks enjoy sweets and desserts within their dietary restrictions and food preferences that also appeal to the everyday consumer.
» 1220 Fulton Street W, Grand Rapids • 616-288-7969 • riseauthenticbaking.com
These are just the beginning. We also love Palazzolo's Artisan Dairy, with delicious dairy-free options including sorbetto, Wealthy & Hall Street Bakeries, Nantucket Baking Company, with locations on Lyon and Fuller, and Sarah's Sweets on East Beltline for their friendly options—and all the other pastry shops and confectionaries in town who are working hard to make treats for everyone!